06 August 2012

August 2012

We at PASMAG won't let the dog days of summer drag you down. We hope in between your weekend show schedules and garage time, you take comfort in your air conditioning and give us a long read. Hell, why not. It's pretty damn hot outside.
In whatever way you decide to enjoy the new issue, be aware we've packed 'er tight, chalked full the good stuff.
Some of the hottest shows of the summer are profiled this month, including the OC Car Show, Wekfest in Long Beach, WaterWerks, DMCC and CSCS openers, and more.
Plus, we have some fresh test reports, the Scion IQ gets some new brakes, we profile the Nitto Tire Formula Drift team and we've got more buyers' guides.
Boom! July might be over, but we're keeping things hot.
THE COVER CAR
Nissans have long been popular tuning platforms, but today's modern tuners have taken this simple fact to entirely new levels. Harvin Minhas of Richmond Hill, Ont. knows this well as he has previously owned a pretty sick turbocharged 2006 Nissan 350Z after tiring from his '03 Lexus IS300 and its killer custom audio system. And, in late 2010, he pulled the trigger on this brand-spanking new 2009 Nissan 370Z to turn into a new project car.
THE EVENT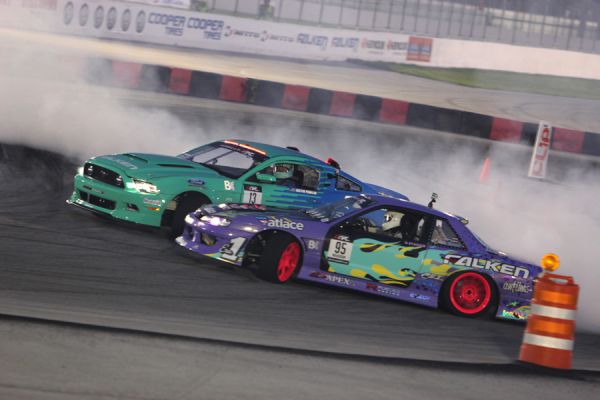 Formula Drift Round 3: Invasion
Formula DRIFT returned to Round 3: Invasion at Palm Beach International Raceway for the second consecutive year. Rookie Daigo Saito in the Achilles Tire / Bridges Racing Lexus SC430 takes the victory and closes in on the points leader Justin Pawlak in the Falken Tire Ford Mustang.


THE COVER MODEL
The Lovely Lady of Importfest, Jeri Lee
This month's cover girl definitely proves the saying, "Great things come in small packages." At 5'1", Jeri Lee has everything you could possibly want in a tight, compact package. Her smoking hot body, warm smile and beautiful eyes almost seem too perfect for a mere mortal.
ON THE BENCH
Garry Springgay and his crew over at Cogent Audio Labs took some of the best car audio gear to trial. For this month's issue he tested out the Mosconi Zero1 Amp and the Sony XS-GS1720S Component Speakers.
TECH
Our friends over at MotoIQ.com bring to you the latest in their Project 350Z series and in the Power Pages we're giving you an in-depth look a set of brake discs from EBC and rotors from Hawk Performance.
Until September!
Thanks for reading.