Written by Mark Pereira // Photos by Shane Chattergoon and Erickson Obiacoro | 20 November 2009
Waterfest Kruize 2009

Each summer our courageous editorial staff teams up with the infamous party animals from GenerationDUB.com for an uber-wild adventure to the Mecca of all VW events… the legendary Waterfest in Englishtown, NJ.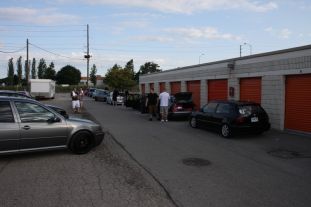 This year, our Annual Waterfest Kruize (www.waterfestkruize.com) returned in full force, rolling over 50 custom Audi and VWs deep in our massive convoy. Keeping with tradition, we all assembled at local speed shop Johnston Research and Performance (www.JRPonline.com) before sunrise for our traditional pancake breakfast and driver's meeting. Our awesome hosts at JRP loaded everyone up with much needed eats and coffee for the drive ahead of us.
Upon handing out the route maps and wicked Waterfest Kruize t-shirts, we hit the road with our autobahn-ready convoy, as we attacked the winding roads to Waterfest. There's no better way to kick off a weekend of madness than a road trip with a bunch of crazy car enthusiasts. Like a pack of wild animals, our Waterfest Kruize seems to find or make this annual pilgrimage an action packed adventure at every turn.
Along the way, we held the draws for sweet prizes from presenting sponsor APR and supporting sponsors JRP, Nitto Tire, Spax, JRP, Euroline Performance, Global Performance, Tokico and Sony Xplod. With thousands of dollars in give-a-ways and hundreds of t-shirts, every enthusiast went home happy. Very special thanks goes to our title sponsor and chipping experts at APR Tuned for hooking up a free ECU tuning gift certificate which one lucky driver won.
Our trip overall was a great time, with a few close calls with the law and all the memorable road-trip antics you'd expect. Intoxicated ramblings aside, we all had a blast and it was great to rub elbows and form new friendships within our group of dedicated enthusiasts.
As always, 'nuff respect goes out to Kevin and Harry, our fearless leaders and moderators at GenerationDUB.com for their continued support and organization of this annual tradition. We'd like to show some love to those who made it out to this year's Kruize and look forward to what's in store next summer. For more info, photos and video coverage of the mayhem that took place visit www.waterfestkruize.com and the forums on www.generationdub.com.