06 October 2011
October 2011

This month we take a look back at the summer that was. We've packed the pages with some of the summer's biggest events. We also managed to fit seven – yes, seven – jaw dropping car features including one on a 2003 Civic and a 2004 Subaru STi.
Featured here is this month's cover car, a gold 2008 Nissan Skyline GTR, we've rightfully titled, "Secret Weapon."
As far as events go, we've managed to fill our pages with some of late summers best including Motion Auto Show, SPOCOM from Anaheim, FD Round 5, and Round 4 of DMCC, plus many more.
And as summer is now behind us and the leaves begin to change, we're still bringing the heat in the model department. This month's model cover model if a definite office favourite, the beautiful Jenny Milstead. We've put some new products to the test at the Cogent Audio Labs and profiled the year's top security and forced induction products.
---

THE EVENT
The Team at ProMotion Distributing has once again out done themselves by bringing us the 2011 Motion Auto Show at the Long Beach Convention Center. Entering the 5th year, they're seasoned in packing the convention centre with hot cars, hot girls, and tones of attendees. Any spectator walking through the show this year would agree, the vibe had a "tuner-enthusiast lifestyle" feel – something HIN had done in years previous – and somehow, a corporate touch in the realm of something such as SEMA.
---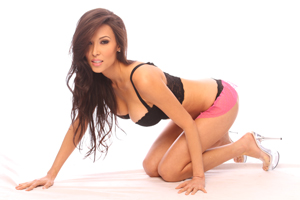 MODEL FEATURE

We are pleased to introduce the amazing Jenny Milstead


While touring on the Hot Imports Nights Circuit, we met the lovely Jenny Milstead. Her easy going personality and alluring looks drew us in. This Texas born brunette has graced the pages of many magazines and has ventured into TV, working as a show host and much more. Her confidence and intelligence have helped her modeling and academic careers. Though she has graduated with a degree in Political Science, she plans to attend Law School in the near future. Working out and spending time with her friends keep her looking and feeling good.
PUT TO THE TEST
Gary Springgay and the boys at Cogent Audio Labs put some of the best car audio products on the market to the test. This month, we take a look at the Valor DD-806W Multimedia Receiver, the Polk Audio PA D4000.4 Amplifier, and MB Quart PVI 216 Speakers.
TECH
This month we profile another great article from Moto IQ, as well as gear guides on the year's best alarm and security, and forced induction products available. See you next month.