06 May 2011
FEATURES
2011 FORD MUSTANG
We begin by taking a look at the mighty Mustang of Vaughn Gitten Jr. This 'Stang is a solid example of how drifting has evolved from a 4-cylinder motorsport to include some American muscle.
We round out our feature section profiling a heavy and efficient 2009 Nissan GT-R – a beast many people wish could supe-up, but few have, and a sexy orange '03 Infinity G35.
---


THE EVENTS
The Redline Time Attack kicked off in a Rosamond, CA. The track, a renowned 2.5 mile, 9-turn big track allows for drivers to go all out. You better bet your bottom dollar they did just that.
A Formula Drift exhibition round was held on Yas Marina Circuit in Abu Dhabi. Could this be the beginning of the Formula Drift expansion across American borders and into new markets?
---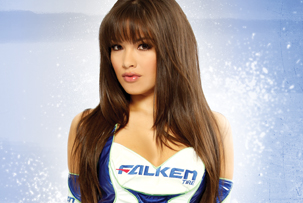 MODEL FEATURE
We are pleased to introduce the lovely Randyl Dawn
Our incredibly gorgeous cover girl, Miss Randyl Dawn, hails from Long Beach, CA. This girl is the total package; she has a stellar work ethic and (wipe drool from lip) a natural body and absolutely stunning looks.
PUT TO THE TEST
Cogent Audio Labs takes a look at the Ti12112d4 Woofer from Phoenix Gold – an ode to classic Phoenix products, the Ti12 packs a wallop while minimizing space.
Another small but deadly weapon is the Rockford Fosgate PBR3001X1 Amplifier. If there is one underlying theme this month, it has to be that size does matter – the smaller the better.
TECH
We take a fresh look at some old deigns in the tire and wheel categories. Enkei is rereleasing the Enkei92 while Falken introduces the RT-615K – a tire that sticks to the unique tred design, but revamped structure and compound improves cornering and reduces rotating mass. Make sure to check out the rest of the performance reviews, including the Nitto NT05 Tire Test, a K&N Engineering write-up and a look at the TSW Interlagos Wheels.
Oh, and did we mention this month is the annual Buyer's Guide? We've packed the pages with only the best in subwoofers, intakes and exhausts, oh my.