Paying our dues in the Japanese Issue
More than enough hyped-up Japanese Sport Compacts have graced the pages of PASMAG over the years but this issue, we switch it up. The Japan issue is only for Japanese cars, no Domestic and no Euros. While not all these features are from Japanese speed shops, we wanted to pay some respect to what tuners have done over here using their platforms and their parts.
FEATURES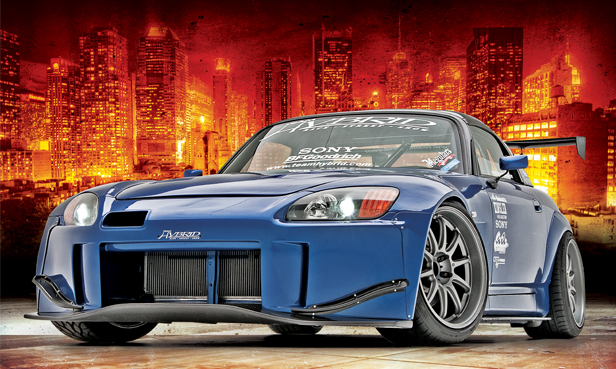 A Man's S2000

Straight outta SoCal, if a man's man was to build himself an S2000, this would be it. While S2000s have issues with street-cred when they are stock, this Team Hybrid unit was perhaps the most insane we had seen in years. Add to that the car is all NA with ITBs and a widebody, we couldn't get enough.
Oh Kayla

Once we set eyes on the seductive Kayla Kim we couldn't get enough. Her exotic looks made for a perfect match with our JDM Issue. PASMAG takes an in-depth look at the life of Miss Kim in an all-access interview that is a must-read.

JDM Final Konnexion Skyline R34

Strolling the halls at Tokyo Auto Salon, there is so much to take in but nothing made us stop in our tracks like the Final Konnexion Skyline. With an outrageous widebody and stupid offset wheels, the car was truly one of the top builds we saw on display and of the year!

Nexen Drift Team

While Nexen might be repp'ing China, the company understands that to gain notoriety they needed to get involved with drifting. Their line of sport tires was ideal for their two man team, both rocking the quintessential JDM rides sideways.

Waterfest 16

See how the other side lives. Thousands of VW and Audi enthusiasts descend on New Jersey to hit up Englishtown for a weekend of fast cars and good times. The show plays host to all of the leading vendors, burnouts, hot models and even on the spot tuning!

Test Reports &
Tech Talk

With five test reports on the burner, you can bank PASMAG has you covered. Our 12V man Garry Springgay brings you the best of what the audio and multimedia market has to offer. On the tech side, we have you covered with: SPEC triple plate clutches, Wilwood 370Z brakes, COBB tuning GT-R tech and some gear from Password: JDM