Written by Dave Pankew // Photos By: Dave Pankew and Derek Bartolo | 26 July 2010
Page 4 of 5

Hankook V12 Evo K110
280-AA-A
Made in Korea
245/35R20 & 285/30R20
Y-Speed Rated (186 mph or 300 km/h)
In recent history, Hankook has been making huge progress with performance and competition tires. When it comes to price-to-performance ratio, Hankook has ranked high in recent years and this newer version of the Ventus V12 Evo K110, boasts not only the industry's longest name but solid performance for 3-season use as well. The distinct design of the V12 Evo offers optimal handling and braking performance and even features the company logo embossed in the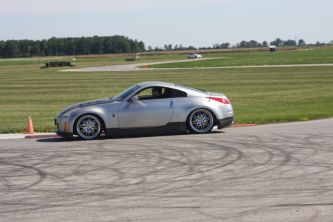 center rib. The wide circumferential tread grooves allow this directional tire to channel water away from the tread and keep your car connected when water piles up on the road.


With a UTQG rating of 280-AA-A, it is in the same category as many ultra high performance tires with decent wear characteristics. Aimed directly at sport sedans and sports cars, the V12 Evo will provide decent wear characteristics for those that would like to get some life out of their tire. The extended life is usually at the expense of performance, yet Hankook is still able to maintain the 'AA' traction rating for plenty of grip in different conditions. If you need top end speed, Hankook has that covered with a Y-speed rating of 300km/h or 186mph, more than most cars will even reach. The V12 Evo is available in 17-inch to 20-inch sizes and even comes in supercar sizing up to 305/25R20!
We weren't really sure what kind of performance we would expect out of the Z with the 20-inch Hankook V12 Evo tires underneath it. We can say that it did hang quite nicely with our S2000 that was in the neighborhood of 100whp less. The S2000 definitely had to be driven at the limits to keep the Z at a distance. As the laps went on, it was clear that the Hankook Ventus V12 Evo is not a track tire but very capable street tire that will more than handle spirited driving on public roads and with its 280 wear rating, for many miles to come.