Written by Dave Pankew // Photos By: Dave Pankew and Derek Bartolo | 26 July 2010
Page 2 of 5

Falken RT-615K
200-AA-A
Made in Japan
225/40R18 & 265/35R18
Y-Speed Rated (186 mph or 300 km/h)
PROS: Excellent dry grip with resistance to high temperature performance drop. Proven in competition.
CONS: Could be better in the rain
VERDICT: An exceptionally well-rounded DOT race tire that you can drive on the street with its 200 wear rating. The tire is capable and predictable whether it is the first lap or the last.
Today's sports cars, sport sedans are extremely versatile and Falken designed a tire that could keep up with the demand. Although Falken is well known for their exploits in the drifting world, they have been equipping touring cars and Time Attack cars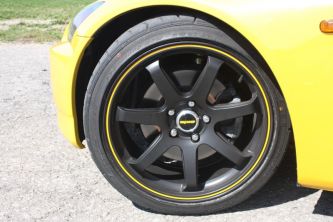 with the AZENIS for years. The latest version is the AZENIS RT-615K, a tire name you recognize but the 'K' portion is all new for this year to distinguish the many upgrades on the tire over the previous RT-615.
Having logged many miles on and off track, we can honestly say that the RT-615 is one of the more memorable DOT race tires of all time. It looks great, wears well and when equipped on our lightweight BMW in last years test, the tire provided lap-after-lap of serious grip. The tire never protested or squealed and showed little signs of wear after substantial use. We were eager to see how Falken could improve upon such a solid design because it almost appears as if they didn't change the tread pattern at all.
The improvements are in the compound of the tire itself. The compound is a Motorsports-grade cap that maintains grip as the temperatures rise on track. The molded 8/32-inch tread design reduces tread squirm and therefore decreases the wear over time. The new RT-615K also features a solid center rib to minimize wheel slip under acceleration, especially on the straights. The tread depth and the tusk positioning to channel away water are said by Falken to improve wet weather performance and reduce hydroplaning making it an improvement over the previous design. Best of all, the new proprietary casing design, bead apex and turn-up technology means that less heavy steel belting was needed to achieve improved stiffness. The end result is an 8-percent reduction in rotating mass!
While driving, the tire is more noisy than the OEM tire that the S2000 was equipped with but in a minimalist open-air roadster, you hear and feel everything. The wet grip was fairly sure-footed but we wouldn't recommend charging into any standing water with guardrails nearby either.