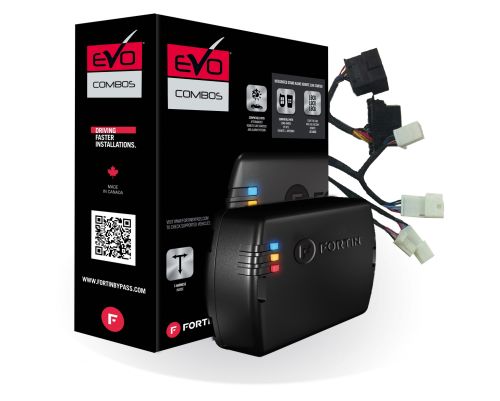 Fortin sets the bar again for simpler remote starter and security system installations with recent additions to its ready-to-install EVO-COMBOS collection. The EVO-COMBOS combine an EVO-ALL preloaded interface and bypass module technology as well as a custom made T-HARNESS cable that fits perfectly with the vehicle's original connectors. 7 factory fit interface EVO-COMBOS are now available to cover more than 14 vehicle makes like Chrysler, Dodge, Jeep, Volkswagen, Ford, Lincoln, Mercury, GMC, Chevrolet, Buick, Cadillac, Opel, Nissan and Infiniti.
With its most advanced stand alone technology, the EVO-COMBOS collection allows you to remotely start and secure an automatic transmission vehicle with one single device - no aftermarket alarm system and remote starter modules required. The preloaded module uses the vehicle horn as a sound monitor and the factory remote as an arm/disarm controller. Remote starting functions are enabled by pressing the OEM remote 'lock' button three times to start the vehicle's engine. Compatible with most long range RF-KITS and telematic modules for smartphone apps, the EVO-COMBOS offer a new way to make your vehicle smarter.
Visit www.fortin.ca to find an authorized dealer and to learn more about Fortin's EVO-COMBOS solutions.