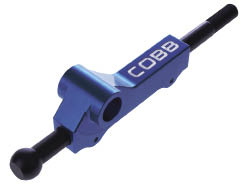 COBB Tuning
Short Shifters
Our revolutionary Double Adjustable Shifter ushers in a new generation of adjustability for one of the most critical links from driver to car with the ability to control both the height of the shifter as well as the throw. The COBB Blue anodized billet shifter body is CNC machined from 6061 Aluminum. Like our original design, the shift throw distance and shift knob height are independently adjustable and both can easily be adjusted with the shifter installed in the vehicle. Compatible with the factory shift knob or any aftermarket knobs designed to replace the factory unit. Available for all Imprezas, WRX, STI, Legacy GT and 5-speed EVO X.
For more visit www.cobbtuning.com

GLOWSHIFT GAUGES
7 Color Gauge Series
GlowShift launches the next generation of its 7 Color Gauge Series. This new generation now features microprocessor controlled stepper motor technology for smooth needle movement and extremely accurate gauge readings, along with all the same features our customers have come to expect such as, 7-color through dial lighting and electronic sensors. Another great feature is a dimmer wire that will dim your gauges when your headlights are turned on for easier nighttime driving. Our 7 Color Series Gauges are offered in three different styles.
For more visit www.GlowShiftDirect.com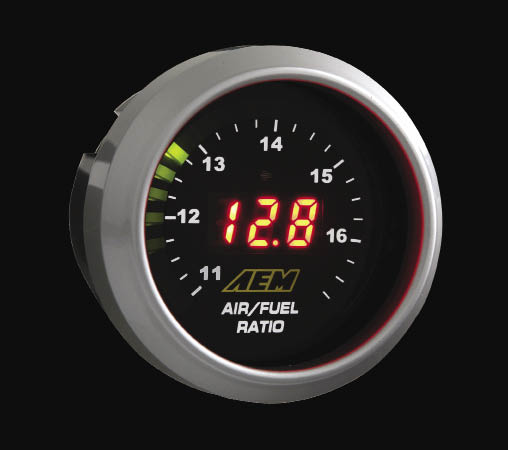 AEM
Digital Wideband Air / Fuel Gauge
AEM's legendary Wideband O2 Air/Fuel UEGO Gauge unites unsurpassed accuracy, speed and control with an easy to read, digital interface. This gauge-type controller features a digital LED display and sweeping LED "needle" that changes colors as AFR changes from rich to lean. The unit's 52mm (2-1/16") gauge housing fits in most gauge pods and can be remotely mounted virtually anywhere. All AEM digital gauges feature a 0-5v analog output for use with dataloggers and virtually any engine management system, such as the AEM EMS or FIC.
For more visit www.aemelectronics.com
Ace Custom Steering LLC
Evo X Rally Performance Steering Wheel
The Evo X Rally Performance Steering Wheel transforms the interior appearance for Mitsubishi owners, giving them larger, more comfortable, and higher performance feeling grip for their wheel. Owners can customize their steering wheel with a variety of color options. The body of the steering wheel, the accents, and even thread colors are chosen by the owner to fit their specific tastes. Ace Custom Steering wheels are handcrafted from OEM quality parts and materials in the USA, and are backed by an industry leading 3-year warranty on all materials and workmanship.
For more visit www.AceCustomSteering.com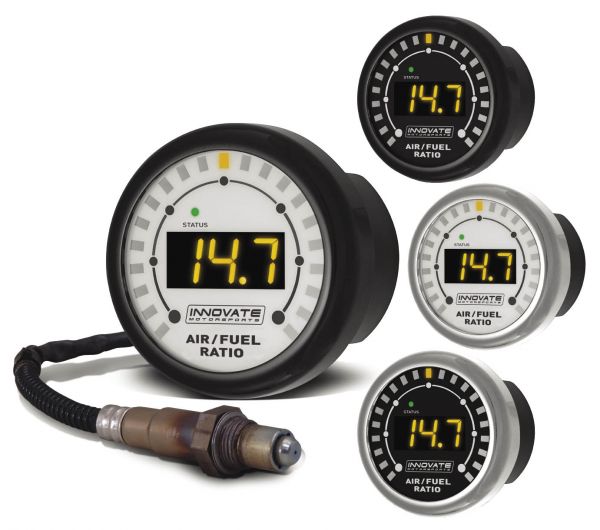 Innovate Motorsports
"Digital MTX" Wideband Air/Fuel Ratio Gauge
Digital MTX, the world's fastest responding wideband air/fuel ratio gauge! The Digital MTX utilizes Innovate's patented Direct Digital technology that responds 180 milliseconds faster than all other technology on the market. The integrated wideband controller simplifies wiring since the O2 sensor can be plugged directly into the gauge. The included sensor is compatible with all popular fuel types and can be easily calibrated to compensate for wear, changes in atmosphere or other variables. The Digital MTX also features a unique weatherproof body and includes 2 gauge bezels (black/silver) and 2 faceplates (black/white).
For more visit www.innovatemotorsports.com
PASSWORD:JDM
Balanced Shift Knobs
A shift knob is often the most overlooked mod you can get for your car. It's more than just the way it looks, it's also the way it feels in the palm of your hands and while you're driving. Too light, and it feels like a ping pong ball, too heavy and it feels like a brick that will break something. Ideally, you'd want something in between. This is why we came up with the PWJDM Balanced Shift knob. This shift knob by design was well thought out, just like all of our products, we engineer things thoroughly and well ahead of the competition. Applications: Honda, Acura, Nissan and Scion.
For more visit www.PasswordJDM.com
DASH COMMAND
IPHONE & ANDrOiD APP
Want Gauges? This is the app for that. DashCommand is the ultimate OBD-II vehicle instrumentation application available for the iPhone, iPad, iPod touch, and Android powered devices. The built-in dashboards can display a total of 27 gauges pulling data directly from your ride's engine control module. DashCommand can also be used as a scan tool to read and clear the trouble codes that cause the "check engine light" to turn on, a trip computer, or a race day companion.
For more visit www.palmerperformance.com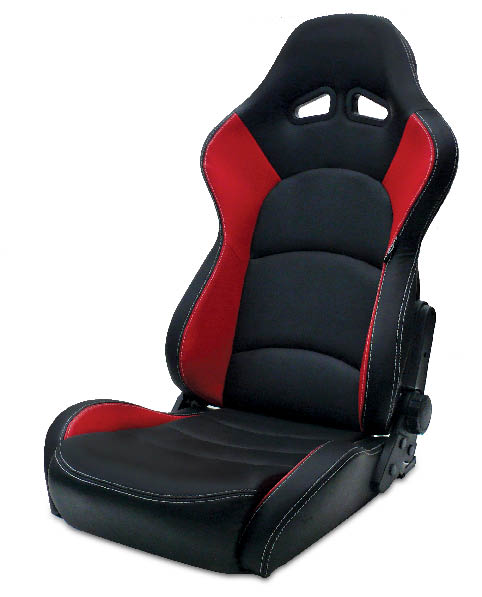 PROCAR BY SCAT
sportsman pro x seat
Procar by SCAT's new sport recliner Sportsman Pro "X" seat features a carbon fiber back for maximum strength and durability. It features include a micro recliner mechanism which allows you to adjust the seat back to ensure maximum comfort and an adjustment lever which allows the seat to be moved forward for easy access to the rear. Sportsman Pro "X" seats offer a nice range of fabrics and colors, making this new seat by Procar the perfect choice for your custom interior. Procar also offers brackets for thousands of applications, ensuring a trouble free installation.
For more visit www.procarbyscat.com
DSD-Series & V2-Series
STRI Racing Electronics, manufacturer of today's and tomorrow's racing gauges offers two different series, the new DSD-series and new V2 Series. Both provide hardcore enthusiasts with the features and accuracy they demand. The precision, performance and durability of the new STRI gauges are elevated from previous versions, yet the price-point remains very competitive. Features include Full Electronic, Peak Recall, Auto Self-Calibration, 270 Degree Sweep, Short circuit auto detect, Sequential open / closing mode, LED Dimmer function. All sensors included.
For more visit www.autotechinteriors.com
MOMO USA
Nero Steering Wheel
Top Grain leather with Alcantara insert and chrome accent rings. 350mm diameter.
For more visit www.momousa.com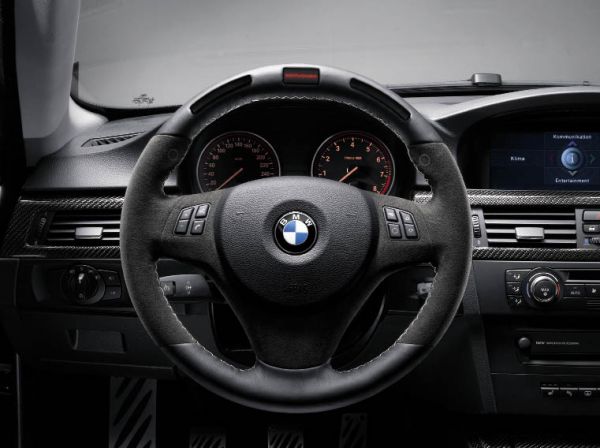 BMW
Performance Sport Steering Wheel
One glance at the race inspired design of the BMW Performance sport steering wheel with Alcantara trims and grip area tells you that everything is under control even when you're driving at the absolute limit. A three-section display built into the top of the rim allows drivers to call up a variety of motorsport-related data and functions, including lap times, split times, maximum acceleration and speed, and the time taken for the quarter-mile sprint. It also shows gear shift indicator prompts, water and oil temperature readings, and figures for straight-line and lateral acceleration. (Must be used in accordance with the rules of the road).
For more visit www.bmw.ca/performance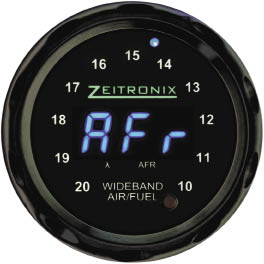 ZEITRONIX
ZR-1 AFR/Lambda Gauge
The ZR-1 display has a stylish brushed aluminum or black anodized bezel. An outer ring of multicolor LEDs indicate AFR readings and the high contrast red or blue digital readout is visible even in direct sunlight. The outer bezel diameter is 60 mm with a 52 mm inner diameter on the back. The thickness of the gauge is a very slim 0.75" (19 mm) and includes an inset wire allowing for easy surface mounting. The ZR-1 AFR/Lambda Gauge also has a peak-hold feature allowing review of peak AFR and Lambda values.
For more visit www.zeitronix.com