Written by Dave Pankew | 26 August 2008

Written by Dave Pankew | Photos by RCH Designs
For whatever reason, there are many people in the industry out there that believe we are from California. It makes sense because most of the magazines on the scene are based in SoCal and we are there all of the time. Our Canadian patriotism often slips under the radar (unless it involves hockey, then it's on like Donkey Kong). We don't talk like most of our Canadian countrymen either, and we're up on many trends originating in Cali. It may come as a surprise but two of the highest selling sport compact mags originated in Canada and if you didn't realize of one them is PAS, then catch up. Whenever we are in SoCal though, it truly is our second home, with lots of homies, favorite hot spots and even some shawtys to get with (holla back!).
So it only seemed right that when performance powerhouse, AEM was looking to build a project car and wanted to team up with an audio manufacturer they contacted us. The irony was that we are 3000-miles away in Toronto and were hooking them up with long-time PAS pal Kevin Kuenzie over at Clarion USA, which is only like 30-miles away from AEM. When the project was completed and ready to shoot, we gave Special Projects Manager, Greg Nakano over at AEM the hook-up at RCH Designs, our photo studio that is only like 3-miles away in nearby Huntington Beach, CA.
The mission statement of the project was to create a clean WRX that was capable of just about everything. It has to be fast, agile, carry five and have the racking and storage to go surfing, snowboarding, skateboarding and rock a couple of beach cruisers down to Venice Beach. Nakano was in charge of the build and he wanted to go with a theme rather than a checklist of parts. "Everyone in California is in to some sort of outdoor sport," says Nakano. "We wanted to build something that reflects the lifestyle of work and play with the performance to match."
With that, AEM went to work where they excel, the engine along with their major partner Subaru Performance Tuning (SPT) that is owned by Subaru. The EJ25 motor was kept intact, but everything bolted onto it was fair game. The gang started with a HarmanMotive GT35R turbo kit and an upgraded intercooler to provide plenty of chilled boost, vented by a TiAL blow-off valve. An AEM water / meth kit takes the temps down even further to prevent detonation. A HarmanMotive up-pipe and down-pipe provide a opportunity for the spent gases to disappear into an SPT cat-back and the boost is regulated by a TiAL 44mm wastegate. They ramped up the fuel requirements with Deatchworks 850cc injectors driven by a Walbro 255lph in-tank pump through SS lines. After they converted the system to 'speed density' with an AEM 3-bar MAP sensor and IAT, they were ready to tune the AEM EMS standalone. After a few pulls on the Mustang dyno, the EJ25 laid down 450whp and 411lb-ft of pavement-shredding torque. The new found power meant the driveline needed help to deal with it. So the team added an SPT twin-plate clutch matted to a 6-speed STi transmission to hold more power and stay in the power-band at all times.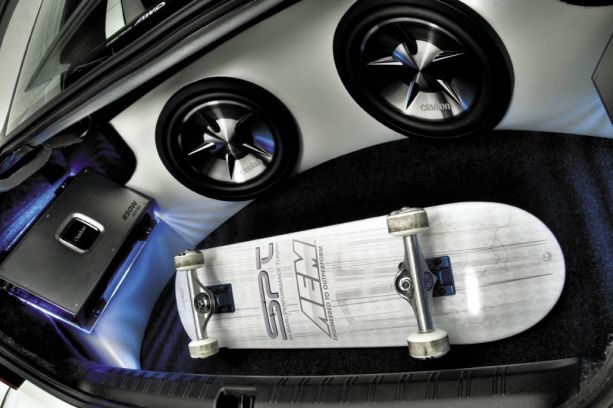 With horsepower levels over double the stock output of the WRX, the attention turned to the footwork. SPT stepped in to supply a set of their coilovers for increased spring rate and adjustability. Then an SPT chassis brace and strut bars help tie the sedans' chassis together to make a dazzling performance on almost any surface. But that was not without having to switch up the factory rubber which is adequate at best. Nakano sourced out Toyo Tires Proxes R1R 245/40R18 for all four corners wrapped over Volk Racing GT-V 18x8-inch wheels. The factory brakes were pulled in favor of a Prodrive 330mm front brake upgrade for increased stopping power.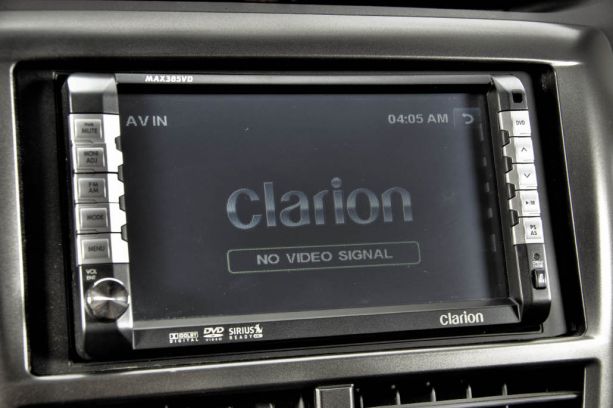 The outside of the car is clearly made for someone crazy about the outdoors. There is more function than flash here, with a custom matte white paint job courtesy of Mob Works in California and Sticky Fingers vinyl. SPT provided the chin spoiler, grille and roof rack for the project while Yakima provided the surfboard and snowboard carrier. The Hori Boards custom surfboard is joined by the custom AEM snowboard and matching skateboard mounted in the custom trunk audio install.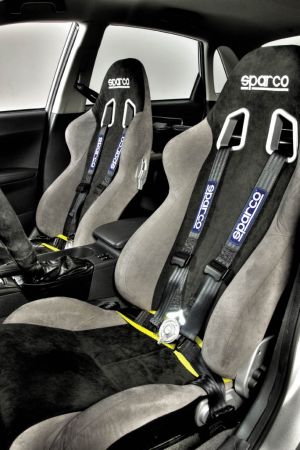 The multimedia / audio install is something that AEM and Clarion collaborated on. AEM had the input and Clarion met all of their needs, which were rolled out by the talented team of installers at Creative Car Audio & Motorsports. The install started with a Clarion double-DIN navigation / multimedia system with a 6.5-inch screen and all the associated wiring to a Clarion 850W mono amp and a 650W 4-channel amp. The lows are belted out by twin Clarion 12-inch subs in a custom trunk enclosure that flank the custom skateboard rack. The mids and highs are handled by Clarion Platinum Series 6.5-inch multi-fit speakers front and rear. Beyond that, Nakano added some Sparco Milano II seats with matching 4-points connected to a harness bar. An AEM oil pressure gauge is matched with an SPT boost gauge to keep tabs on the boxer. We were happy to introduce AEM and Clarion who otherwise might never have connected. With the feedback on the car and the SEMA attention it received, we're sure to see more of this partnership in the future.
THE ESSENTIALS
Owner: Advanced Engine Management (AEM)
Location: Hawthorne, CA
Vehicle: 2008 Subaru WRX
Engine: Subaru 2.5L EJ25 Flat-4
ENGINE MODIFICATIONS
AEM Dryflow Air Filter
AEM Water Injection Kit
Deatschwerks 850cc Injectors
Harman Motive Air / Oil Separator
Harman Motive Front Mount Intercooler Kit
Harman Motive GT35R Turbo Kit
Harman Motive Up-Pipe Harman Motive Down-Pipe
SPT Catback Exhaust System
SPT Oil Cap
TiAL Sport 50mm Blow Off Valve
TiAL Sport V44 Wastegate
Walbro In-Tank Fuel Pump
ENGINE MANAGEMENT
AEM EMS Standalone
AEM AIT and 3-bar MAP Sensors
DRIVELINE
SPT Twin-Plate Clutch
Subaru STI 6-Speed Transmission
WHEELS, TIRES, BRAKES
Toyo Tires Proxes R1R 245/40R18
Volk Racing GT-V 18x8-inch wheels
Prodrive 330mm Front Brake Conversion
SUSPENSION
SPT Coilover Suspension
SPT Lower Chassis Brace
SPT Strut Tower Bar
EXTERIOR
SPT Sport Mech Grille
SPT Roof Rack
SPT Front Chin Spoiler
Hori Boards Custom Surfboard
Yakima Snowboard Carrier
Yakima Surfboard Carrier
AEM Custom Skateboard
AEM Custom Snowboard
Mobworks Custom Flat White Pearl Paint
Sticky Fingers Custom Decals
INTERIOR
Sparco 4-Point Harnesses
Sparco Carbon 385mm Steering Wheel
Sparco Harness Bar
Sparco Milano II Seats
Wedge Engineering Seat Brackets
AEM Oil Pressure Gauge
SPT Boost Gauge
SPT Sport Pedals
AUDIO / MULTIMEDIA
Clarion Platinum Series 6.5-inch Multi-fit Speaker System Front & Rear
Clarion 12-inch Dual 2-Ohm Subwoofer X 2
Clarion 850W Mono Power Amplifier
Clarion 680W 4/3/2 Channel Power Amplifier
Clarion Double DIN Multimedia Station with 6.5-inch Touch Panel Control
Creative Car Audio & Motorsports Custom Stereo Installation