Written by Dave Pankew. Photography by Nick Parker | 09 March 2010
Rewind back to 2001 and there wasn't much to choose from in the turbo AWD market. Well, there was actually nothing for sale in the North American market unless you were going to spring for a 996 twin turbo. The Mitsubishi Eclipse GSX was gone, the 3000GT was gone and Subaru could no longer meet the emissions targets with the turbo boxers. The answer lay in Subaru's push to import the WRX Impreza from Japan over for sale on our shores. We'd all heard stories of brave tuners swapping version VII JDM STi motors into their Impreza RS coupes, but the enthusiast market really wanted an option at the dealership too. In late 2001, the WRX arrived at showrooms across the continent, but potential buyers were shocked to see that dealership sales weasels weren't even offering test drives on this 227hp "monster" without a deposit?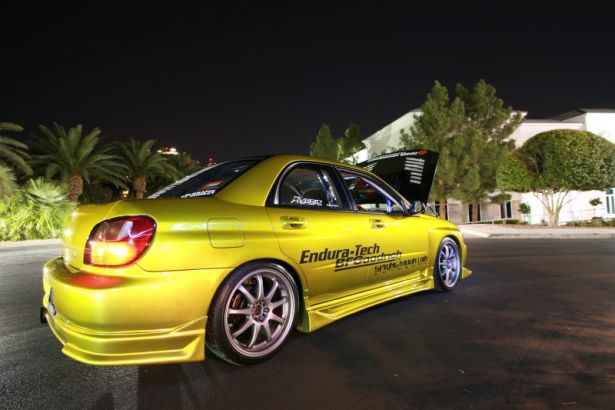 Left puzzled, many potential buyers (yours truly included) looked elsewhere. The WRX in stock form was fun… but still left a lot to be desired. These cars were prone to detonation with low octane and the old school 5-speed transmissions were also an issue as the synchros appeared to be made out of glass. "I've blown four motors and four transmissions during the build process," admits owner Rodney Manandik of Las Vegas, Nevada. "The first three motors were blown at the track and the forth on the dyno. Throughout the entire build process I gave up countless times, but kept on it and finally the drivetrain is strong and reliable!"
Since its released, tuners and the aftermarket have perfected these quirky sedans and wagons to push them into supercar horsepower territory, case in point… this bug-eye which Manandik put together at the risk of high blood pressure and going insane. A painter by profession, Manandik has drenched the car in many different colors over the years including black with red pearl, Bermuda green, HOK gold, and Tangelo Orange. It was recently updated with the House of Kolor Kandy Lime hue you see today, with a C-West front and rear bumper plus a S202 JDM WRX grill and spoiler. The look was capped off with a Seibon carbon fiber hood. All of the body work and paint has been done at Manandik's place of employment Spring Mountain Autobody just outside Las Vegas.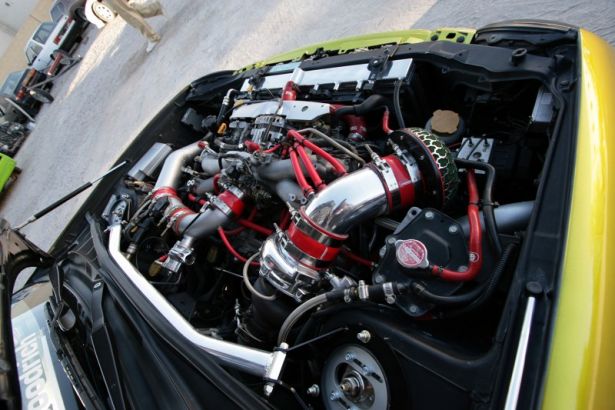 Beneath the skin, Manandik had some tricks for the fifth version of his Subaru power plant. The work would be a collaboration of Uehara MotoWorks and Tyrone from Subaru Las Vegas to get the job done right this time around. Starting with an EJ25 2.5L block from an STi, the boxer was fitted with heads from the 2.0L filled with Brian Crower 272 cams. The internals were replaced with Wiseco pistons and Eagle H-beam con-rods. The turbo was swapped for a Garrett ball bearing GT3760R to push air towards the GodSpeed intercooler and Blitz DD blow-off valve. The fuel system needed a bump for all that new found air and that came in the form of a Walbro 255 lph pump feeding Power Enterprise 650cc injectors. Custom stainless steel up-pipes and downpipes were bolted up to a Megan stainless steel exhaust.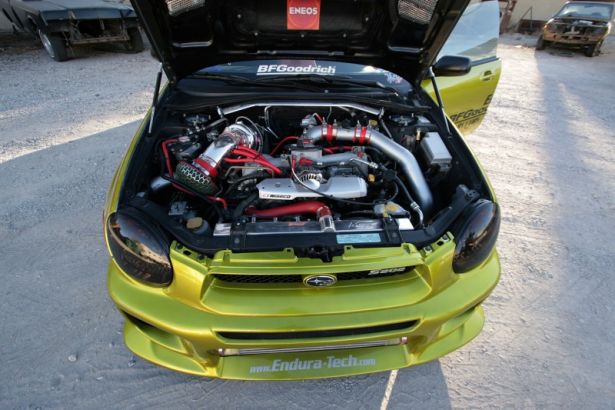 The motor was now ready to tune and the job was given to Clark Turner at Doug's Dyno. Turner gave the Turbo XS UTEC a workout and dialed-in the Blitz SBC-iD boost controller. They also set up the methanol injection system to lay down 362 whp with 374lb-ft. of twist with no worry of detonation. The increase in juice meant that an ACT 6-puck and fortified gears from a JDM Spec-C version made their way into the casing.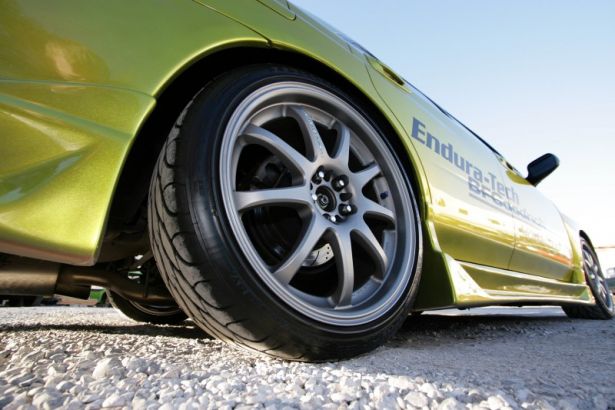 The 'beauty of all wheel drive' still left room for improvement in the handling and braking areas, so work got underway to upgrade. A set of Endura-Tech coilovers were added for suspension ride height changes and dampening adjustments. StopTech cross-drilled rotors and Hawk HP Plus pads were added in addition to stainless steel lines. The rest of the OEM gear is enough to make serious movements in this car. The factory wheels are long since gone to some recycling facility. The new rollers are gunmetal 18 x 8-inch Work XD9s wrapped with BFGoodrich KDW 215/40R18s on all four corners.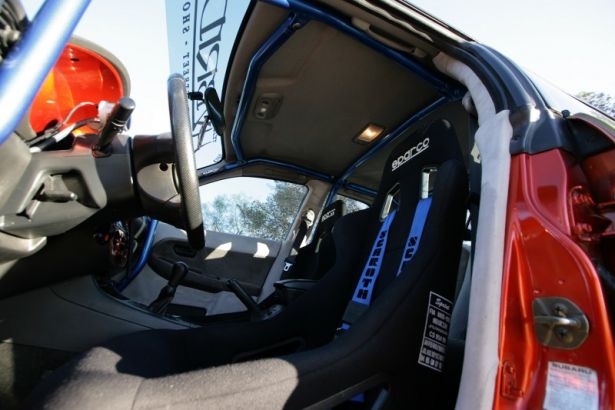 Inside Manandik's project is a 6-point Cusco bolt-in cage surrounding a pair of Sparco racing buckets complimented with Schroth 4-point harnesses. The interior has had a number for custom grey suede accents added by the craftsmen at George's Upholstery in Las Vegas. A triple gauge pod on the dash houses some 60mm Defi gauges and a Momo steering wheel was added. Finally, a simple audio install of a Sony LCD-flip and an Infinity amp and sub for the lows were wired up.
In this last iteration of Manandik's vision, he finally got the results he'd been working so hard to get. Since his story was such an interesting one and he's been grinding hard with this project for a long time, we set him up with this sweet feature. Looks like hard work paid off for this determined Team Hybrid member and his bug-eye WRX, as all of his troubles seem to be behind him with nothing but open road ahead.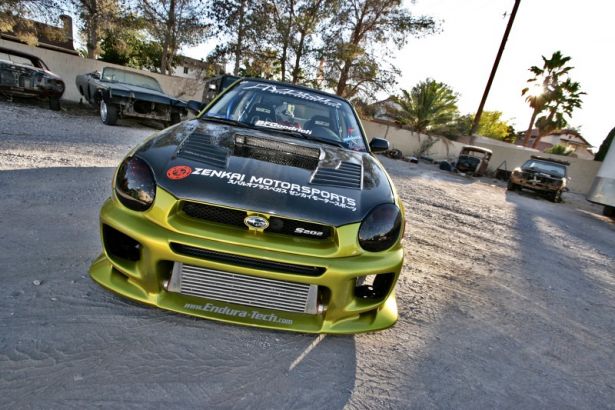 THE ESSENTIALS
Owner: Rodney Manandik
Location: Las Vegas, NV
Vehicle: 2002 Subaru WRX
Power: 362whp with 374 lb-ft.
ENGINE
Subaru EJ25 2.5L boxer-4
ENGINE MANAGEMENT
Turbo XS UTEC
Blitz SBC-iD Boost Controller
DRIVETRAIN
ACT 6-Puck Clutch
ACT lightweight flywheel
Spec-C Synchros
ENGINE MODIFICATIONS
EJ25 2.5L STi Block
EJ20 2.0L Heads
Brian Crower 272 Cams
Wiseco Pistons
Eagle H-Beam Connecting Rods
Garrett Ball Bearing GT3760R Turbo
GodSpeed Intercooler
Blitz DD blow-off Valve
TiAL 38mm Wastegate
Walbro 255lph Fuel Pump
Power Enterprise 650cc Injectors
Custom Stainless Steel Up-Pipes and Downpipes
Megan Stainless Steel Exhaust
WHEELS, TIRES, BRAKES
Work XD9s 18x8-inch Finished in Gunmetal
BFGoodrich KDW 215/40R18 tires
StopTech Cross-Drilled Rotors
Hawk HP Plus Pads
Stainless Steel Lines Brake Lines
SUSPENSION
Endura-Tech Coilovers
EXTERIOR
C-West Front and Rear Bumper
S202 JDM WRX Grille
S202 JDM WRX Spoiler
Seibon Carbon Fiber Hood
INTERIOR
Cusco 6-Point Bolt-in Roll Cage
Sparco Racing Seats
Schroth 4-Point Harnesses
Grey Suede Interior Accents
Defi 60mm Gauges in a Triple Gauge Pod
MOMO Steering Wheel
AUDIO / MULTIMEDIA
Sony LCD Flip-screen Monitor
Infinity Amplifier
Infinity Subwoofer
SHOUTOUTS
Endura-Tech, BFGoodrich, Meguiars, Sping Mountain Auto Body (Las Vegas, Nevada), Uehara Motor Werks (Las Vegas, Nevada)