Written by Dave Pankew & Mark Pereira // Photos by: PAS Contributors | 08 October 2010
Page 11 of 12
-2009-

JUICED - Volume 11 Issue 08

The majority of NSX owners have gravitated toward the pristine OEM feel for their cars, with the only aftermarket upgrades being limited to intakes, exhausts, and wheels. For tuners (with some money) NSXs were within reach and they cracked open their HyperRevs to see what could be upgraded. Such was the case with Ravi Ayyagari of Seattle, WA who not only made the NSX his passion, but now develops products and even spawned an NSX-specific business – Umbrella Auto Design. With a fully race built motor and a one of a kind Sorcery S-GT carbon fiber aero kit, this NSX is truly a masterpiece. The paint job alone is worth $20,000 and over 1000 man-hours were spent on the interior.
YOUNG GUN - Volume 11 Issue 5
When Ken Gushi stormed onto the professional drifting scene, he was only 17. The young Japanese American started drifting before he had a license. Gushi was the subject of every conversation season after season because everyone had high expectations for him. Now slightly older and much wiser, he is back but in a new platform – a Scion tC. Not just any Scion tC obviously but one converted to rear wheel drive featuring extensive chassis modifications. At the heart of the project is an engine adored by Toyota-philes but relatively unknown to everyone else. The Toyota BEAMS (Breakthrough Engine with Advanced Mechanism System.) engine, is an inline-4 manufactured by Toyota by tuned by Yamaha.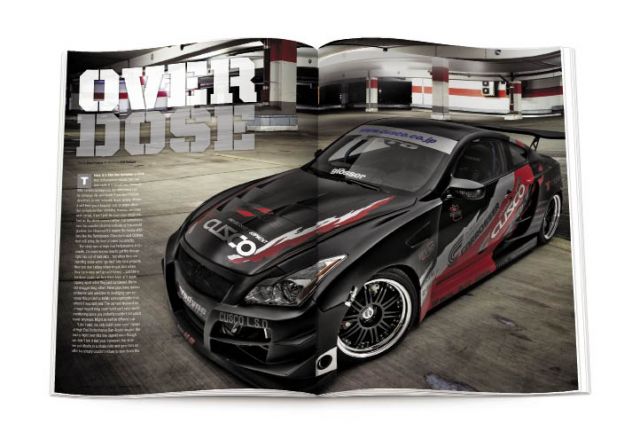 OVERDOSE - Volume 11 Issue 1
"We only build cover cars" owner of High End Performance, Ben Abutin laughs. No kidding, we had to fight over this one (again) to get it on our first cover of 2009. At SEMA 2008, everyone was running their mouths about the badass G that was in the Cusco booth, they weren't doing that the year previous when it sat in the Tanabe booth with an unusual bodykit. Another notch in their belt, High End attracted the attention of Kazunori Yamauchi at SEMA. Who is Mr. Yamauchi? Well, only the creator of the most successful racing simulator of all time, Gran Turismo. Since that honor, the owner of this car tragically passed away of natural causes. Abutin has since revised the car and taken it on the road with HIN in memory of his friend.
---
Erica Medina
THE ESSENTIALS:
Birth date: January 1
Sign of the Zodiac: Capricorn
Measurements: 36/24/32
Nationality: Mexican
Hometown: Anaheim, CA
Turn-ons: Confidence
Turn-offs: Cheesy Pick-up lines!