Page 1 of 3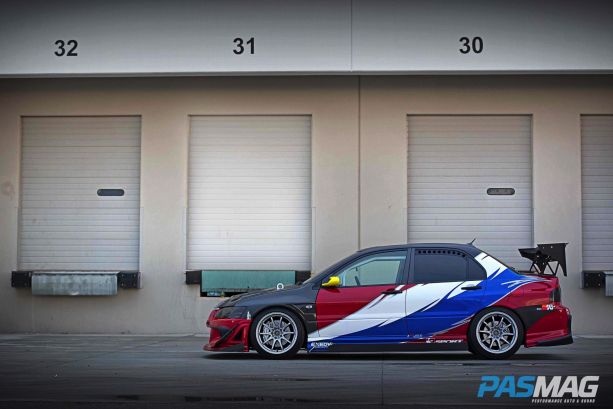 Some folks have 401k plans, money in the bank from years of hard work, and IRA accounts worth hundreds of thousands of dollars. Some people, like magazine editors, have little more than that which is created by their overly vivid imaginations. Mark Buffington has an Evo 8 and, for him, that's perfectly alright. You see, where his contemporaries cut their teeth on muscle cars, hot rods and big block V8s, Buffington came late to the game with a small import car he inherited from his father.
After a trip to a local show opened his eyes and whet his appetite for what could be, he found the four-door Evolution VIII as soon as it was released, traded in his training wheels and never looked back. Although he's now 57, and planning to retire in a few more years, it appears that slowing down will be out of the question. He is planning to go somewhere, fast.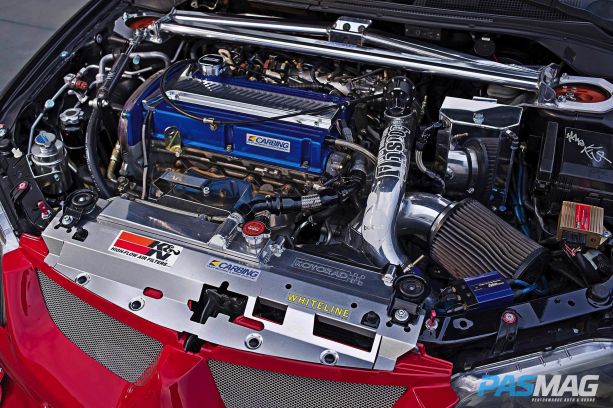 At the heart of Buffington's ridiculous build is the infamous 4G63T, with the "T" in this case standing for an FP Red turbocharger upgrade. The downpipe and wastegate come from HKS, and there's a front-mount Type "R" intercooler and piping connected to an HKS Special Edition black-finished SSQV blow-off valve. Injector Dynamics 1,000 cc squirters are necessary along with an AMS fuel pressure regulator and a Full Blown fuel hat with stainless steel lines.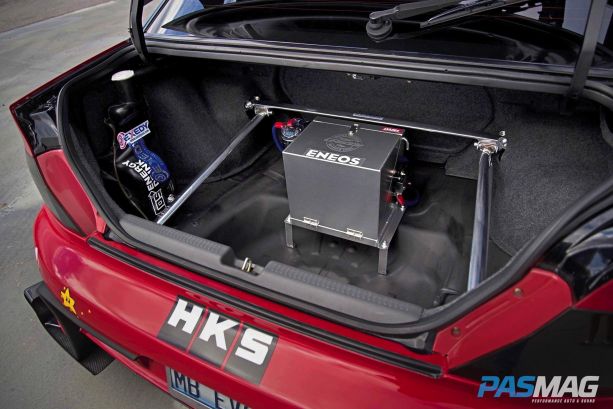 Ensuring sufficient fuel flow is the job of a dual pump setup; one Walbro 255 LPH pump combined with a Nissan 300ZX Twin Turbo pump. Insane Speed built a custom air intake, which features a K&N air filter for cool flow into the turbo. Inside the ported head are HKS 272- and 264-degree camshafts and timing gears spinning an HKS timing belt under a clear cover.
Buffington is especially proud of his fuse box cover, signed by the "Drift King" himself, and all of the custom touches and rare products he's accumulated, including the ARC turbo heat shield and the Carbing oil catch can with stainless steel hoses. He's also understandably proud of the power it produces.