Completing his first overhaul and visiting SEMA as a guest in 2009, Reining decided to enlist in SEMA 2010 with his new feature vehicle. Figuring he'd done about as much as he could with the car, he decided to sell it. He had trouble finding buyers, so he decided to strip it down to stock and part it out, but even that proved to be a hassle. Maybe it was a sign from the car gods.

Soon after, TurboXS contacted Reining to run parts on his car. When sales took off for the company, the higher-ups decided to do a full sponsorship. That's when his Gen coupe started getting some serious notoriety as being one of the most serious transformations around, including commercial spots with AirRex and ISS Forged. And, it's well-deserved, considering he has the first set of ISS Forged/Blonix Forged Snowflake RS wheels (19x9 -11 up front, 20x10.5 -6 in the rear), one of only two sets ever made.

His center caps are equally as rare; there are only 15 sets in existence. Set inside are his giant Track-Edition OEM Brembo brakes with four-piston calipers and 13.4-inch rotors in the front. Reining made sure to put an equally eye-popping set of two-piston calipers and 13-inch rotors in the rear. Toyo Proxes Sport T1S tires are wrapped around the Felgen Outlet Award-winning package, which Reining says is his proudest achievement with the car.

"I got that at SEMA last year," he says. "They only give 20 awards a year for the best wheel and tire combinations worldwide, so it'll be hard to top that. The trophy's badass too, it's a little Schmidt H-Line three-piece wheel!"

For proper stance and performance handling, AirRex front and rear struts are complemented with a fully-manual AirRex air management by Marshall Lum at AirRex, two 380 cc Viair pumps and a four-gallon tank. To get the Genesis over any hurdles and lay the front lip on the ground when he brings it to shows or puts it to bed, Reining had to remove the front sway bar for stance, but it's an easy bolt on when he wants to take it to the track.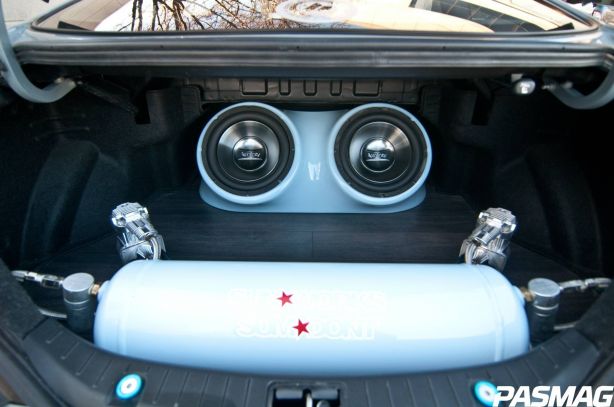 6K HID headlights

INTERIOR
Custom Dooney & Bourke upholstery by David Lodin (seats, shift boot, centre armrest, door inserts, clock display)
Corbeau (FX1 Pro seats, 3-in. five-point cam lock harnesses)
TurboXS aluminun shift knob
Motorsports Authority gauge pod
Prosport EVO-series boost and wideband gauges
Diode Dynamics (stage-3 LED lighting, acrylic plates in door pulls, cup holder and arm rest, LED footwell lighting)
Hydrodipped interior plastic panels

AUDIO
Pioneer App Radio head unit
Infinity (Kappy ONE subwoofer, 1,060 W reference subwoofers (2))
Custom sealed fiberglass enclosure by Jacer Fiberglass
Fiberglass subwoofer enclosure with 15-inch monitor flush mounted

SPONSORS
TurboXS
BASF
Crisp Customs
Competition Clutch
Prosport Gauges
SSP Vinyl
Toyo Tires
Mishimoto
Motorsport Authority
ISS Forged/ Blonix Wheels
AirRex
Corbeau
SickSpeed
DeatschWerks