Written by Jordan Lenssen | Photos by William Lam | 14 September 2013
Page 1 of 3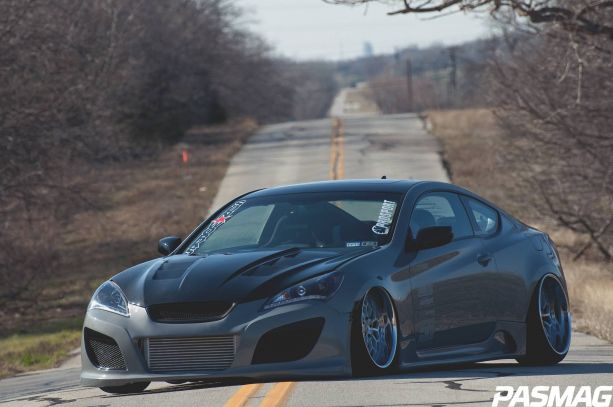 Written by Jordan Lenssen / Photography by William Lam
For some reason, the best tuner cars are often the ones that were purchased with little to no planning in mind. Case in point, Jacob Reining's Hyundai Genesis 2.0T Track Edition is part of a long lineage of cars. His dad used to tell him stories about his collection of brute American muscle cars, including a 1964.5 Ford Mustang and '68 Chevelle SS, which spurred Reining's interest as a young kid. The Gen coupe you see gracing these pages started from modest beginnings; Reining originally planned little more than a wheel and suspension upgrade, some basic bolt-ons and a few stereo components. After some good fortune, he went ahead and started building the ultimate RWD turbo.
Reining is no stranger to tuning cars. In fact, he does the majority of work himself. He started off with a 2001 Mercury Cougar that involved a set of wheels, lowering springs, performance bolt-ons and carbon fiber upgrades (namely a hood and trunk), but he's the first to say it was far from the hottest car in the neighborhood. So, he moved to a 2003 WRX wagon, again with some minor mods. He kept the car for a couple of years before parting ways. When it finally came time to sell it, an acquaintance took the car for a solo test drive and completely shredded the transmission. Knows that particular model is prone to issues, Reining refuses to say anything beyond that. While his WRX sat limp, Reining was driving a Suzuki SX4, again with simple bolt-ons, lowering springs and a set of wheels. Not thinking too seriously about another ride, his friend asked to swap rides to haul some car parts for a few days. The car he got in return was an EVO VIII with a lot of work done to it. By the time they switched back, Reining knew he had to get something else.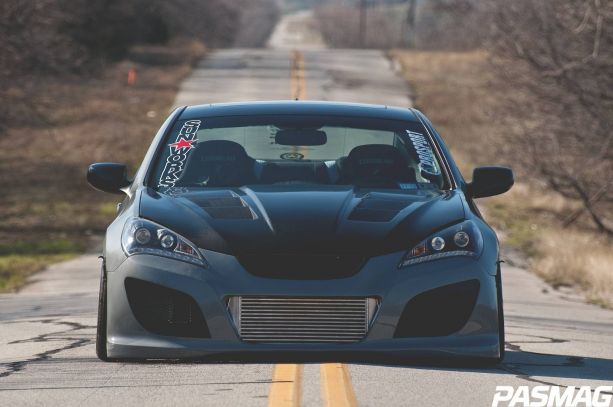 When he started looking for a new ride, he had a few ideas in mind. He didn't have many mods planned, but he wanted something with a fair number of aftermarket parts. He also wanted something that was and fun out of the ordinary – and turbocharged, in particular.
Looking closely at the EVO, WRX STI, Cobalt SS, Caliber SRT4 and the Genesis, the only cars available to test were the Cobalt, Caliber and the Genesis. His choice is now obvious, but Reining says there are a few things that made his decision easy. "I liked that it is rear wheel drive. I never owned a rear wheel drive car before," he says. "I also like that it's an actual sports coupe. A lot of cars out there look real sporty and look like they should be rear wheel drive, but they're not." When he finally got it home, he started gathering the goods for his build. Coil-overs, wheels and some bolt-ons were first on the list. But the basic build plan was soon out the window. After he and a friend posted videos of his coil-over install, a number of vendors approached him, interested in learning what else he had planned. That spurred on discussions with his first major sponsor, Custom Performance Engineering, who provided Reining with a long-list of upgrades, including a turbo-back exhaust, front-mount kit and some rare HKS carbon fiber goodies. His "basic build" was looking more like a big beast.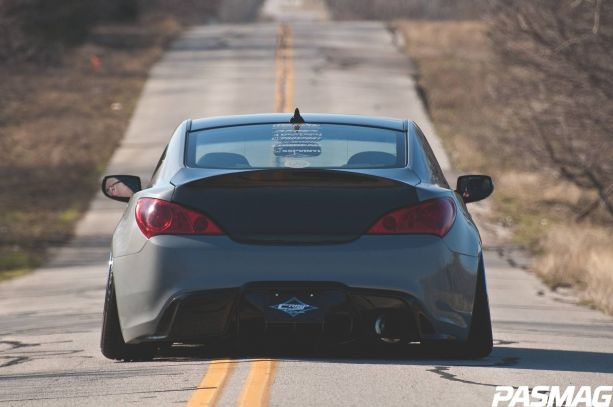 Completing his first overhaul and visiting SEMA as a guest in 2009, Reining decided to enlist in SEMA 2010 with his new feature vehicle. Figuring he'd done about as much as he could with the car, he decided to sell it. He had trouble finding buyers, so he decided to strip it down to stock and part it out, but even that proved to be a hassle. Maybe it was a sign from the car gods. Soon after, TurboXS contacted Reining to run parts on his car.
When sales took off for the company, the higher-ups decided to do a full sponsorship. That's when his Gen coupe started getting some serious notoriety as being one of the most serious transformations around, including commercial spots with AirRex and ISS Forged. And, it's well-deserved, considering he has the first set of ISS Forged/Blonix Forged Snowflake RS wheels (19x9 -11 up front, 20x10.5 -6 in the rear), one of only two sets ever made.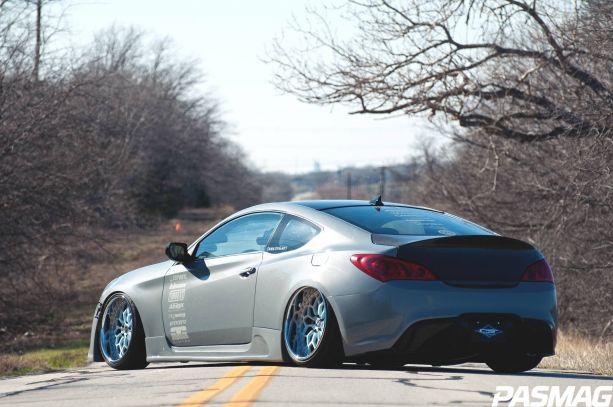 His center caps are equally as rare; there are only 15 sets in existence. Set inside are his giant Track-Edition OEM Brembo brakes with four-piston calipers and 13.4-inch rotors in the front. Reining made sure to put an equally eye-popping set of two-piston calipers and 13-inch rotors in the rear. Toyo Proxes Sport T1S tires are wrapped around the Felgen Outlet Award-winning package, which Reining says is his proudest achievement with the car.
"I got that at SEMA last year," he says. "They only give 20 awards a year for the best wheel and tire combinations worldwide, so it'll be hard to top that. The trophy's badass too, it's a little Schmidt H-Line three-piece wheel!"