Written by Steven Loung | Photography by Robin Andersen | 14 August 2013
Page 1 of 4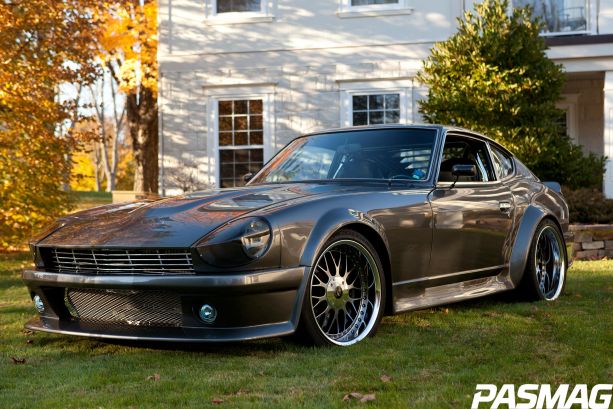 The Datsun name might have died in the mid '80s in place of the Nissan nameplate, but the brand is coming back in 2014 as a low-cost label to be tested in emerging markets like China, India and Brazil.
For those who remember Datsun, the news is bittersweet. The company became synonymous with high-performance sports cars world because of the 240Z. The grandfather to Nissan's 350Z and 370Z, the 240Z was the hottest car in the early 1970s and still has a worldwide cult following.
Among these people are Rejean and Richard Desjardins from Moncton, New Brunswick. When we caught wind of this father-son's re-worked 240Z, we knew we had to get it into the magazine.
Desjardins updated the vehicle with a few modern touches without taking away from the car's heritage. This is a 240Z through and through but, upon closer inspection, there are modern touches that make even non-classic car enthusiasts turn their heads.
The classic-contemporary design philosophy is evident in the bodywork. Wrapped around an MSA Type 3 body kit, the car is definitely wider and meaner than the original. The added grille on the front fender in particular gives the car a menacing demeanor that is popular in modern sports cars, while not taking away from the 240's distinctive sleek angles.
The body is the main modification, but other exterior changes also blend the old with the new, such as halogen glass headlights and chrome accents around the car and a carbon fiber taillight accent piece. Pop open the hood and the same design philosophy is also apparent.