24 April 2013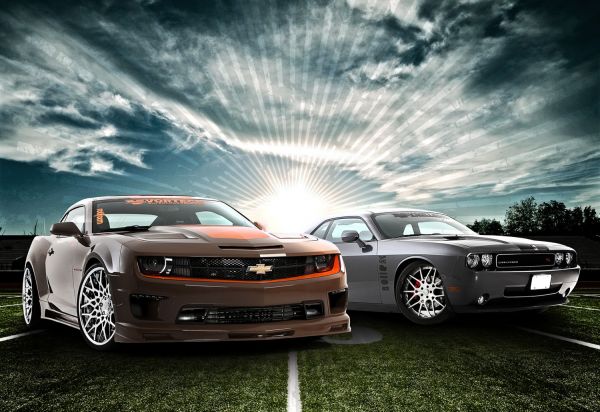 Imports have been the spotlight of the sport compact scene over the past couple of decades, so it's easy to forget that good old American muscle is where racing bloodlines started. This is North America, so a little refresher course on large displacement engines and a few extra cylinders wouldn't hurt; but it's a new day and age, so gone are pushrods and carburetors and in come overhead cams and fuel injection. Technology can be a wonderful thing.
In terms of styling, American design teams have worked overtime to stray away from the steel sardine can-look they were once notorious for. The cheap plastic interiors have been tossed into the dumpster as well. This 2010 Dodge Challenger R/T is a prime example of the new muscle car movement, with a sleek, classic body design that's backed by a 5.7-liter V8. It's safe to say this isn't your grandfather's Dodge anymore.
A short trek an hour northwest of Los Angeles brings us to a city called Oxnard, known mainly for its naval base, strawberry festivals and, uh, lima beans. That might pull the attention of some people, but for the gear heads we found something even more enticing. Tucked in the corner of Ventura County is Vortech Engineering, one of the industry leaders in forced-induction supercharger performance. Trying to dig into the technical aspects of what the masterminds at Vortech actually do would be like taking a crash course in AP chemistry, so in short we'll just say that they make horsepower – and lots of it. Though it's hard to imagine that anyone could improve on a 372 hp from the factory, at Vortech they'll get it done.

With the addition of an air-to-water intercooled V-3 Si supercharger setup, the engineers were able to push 420 hp down the dyno rollers. At the crankshaft, that's close to 520 hp and enough to make you get a "wettie" at wide open throttle. Though American engines are built tough, a little extra insurance is always nice. A Fuel Pump Voltage Booster and Stage 2 Mopar injectors ensure that the boost from the supercharger is matched with a sufficient amount of overpriced gasoline. If you've never heard the whistle of a supercharger combined with the roar of a Borla exhaust expelling the gases of a 500+ hp V8 motor, we highly suggest experiencing it at least once in your lifetime. "Euphoric" is the only word to describe it, though small animals and car alarm shock sensors around the world might not agree.
To further shed the old myth of muscle cars not handling well in anything but a straight line, the Vortech team trashed the stock suspension setup and replaced it with some track-ready pieces from KW. Whiteline sway bars, strut bars, and urethane bushings round out the footwork checklist. And of course, when you have a 5,000 lb. giant being propelled by 475 lb-ft of torque, there needs to be some serious stopping reinforcements. Baer Extreme + six-piston brakes tackle those duties with jumbo Toyo T1R tires wrapped around 22-inch, custom-painted Forgiato Maglia wheels. Drag race ready? Yes. Road course ready? You bet your sweet behind.
Both the interior and exterior of this Challenger have been left fairly untouched minus a few subtleties, like the grey-flake custom paint job and racing stripes (if you consider a custom paint job subtle). Some say that racing stripes are played out, but when you have the fortitude to back them up, who can really debate that?
It's possible this Vortech Challenger is slick enough to give import and domestic enthusiasts something to bond over, but we won't wager our house on that. If anything, just sit back and enjoy this street version of a roller coaster ride.
Vehicle: 2010 Dodge Challenger R/T
Team: Vortech Engineering
Built by: Vortech Engineering
Engine: HEMI 5.7L V8
Horsepower: 420 hp
Torque: 475 lb-ft
Engine Modifications
Vortech (V-3 Si supercharger, Maxflow air-to-water intercooler, blow-off valve, fuel pump voltage booster)
Mopar Stage 2 fuel injectors
Exhaust
Borla S-Type exhaust
Chassis / Suspension
KW Suspension front and rear
Whiteline (sway bars, strut bars, urethane bushings)
Wheels / Tires / Brakes
Forgiato Maglia wheels – 22 x 9 (f), 22 x 10.5 (r)
Toyo Proxes T1R tires – 265/30 R22 (f), 295/25 R20 (r)
Baer Extreme + big brakes with six piston calipers
D3 stainless braided brake lines
Exterior
Custom Grey flake paint job with black stripes
Sponsors
Baer Brakes, Toyo Tires, Borla Exhaust, KW Suspension, Whiteline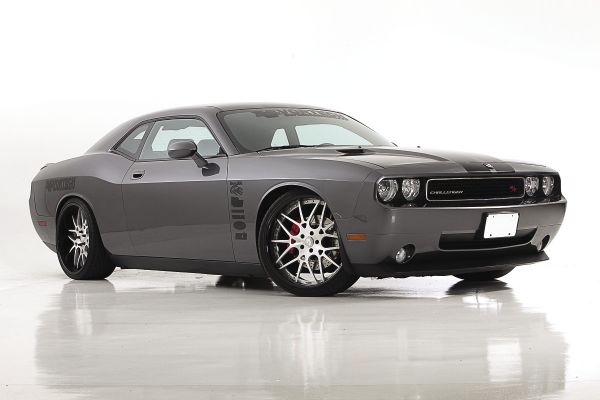 Still at the Vortech Engineering facilities with an entire stable of cars to dig through, we stumbled upon another domestic – a 2013 Chevy Camaro 1LE to be exact. This one, however, was one of Marketing Director Neil Tjin's personal projects. He's been doing this for a while and has a list of project cars that might outnumber the entries in my little black book. Everything from Scion tCs to Ford Festivas – blurt out any automotive manufacturer and there's a good chance you've seen Neil's signature on one of their cars – literally his signature – because he finishes each Tjin Edition project car with his signature before promoting them across the nation.
Originating from Florida as the founding member of the aLL sTaRs car club, Neil moved the Tjin family out to California; home of In N Out burgers, where the smog is heavy, traffic is mind numbing and the car scene never seems to stop, no matter how bad the economy is.

His duties as a Marketing Director seem like a dream for car enthusiasts. He works with sponsors to build sick cars with lots of horsepower then makes sure that they get recognition at car shows and in magazines. We all do that anyway without getting paid for it! While that's the general description of it, there's much more involved than it seems to the naked eye. Neil will be the first one to tell you that it's not as easy as it appears. Trying to get companies, sponsors, publications and PR companies to work together in a timely fashion can be more painful than listening to Ke$ha sing acapella live.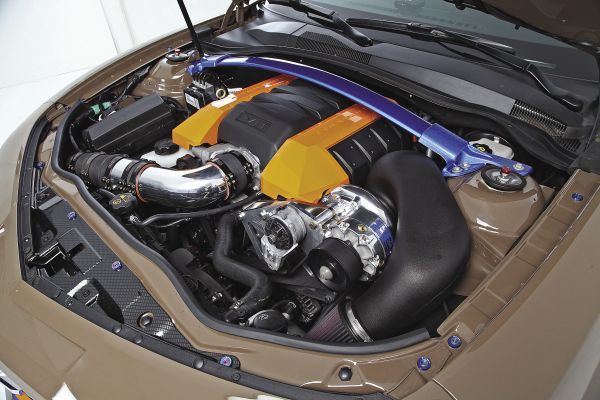 Neil's Camaro build was a split between business and pleasure. Pleasure? Well that's an easy one. Who wouldn't want a muscle car to tinker with? The business aspect required General Motors and Vortech Engineering to collaborate some marketing and promotions together. But with the sports car history of the Camaro, the choice was simple and the end result is the ultra-sexy hunk of American steel seen here. Considering the initial reviews on the car being big, heavy and hard to work with, Neil definitely had his hands full.

Seeing that superchargers are Vortech's specialty, a V-3 Si blower was bolted on to force feed air through a Maxflow intercooler before eventually reaching the monstrous 6.2L V8 LS3 engine. Teamed up with additional upgrades on the exit side, upgrades like MagnaFlow exhaust, American Racing headers and Unique Fabrication up-pipes get the juices flowing just shy of 555 hp at the wheels. Back at the crank, that's well over 600 hp, which is more than enough to rip tires off the rear wheels with a 5,000 rpm clutch-popping launch (at the drag strip of course). Fortunately for innocent bystanders, this Camaro is equipped with Falken FK453 tires and 21-inch Rotiform wheels, so there will be no exploding shards of steel and rubber when it takes off. Tucked neatly behind all four corners are jumbo six-piston caliper brakes from Baer, providing more than sufficient stopping power, whether at the track or on the street.

Being that this was his newest pet, Tjin wasn't about to leave any aspect of the Camaro untouched. A Street Scene full body kit consisting of a front lip, rear valence, spoiler, and grille was bolted to the factory sheet metal, providing aesthetics and airflow to the intercooler. Extra enhancements and detailed pieces from ACS Composites and LightWurkz lighting were added before L&R Auto Body sprayed the Camaro down with a custom metallic DuPont paint that's shiny enough to want to lick – not that we tried.

For onboard comfort and enjoyment, the dash and seats were wrapped in custom Katzkin leather with softness, probably only paralleled by white Louie boat shoes worn by Jay-Z. There's even a matching Recaro baby seat in the back to transport the little Tjin around safely. Scosche the audio for this Camaro, from the amplifiers to the subwoofers and the distribution blocks. At full blast, the entertainment system makes you feel like you're sitting in an old TDK cassette commercial with speakers blasting your hair and clothes away. But the stock appearance from the Scosche products keeps everything looking classy. Sorry, no fish tanks or DJ mix tables up in here.

It doesn't take a genius to realize that Tjin is really good at his job. The amount of publicity that each build gets proves it. Knowing Neil, he already has his next two or three projects lined up, so it's just a matter of guessing what they are and where you'll see them; our guess for the latter is "everywhere." With show season just around the corner, make sure to keep an eye out for this Camaro and anything else that might have Tjin's name on it. Because like Smucker's, with a name like Tjin, it has to be good.
Essentials

Vehicle: 2013 Chevy Camaro 1LE
Driver: Neil Tjin
Team: aLL STaR/Tjin Edition
Engine: 6.2L LS3
Horsepower: 554.4 hp
Torque: 487.2 lb-ft
Engine Modifications

Vortech Engineering (V-3 Si supercharger, Maxflow intercooler, Maxflow bypass valve, air filter, air intake, Fuel Pump Voltage Booster)
Injector Dynamics ID725 fuel injectors
Tangent titanium bolts
Lance Keck tuning
Exhaust

MagnaFlow exhaust
American Racing headers
Unique Fabrication up-pipe
Motive Concepts catalytic converter
Pedders (shocks & struts, springs, strut bars, sway bars, urethane bushings)
Wheels / Tires / Brakes

Rotiform wheels – 21 x 9.5 (f), 22 x 11 (r)
Falken FK453 tires – 255/30 R21 (f), 295/25 R22 (r)
Baer 6S (15-in. cross-drilled front rotors, six-piston calipers (f), 15-in. rear rotors, six-piston calipers (r); brake lines)

Exterior

Street Scene (body kit, front lip, rear valence, grille, aero parts)
ACS Composites (T3 hood inserts, T3 functional mail slot inserts, T3 bumper ports)
LightWurkz (headlights, taillights)
Webasto sunroof

Interior

Custom Katzkin (dash, seats)
GlowShift (gauges, gauge pod, gauge trim)

Audio / Mobile Electronics

Scosche (equalizers, processors, crossovers, line driver, sub amps, midbass amps, high freq. amps, rear fill amps, sub woofers (2), mid bass, mid range, tweeter, center channel, rear fill, power wire, front fuse holder, capacitor, distribution blocks)
Optima battery
Sponsors

Vortech Superchargers, Baer Brakes, Falken Tire, Rotiform Wheels, MagnaFlow Exhaust, GlowShift gauges, Escort radars, Royal Purple, Scosche Audio, Webasto Sunroof, Street Scene, Pedders Suspension, DuPont Paint, LightWurkz, Katzkin, ACS Composites