Written by Dave Pankew // Photos by Jacob Leveton | 04 December 2009
Page 1 of 2
When rhyming off shop names that define the Japanese scene, one shop is on every top 10 list. That shop is of-course Signal Auto of Osaka, Japan. Signal is known for producing
some very important automobiles, as their shop cars helped define the enthusiast scene with builds like the Chop-Top Civic, the mighty Signal Skyline and trio of Signal Auto 240 drift cars. These cars toured throughout North America and brought forth huge crowds and guaranteed action wherever they roamed.
Today, the pair of Drift Emporium Infiniti G35s here are picking up right where their predecessors left off, very much influenced by the Signal projects of the past. Of course Signal's previous G35 was a bit more unorthodox back in the day with an SR20 powerplant instead of the VQ-powered V6. But, the Georgia-based Drift Emporium crew wasn't going to go with any smaller displacement, nor going to attempt any complex turbo installs. They planned to use raw power via tried and true technology – Stillen blowers on a big displacement mill. With their concept firmly in motion, there was one other motivation factor for the crew at Drift Emporium and that was building these magnificent cars in memory of their good friend and well known industry player, Sae Kang.
At the heart of the project is some really big displacement. A Nissan sourced V8 was extracted from a much larger SUV and shoe-horned into the tight quarters of the Infiniti chassis. The VK56 is a 5.6L quad cam beast (found under the hood of any Infiniti QX56) that is more than happy to be force fed. The proven Stillen supercharger is a roots-type blower that comes with all of the necessary fuel and cooling upgrades to support it. An Aeromotive A1000 fuel pump was added to the mix in addition to an Aeromotive FPR. The cams are an aggressive Jim Wolf design that provides plenty of power throughout the band. How much power?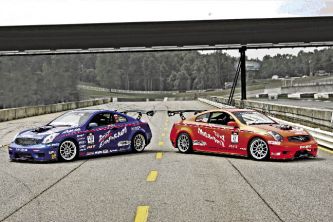 Try a respectable 429whp with a more important 405lb-ft of instantaneous down-low grunt.
All of this juice is enough to grenade the stock components of the M6 driveline. An Exedy twin carbon clutch and lightweight flywheel was added to hold down some of the torque. A custom aluminum driveshaft was fabricated to work with the new geometry of the engine swap. Finally a Tomei 2-way LSD was added to put the power down through every slide.
The rollers on the project have a timeless look like any Signal project from years past. A set of SSR Type F wheels were added 18x9.5-inch up front with 18x10.5 rears. The SSRs are wrapped in preferred BFGoodrich KDWs a healthy 255/35R18 on the front and a smoke-inducing 275/35R18. In order to get the car to scrub off speed quick, Drift Emporium turned to AP Racing to make it happen. Up front is a 6-piston/355mm 2-piece rotor with a 4-piston/330mm combo in the rear all connected with AP Racing braided lines.
To keep any drift car in check, you need high grade components so one source was selected to ensure that it all worked together. JIC Magic of Japan produced several suspension components including coilovers with custom springs and valving. The front and rear control arms are also custom-spec by JIC. The balance is all capable Infiniti components.
The rest of the attention was directed towards the exterior of the mechanically identical cars. Both were shipped to Ultimate Auto Boutique (www.uabcustomcars.com) to have the AIT Racing bodykits fitted up. A Stillen open mouth grille was added to one car and Buddy Club rear spoilers were bolted up. The cars were painted with the special Maziora paint, one in pearl orange and one in pearl blue. Both hoods have been modified to accommodate and expose the high profile of the supercharged V8s to show fans and foes they mean business. Inside, the cars sport Bride racing buckets and Takata 5-points surrounded by a cage of-course. Inside the gutted interior, one will find a Sparco steering wheel and Auto Meter gauges to relay info.
We caught up with them for our shoot at Formula D Atlanta, and the Drift Emporium crew plans to hit up as many events as possible with the big block G35 twins. For now, the cars remain in a state that is pretty enough for photographs, but as time goes on we expect the Drift Emporium team to crank up the wick and tag these cars in the process. These cars are built to be pushed to the limit and that's what it's all about.
Read on for Full Spec Sheet