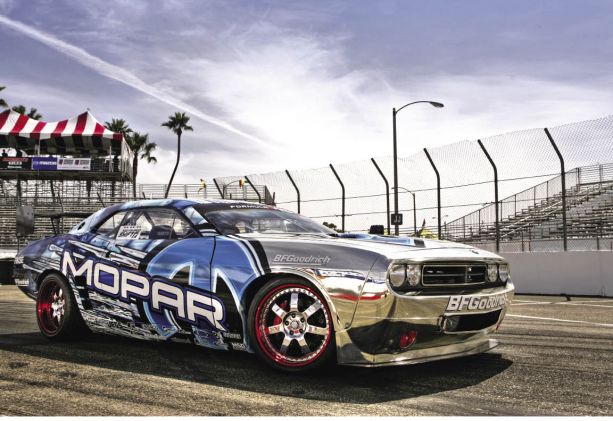 Written by Dave Pankew | Photos by Jacob Leveton
Considered one of the most talented driver's in Formula D, pro drifter Samuel Hubinette and his mighty Dodge Viper were a perfect match during their commanding time together, with many top podium finishes to prove it. When it came time to retire the Viper and move onto a new drift machine, major sponsor Mopar developed a powerful Dodge Charger SRT-8 for him and more recently this all new Dodge Challenger!
Although there never was anything wrong with his initial weapon of choice, the trusty Viper often still popped up at Formula D events when crowds were expecting something new and even this year, the unbreakable Viper appeared in the first round of competition at Long Beach.
However, this time around Hubinette and his team got it right. The new Challenger is fierce and it has all of the right equipment and several innovations never seen before in the drifting world. The crew over at NuFormz Racing helped develop the car under the direction of former drag racer, Shaun Carlson. Carlson has been in competitive motorsports for many years and has dropped the gloves against the world of drifting by teaming up with his former drag sponsor Mopar and Hubinette. The car was unveiled at SEMA last November to the delight of fans who had been hearing only rumours for months. Ailing automaker Chrysler was thrilled to have the steady traffic in their display, to keep their brand front and center during the show.
On the following weekend, the Challenger was hauled out to the Red Bull Drifting World Championships held in the Port of Long Beach. Unfortunately for drifting fanatics, the Challenger did little more than just look pretty posting up at the NuFormz / Mopar booth. Hubinette however brought out the proven artillery with his Mopar Viper SRT-10 and qualified second … in the world! He then went on to carve his way through the 32-car field and wound up fighting Foust in the consolation round. Foust got the third place win but the two time Formula D Champion (2004 & 2006) was thrilled to secure fourth out of the top drifters on the planet.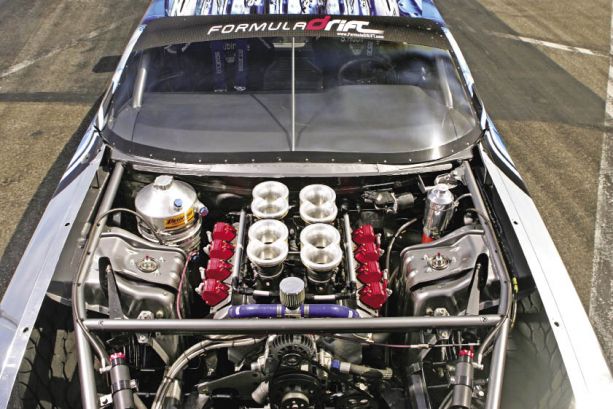 The Challenger however is not shelved, not by a long shot. When they make a move, they aren't going to settle for second place and the Challenger is undergoing some refinements before its competition debut. The new car is not short on power, not by a long-shot. The 6.1L Hemi crate motor was replaced with a 430 cubic inch (7.0L) Mopar Performance Sprint car motor built by Gary Stanton. It's an A8 block with raised port W9 heads. With a staggering 14.8:1 compression, the Gary Stanton Racing Engines-built motor pumps out 850hp at 7200rpm on methanol… oh yeah!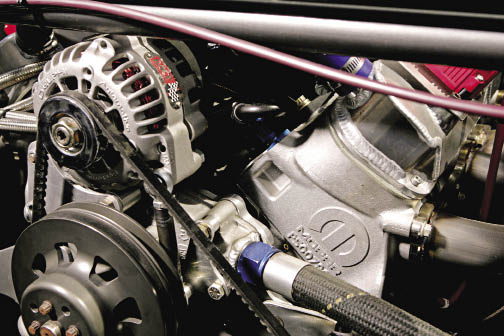 With some serious jam for a naturally aspirated engine, it will work wonders in a chassis that only tips the scales at 2,600lbs. Harnessing the 850 steeds has been the task of a G-Force 4-speed dog-mission featuring some square cut gears that will deal with the immense torque of this sideways assassin. The custom lightweight drive-shaft spins up an OS Giken Super Lock 2-way LSD housed in a Viper diff pot.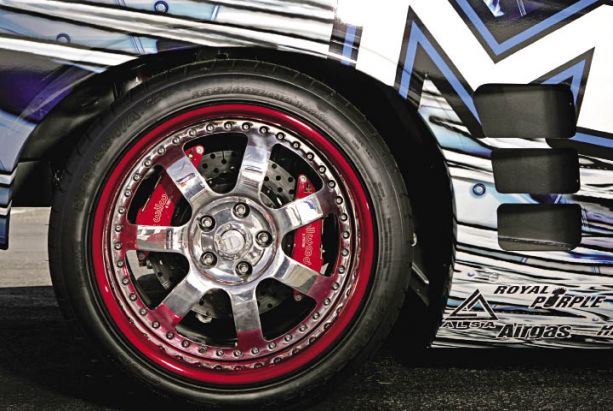 All of the power under the carbon fiber lid isn't going to serve Hubinette well without suspension and braking tweaks. The NuFormz team turned to Eibach to fab up a set of custom Multi-pro R2 coilovers with classified specifications. They installed a set of Wilwood lightweight brakes to keep the torque pumping. Wilwood Superlite 6-piston calipers are found on all four corners along with dynamic-mount scalloped rotors.
On the exterior, NuFormz went with some custom body work. Their fabricators put together something that the team would be proud of. The vinyl graphics were supplied by Competition Graphics and the body was done by Nuformz. The 10-point cage was an in-house fabrication by NuFormz. Several carbon fiber pieces were protoype to be in time for SEMA but rest assured the car is still under construction.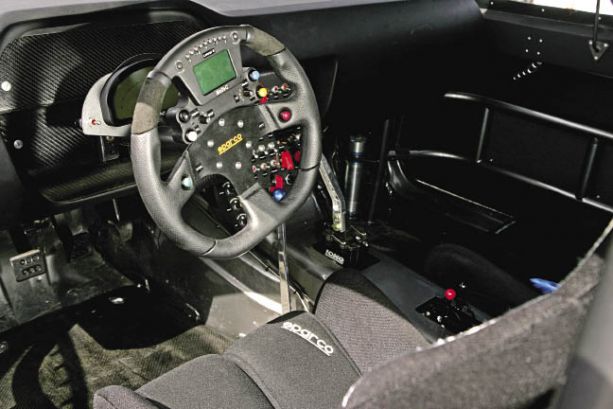 We look forward to seeing what the car is capable of. Hubinette has spent countless hours doing battle in his Viper and shelved the Charger almost as soon as it debuted. Will the Challenger fall to the same fate against his stout Mopar NuFormz Viper? Only time will tell. Either way, this is the baddest Challenger around and should prove to be a deadly track weapon, following in the Viper's footsteps.
THE ESSENTIALS
Driver: Samuel Hubinette
Team: NuFormz Mopar
Vehicle: 2009 Dodge Challenger SRT-8
Power: 850hp @ 7200rpm
Engine: Dodge 6.1L Hemi V8
ENGINE MODIFICATIONS
Built by: Gary Stanton Racing Engines
Mopar Sprint car Hemi block
Mopar A9 aluminum heads
Mopar 14.8:1 pistons
DRIVELINE
G-Force 4-speed dog mission
OS Giken Superlock 2-way LSD
Mopar Viper rear differential housing
Custom carbon fiber driveshaft
SUSPENSION
Eibach Multi-Pro R2 coilovers
WHEELS, TIRES, BRAKES
Wilwood Superlite 6-piston calipers
Wilwood scalloped and cross-drilled rotors
SHOUTOUTS
Mopar, Dodge, BFGoodrich, Oakley, Kicker Car Audio, Sparco