20 April 2012
Page 2 of 2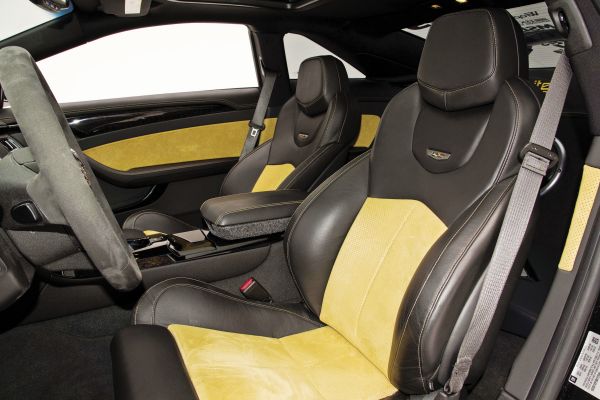 With the insane motor setup all figured out, the challenge for the design team was to go big and match it visually. In this case, that equals wide! As in a complete D3 custom sheet metal wide body aero kit that adds 1.5 inches to the front and three inches to the rear fenders to accommodate the 13-inch wide rear rollers and achieve the proper stance. The aerodynamic upgrades also include a lower front spoiler and splitter, unique side skirts, rear apron as well as a flat-panel under-body to improve airflow beneath the car as well as protect its undercarriage. The result is a car with so much attitude and presence you'd swear it's Darth Vader driving around in the Batmobile.
Don't let the stealthy matte black Wraptivo skin fool you, it doesn't prevent speeding tickets! But, take a closer look and note how intricately Monster Graphics wrapped this not-so-subtle beast. Note the LED headlight sprayers and all those sharp edges in the rear, as well as the subtle yellow contrast lines in the rocker panels and hood vents that match the painted calipers. (The No. 3 number plate is a cue taken from Cunningham's 1950 racer, which, by the way, is a bit of an ugly duckling!) Not cutting any corners, D3 applied a custom smoke finish to the taillights and refinished all the chrome trim pieces in a high-gloss black instead. The Cadillac crest and CTS-V badges got the special treatment, too. If it were possible for this car to look better than it already does, it would be without that large APR carbon fiber wing. It gets a pass, however, as any car with this amount power demands a certain amount of actual rear downforce, not to mention respect from its driver. As much fun as it probably is to drive, it must be a big handful no less.
| | |
| --- | --- |
| | |
The original boss CTS-V interior was retained for the SEMA part of the build, which is not a bad thing at all; although, D3 has plans to run this car in the Cadillac Challenge as well as Global Time Attack events this season. That said, it will receive important upgrades like a roll cage, racing seats, harnesses and other safety modifications in the very near future in hopes of finding out what this beast is capable of.
In the meantime, it does have an upgraded Pioneer A/V system that can be removed for such activities. The semi-stealth installation by Infinite Auto Design features a Pioneer DEH-P9400BH head unit mounted discretely in the center armrest storage console and TS-D1702C components that sit inside custom gloss black speaker pods within the lower front door panels. Though it's not race-ready at the moment, there's still no room for the kids (or much else for that matter) behind the front seats. Instead, the rear seat bottom is now home to some Pioneer amplifiers – two GM-D7500M and one GM-D9500F – while the seat backs have been replaced with a custom panel that matches the rest of the interior, with a pair of TS-W3002D4 subwoofers that protrude into the voluminous 10.5 cubic foot trunk for power.
Rest assured, D3 Cadillac's matte black monster has a date with the race track. "Preliminary testing has yielded low 10-second quarter-miles," according to Pak, "... and every chance we get to go out to the racetrack, we are fine tuning the setup and combination." When the time comes to put up or shut up, no doubt it will have the bite to back up its bark!
---
ESSENTIALS
Vehicle: 2011 Cadillac CTS-V Coupe
Owner: D3 Cadillac
Location: Signal Hill, Calif.
Engine: 6.2L LSA supercharged
Estimated Max Horsepower: 1,000 hp
Estimated Max Torque: 1,000 lb-ft
Top Speed: 220 mph
Curb Weight: 4,100 lb.
Web site: www.D3Cadillac.com
ENGINE MODIFICATIONS:
Kenne Bell (3.6L supercharger, intake manifold)
D3 (air intake, intercooler, 102 mm throttle body, Isky cam, billet fuel rail)
K&N air filter
Manley connecting rods
Total Seal piston rings
Cometic head gasket
ARP studs
Cloyes cam gears
VDO injectors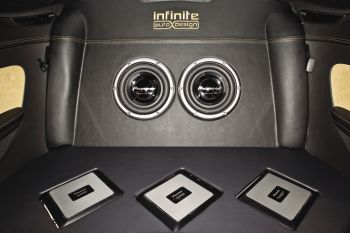 NGK TR6 spark plugs
MSD ignition wires
DRIVETRAIN / CHASSIS:
D3 (performance transmission, 1,000-hp axles)
EXHAUST:
Borla 3-in. custom exhaust with V-band pipe
Kooks headers
EXTERIOR:
D3 (custom wide body, flat panel underbody, smoked taillights)
APR Performance wing
Wraptivo Matte Black vinyl by Monster Graphics
WHEEL / TIRES / BRAKES
Rennen Wheels – 20 x 10 (f), 20 x 13 (r)
Toyo Proxes T1R – 275/30R20 (f), 345/25R20 (r)
D3 stainless braided brake lines
Amsoil brake fluid
SUSPENSION:
KW Variant 3 coil-overs
D3 (sway bars, chassis bracing, adjustable end-links)
Whiteline urethane bushings
AUDIO / MOBILE ELECTRONICS:
Head: Pioneer DEH-P9400BH
Speakers: (2) Pioneer TS-D1702C
Subs: (2) Pioneer TS-W3002D4
Amps: (2) Pioneer GM-D7500M, GM-D9500F
SPONSORS:
Borla Performance
Isky
Kenne Bell
Kooks
Harlad
Pioneer
Rennen
Toyo Tires