Written by Dave MacKinnon // Photos courtesy of Alpine Electronics of America, Inc. | 03 March 2011
Page 2 of 2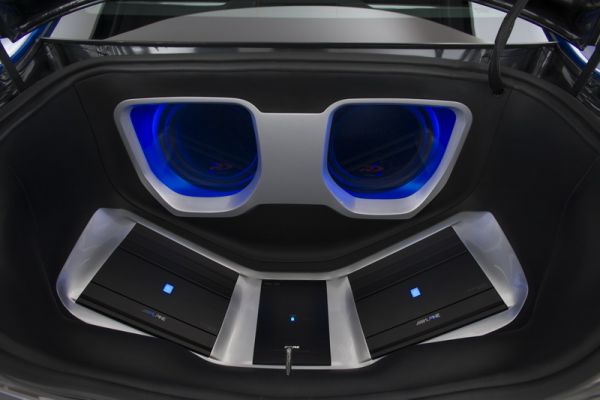 The trunk lid is home to a single Alpine TME-S370 6.5-inch LCD monitor that displays the image from an Alpine HCE-C300R Active Rear View camera system. The HCE-C300R is unique in that not only does it act as a wide-screen backup camera, but it incorporates motion detection technology, putting a red box around an object that is moving in the camera image while providing an audible warning that there is a moving target. The video signal from the HCE-C300R is also displayed on the screen of the INA-W910 when the vehicle is in reverse.
To beef up the performance and styling of the car to match the audio install, a Turbonetics 76mm T-Series turbo kit running at 6 pounds of boost was installed. This kit brings the output of the 6.2L LS3 motor to an impressive 560hp and 537 lb-ft of torque. To make sure this puts a smile on the driver's face, we should note that these numbers were measured at the rear wheels. A MagnaFlow exhaust system assists in this impressive increase in performance and gives the car a decidedly aggressive sound. Engine parameters can be monitored by a Zeitronix data logging system that was molded into the leading edge of the center console.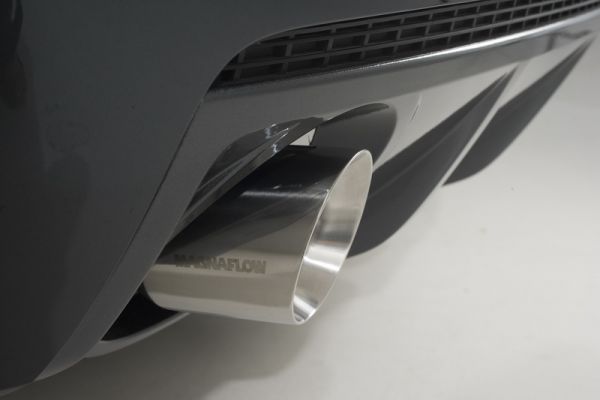 The Camaro rolls on 22-inch HRE Monoblock P40 wheels that are wrapped in Toyo Proxes rubber. Keeping the car planted are Pedders Extreme Xa coilovers and a massive 15-inch StopTech brake kit helps burn off speed when required. The factory hood and front bumper were replaced with new units from ACS Composites. A Fesler Series 2 body kit brings the car even closer to the ground and adds an aggressive stance. Once all the body parts were in place, MV Designz treated the car to the blue, silver and grey paint job. Final details on the car include a Viper 5902V two-way remote start and security system and billet aluminum door sills from Defender Worx.
The result of the Camaro build is a testament to the planning that was put into the project before it even began. Clean and elegant details combine with advanced functionality and monstrous performance in all aspects. The Camaro represents a slight departure from Alpine's history of over-the-top CES builds, but retails the masterful execution that makes Alpine cars a destination for CES attendees year after year.
The Essentials:
Owner: Alpine Electronics of America, Inc.
Location: Torrance, CA
Engine: 6.2L LS3
Engine Modifications:
Turbonetics C.A.R.B. Legal 76mm T-Series Turbo Kit
MagnaFlow Cat-Back Exhaust System
Wheels: HRE 22-inch Monoblock P40
Tires: Toyo Proxes
Brakes: StopTech 6-piston with 15-inch Rotors
Suspension: Pedders Extreme Xa Coil-overs
Data Logging: Zeitronix
EXTERIOR MODIFICATIONS:
ACS Composites Hood and front Bumper
Fesler Series 2 Body Kit
MV Designz Paint
Source Unit: Alpine INA-W910
Audio Processor: Alpine PXA-H800
Processor Controller: Alpine RUX-C800
Dash Kit: Alpine Perfect FIT KTX-CMO
Rear Vision Camera: Alpine HCE-X300R
Rear Monitor: Alpine TME-S370
Front Stage Amplifiers: Alpine MRX-V60 5-Channel x 2
Subwofoer Amplifiers: Alpine MRX-M100 Monoblock x 2
Front Stage Speakers: Alpine SPR-50C, Alpine SWR-843D x 2
Subwoofers: Alpine SWR-12 x 4
Subwoofer Enclosure:
2 Chamber sealed with Plexiglass Windows