Written by Dave Pankew | Photos by RCH Designs | 31 August 2007
Page 2 of 2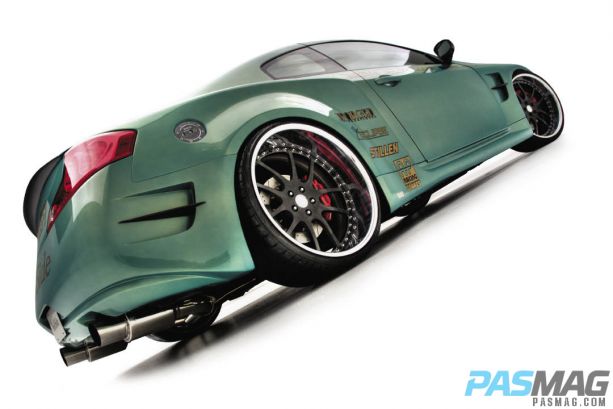 The rare body kit required some rare landing gear. And Wong talked to the crew over at iForged to build something no one else had … or will have. And iForged delivered by shipping over some Vision Anthracite 22-inch wheels, 9.5-inch up front and 11-inches in the backyard. Falken stepped up with some FK452s 245/30R22 for steering and 285/25R22 to lay the beatings down. Behind these sexy spokes are some non-nonsense brakes. Wong wanted to stop with something JGTC-grade and ended up selecting British manufacturer, AP Racing. The slotted and drilled rotors up front are 355mm chomped down on by 6-piston monoblocks, while the rears are a healthy 4-piston / 330mm combo.
The suspension was key to setting the stance and to harness all those ponies. The G was outfitted with Cusco sway bars and Intense Power rear camber arms. The stock dampers and springs also had to be relieved. So Wong slipped in a set of Moben 36-way adjustable coilovers for all of the tweaks needed to enable this car to tap dance around lesser vehicles.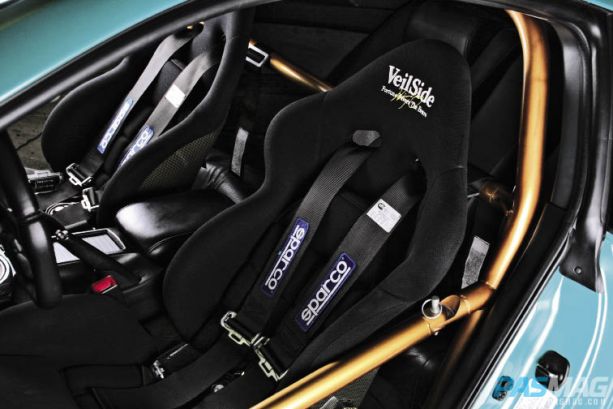 Crack open the door and you won't find what you might expect in a 9-second car. Wong's G has a full interior, well more than full if you count the NHRA-spec cage wrapping around it. The G has the only set of VeilSide VSD-1 reclinable racing seats in North America and capped it off with a full custom carbon fiber center dash panel. The door inserts and headliner have been recovered in suede further proving there is a splash of luxury in the mix. The steering wheel and shift knob have both been replaced with a VeilSide product and Sparco 5-points strap in occupants. All of the vitals are displayed with Defi BF: boost, fuel pressure, oil pressure along with an AEM wideband monitoring AFR values.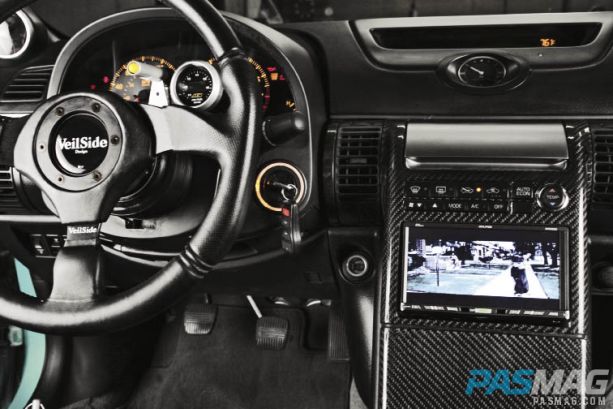 The audio and multimedia assault came courtesy of Eclipse. When we heard about the project we demanded Eclipse marketing staff get onboard because it was going to storm the scene. They sponsored an Eclipse AVN6620 double DIN DVD/Nav unit to output the sound. The mids are amplified by twin XA4000.4 amps feeding SC6500 6.5-inch components and 6.5-inchers in the trunk lid.
The low hard-hitting notes fed into a XA1000 mono and a single SW7200 12-inch sub in the trunk. Eclipse loaded up the extras including: side-view camera, back-up camera, iPod adapter, Bluetooth adapter and a Sirius satellite radio module.
Wong's G was destined for a cover and deserved to be sniped by PAS to introduce it to the tuning world. As the former builder of the renowned BRS widebody RX-7 and an RB26-powered S14 sporting a fat widebody, Wong has definitely upped the level by which other G35s will be compared to, so if you catch him showboating just like my man Usain Bolt– he definitely earned it.
THE ESSENTIALS
Owner: Han Wong
Location: Chandler, AZ
Vehicle: 2004 Infiniti G35 Coupe
Power: 906whp / 730lb-ft
ENGINE MODIFICATIONS
Intense forged pistons
Intense billet connecting rods
Intense port & polished heads
Brian Crower Stage II cams
Ferrea valvetrain
ARP fasteners
Powerlab 255lph fuel pumps
Powerlab fuel rails
Aeromotive FPR
Deatchwerks 1600cc injectors
Intense air intake
Powerlab 76S Extreme turbo
Powerlab piping
Powerlab 4-inch front mount intercooler
Powerlab 3/8-inch aluminum spacer
TiAL 44mm wastegate
TiAL blow-off valve
Intense PowerMax SS 4-inch exhaust.
ENGINE MANAGEMENT
ProEFI Pro48 ECU tuned by Jason Seibals
DRIVETRAIN
Carbonetics triple plate clutch
Driveshaft Shop axles
SUSPENSION
Moben 36-way adjustable coilovers
Cusco front & rear sway bars
Intense rear camber arms
WHEELS, TIRES, BRAKES
iForged Vision Anthracite wheels; 22x9.5-in (f), 22x11-in (r)
Falken FK452 tires; 245/30R22 (f), 285/25R22 (r)
AP Racing brakes; 6-piston/355mm (f), 4-piston/330mm (r)
EXTERIOR
VeilSide Fortune widebody
VeilSide carbon rear spoiler
Street Scene grille
JDM clear corners
VIP sill lights
XSell vinyl graphics
Intense Money Green paint by George Husar
INTERIOR
VeilSide VSD-1 reclining racing seats
Sparco 5-point harnesses
Intense cabon fiber dash
NHRA-spec cage
Vertex shift knob
VeilSide steering wheel
Custom suede headliner and doors
Defi BF: Boost, fuel pressure, oil pressure
AEM wideband gauge
AUDIO / MULTIMEDIA
Eclipse AVN6620 headunit
Eclipse XA4000.4 amps x2
Eclipse XA1000.1 amp
Eclipse SC6500 6.5-inch components x2
Eclipse SC6510 6.5-inch in trunk lid
Eclipse SW7200 12-inch subwoofer
Eclipse iPod interface
Eclipse FEC106 sideview camera
Eclipse Sirius radio adapter
Eclipse back-up camera
Eclipse Bluetooth adapter
Sharp 13.3-inch LCD monitor