06 September 2011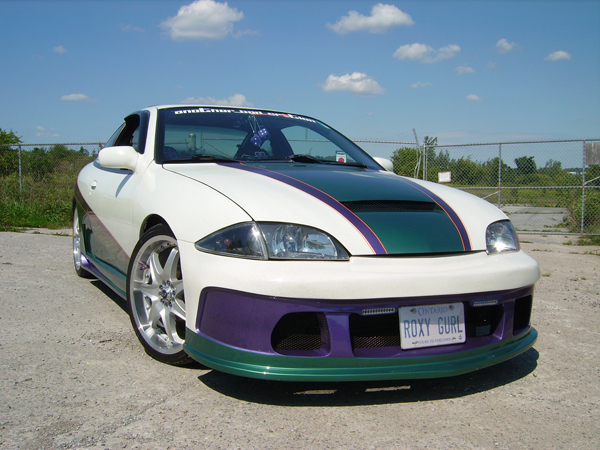 Owner Name: Melissa Pottage
Location: Newmarket, Ontario, Canada
Vehicle: 2001 Chevrolet Cavalier Z24
Car Club Affiliation: another_bad_cr8tion
What Events have you competed in?
XTS, Summer Showdown, Wastegate, Mid Summer Showdown and Tuner International just to name a few.
What will be your next performance modification/upgrade?
Air Ride
"All Show", "All Go" or Both, Why?
All show....The car is all custom.  One of a kind Custom Bodykit, hood scoop, side vent and spoiler.  Custom 3 Tone Base/Clear Paint (White/Purple/Green) with Purple ICE Flakes and Orange Pinstripe.  This car was built knowing I was going to enter it into shows.
Any Shout Outs?
Pj at LPD (Low Profile Design) who did all the custom body and paint. My uncle Gerry... if it wasn't for him, I wouldn't even have the car. He picked it up for me as it was less than stock (missing parts) at the time. Then, of course, my boyfriend Chris. He helped Pj with the body and paint, getting the parts and supplies. Without his support, I wouldn't have got this far.