27 July 2011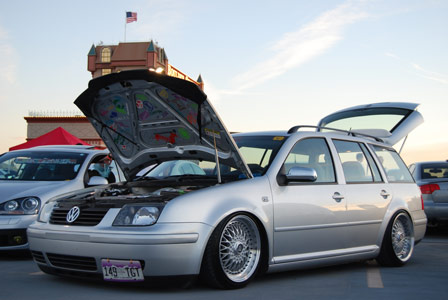 Owner: Steve Mitchell
Location: Temecula, CA
Vehicle: 2004 Volkswagen Jetta Wagon
Car Club Affiliation: None
What Events have you competed in?
The car was just recently completed, so it's been shown at Hellaflush 8 and Wuste 2011. It will be at SPOCOM in Anaheim 8/6, West Coast Worthersee in September, and as many other shows as possible.
What will be your next performance modification/upgrade?
Planning for some more body modifications and new wheels over winter. Then I will move on to a complete interior makeover.
"All Show', "All Go" or Both, Why?
Going to have to say All Show… with the aggressive wheel fitment, stretched tires, and stance, it's just not really built to handle well.
Any Shout Outs?
My wife, for putting up with my car passion. My boy Brandon, at SoCal Stance Shop for always being around when I need help.