Written by PASMAG STAFF | 21 June 2011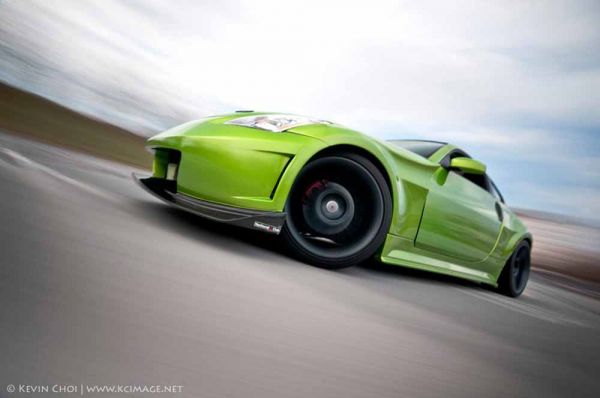 The Essentials
Owner (First/Last): Danny Nguyen aka Atomic Goofball
Location (City, State/Province): Columbia MD
Website(s): http://www.youtube.com/atomicgoofball http://www.atomicgoofball.com
Facebook: http://www.facebook.com/atomicgoofball
Myspace: N/A
Twitter: http://www.twitter.com/atomicgoofball
PASNATION Username (http://pasnation.pasmag.com): atomicgoofball
Vehicle (Year Make Model): 2003 Nissan 350z
Car Club Affiliation: Team SOLO
Power: 393 whp at 8psi
Engine/Performance Info/Modifications:
Ati Procharger,
Upgraded 9lb pulley,
Jim wolf technology s1 cams,
Upgraded valve springs/shims,
AAM angled plenum spacer,
600CC deatschwerks injectors,
Once step colder iridium spark plugs,
Pro flow designs ported throttle body,
Top speed headers,
Osiris Uprev
AAM non resonated test pipes
Injen SES true Dual Exhaust
Custom magnoflow X-pipe
3.5 final drive rear dif swap
Wheels & Tires Info/Modifications: five AD S5-F matte gun metal 19x9 fronts 19x10.5 rear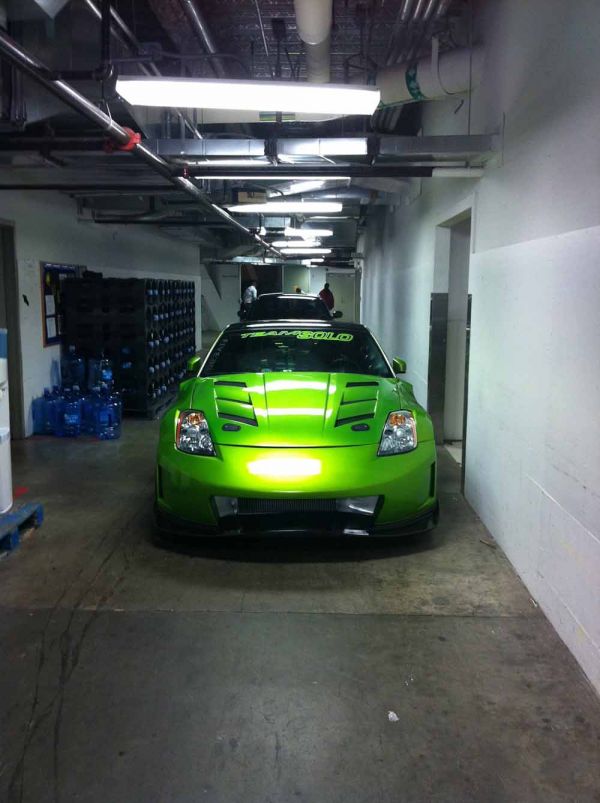 Suspension Info/Modifications: Tein S-tech suspension
Exterior Info/Modifications:
Custom Painted Snake skin green
Superleggera Hood
Aero catch locking hood pins
AMS Sl2 front with carbon fiber lip
Do luck wide body fenders and widebody rear quarters
Do luck side skirts
Do luck rear
Veilside v1 rear wing
Painted black roof
Matte black door handles
Matte black pillars
Interior Info/Modifications:
NRG Ferrari seats
NRG harness bar
NRG racing wheel
NRG green quick release and hub
Custom wrapped suede
Audio/Multimedia Info/Modifications:
Custom trunk with 3 10" w6 subs
JL audio 1000 slash amp
2 custom painted NX bottles
26" LCD screen mounted
Pioneer AVH double din touch screen
Custom mounted NES
The Interview
PAS: How long have you been a car enthusiast?
Owner: I have been in love with cars since the purchase of my first car in 1999
PAS: What was the first vehicle you have ever owned? Did you modify it? If so, what modifications were performed?
Owner: The very first car I owned was a nasty Sea foam green 1995 ford contour SE! It was a total rice-mobile! I had an Apexi Dunk muffler, with a big black aero-speed wing, green strobes, intake, and a ghetto rigged sub woofer system. I thought I was the coolest dude on the block! No wonder the girls refused to go out on dates with me and even the installers refused to give me shop stickers. They said they "Ran out". I don't blame them HAHA!
PAS: What other vehicles do you currently own?
Owner: A wide-body 350z and a 2000 Isuzu Trooper
PAS: Are you part of a car club? Which one? What is the club's website? Explain the club briefly.
Owner: Yes! I am a part of Team Solo.  The website is http://www.teamsolo.net and we are currently building a Facebook fan page. The club is a big fun family! Although we try to make our presence known and expand our reputation, we are family first! The team has an incredible mindset of staying positive and just has FUN! The team consists of high quality builds, unique style, and an energy that matches the owners! I am relatively new to the team, however the leaders and the OG's of this team are ready to take us to the next level and really bring something new and exciting to the scene! A lot of respect and love goes to this team.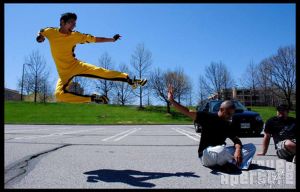 PAS: What events have you competed in? Where?
Owner: I have been working on this car for a little over a year and since then I've competed in 2 ocean city car shows, 2 import face-off events, 2 Xtreme Drift Circuit shows, and a motor trend auto show.

PAS: What is your dream car? Why?
Owner:  Lamborghini Murcielago or anything from Lambo. Ever since I was a kid, I looked up to my big bro and he had a huge poster of a Lamborghini Countach on his wall. I would spend hours staring at this car because I was fascinated by the shape and design. I was a kid so I didn't know anything about cars, but it was enough to peak my interest. I had a chance to see one zoom by in person and I felt like I was stuck by lightening. Ever since then I've always wanted a Lamborghini.
PAS: Are you a shop owner, work at a shop or have been previously? Describe your experience(s)
Owner: I don't own a shop but I've made MANY friends who own shops or work at the shops. I am always hanging out at various shops learning new things. A very good friend of mine, josh Roberts, owns a shop near where I live called decadence performance auto, and I am always there tinkering and learning new things about my car, and about other builds. I am very grateful for him and also my forum friends who help teach me more and more every day.
PAS: Coke, Pepsi or water?
Owner: Mountain dew!
PAS: What will be your next performance modification/upgrade?
Owner: I would love to do a 6.0 Ls2 SWAP with a single turbo!
PAS: What will be your next 12-volt or car audio modification/upgrade?
Owner: I would like to redo my interior sound set up with more of a classier sound and feel. I want my passenger to sit in my car and feel like they are sitting in a well calibrated home theater room!
PAS: Will your next visit be to a tire/wheel retailer, auto parts retailer, or a car dealership. Why?
Owner: My next visit will be a tire wheel retailer. I will be getting new wheels and working on a really aggressive stance and big brake kit. Got to have this baby in an almighty kung fu fighting stance!
PAS: On average, how much do you spend each year on vehicle modifications/repairs/upkeep?
Owner: Too much to keep track, this is something I try to forget!
PAS: Do you purchase your aftermarket product online or at a retailer? Where?
Owner: I feel purchasing parts requires a lot of research and finding the best deal.  Most of the time I purchase online, depending on the reputation and feedback of the customers and my friends. I prefer to make purchases in person at retailers so I can have the face-to-face customer service and to also examine the quality of the products in person. When it comes down to it, it's all about reputation and customer service for me.
PAS: "All Show", "All Go" or both? Why?
Owner:  definitely both! I am a flashy person and I love a car that matches my character, at the same time I want the power to back it up! Why try to look all cut when you can't fight? Right!?
PAS: Any Shout-outs?
Owner: I want to give a big shout out to my best friends Nick Lassalle, Andy Banks, Dallas Greene, my sister Tina Nguyen, Team Solo family. Ryan Morris aka Bacon, Kevin Choi, Andrew Becker, Jay Toch, Javed Gul (president), Mark Yuen, Vik Deol, Kam, Chris Milbret, Bryan Martin, Josh Roberts, Dave Danessa, Troy Sumitomo, Ernie Manansala, my crew Lionz of Zion, and of course my wonderfull girlfriend, Thuy Dieu