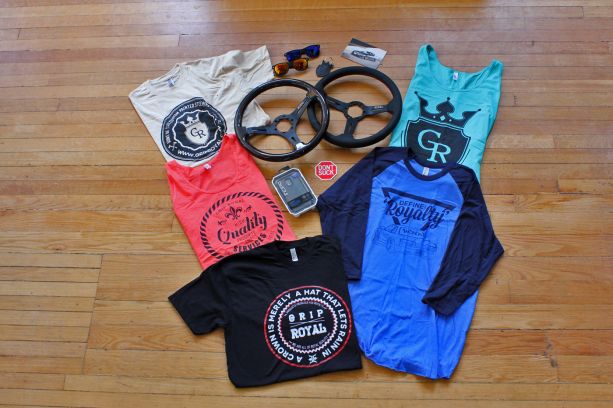 Grip Royal Shirts
Grip Royal's shirts are not only ridiculously good looking, they're also printed by Funk Fashion on quality American Apparel material for an extremely comfortable feel. They're also super lightweight, which is perfect for the Summer! Shirts are unisex and fit a little loose. If you typically wear a large loosely, a medium will fit you great, especially for you smaller-figured folks.
Price: Starting at $25.00
CF64 x Grip Royal & Mattes Sunglasses
Grip Royal's shades are made in the Wayfarer style, but they're way cooler than just that. They feature a matte black rubberized body so they won't slip off your face, and bold white branding shows everyone what's up. The CF64 sunglasses are a collaboration between FD champ Chris Forsberg and Grip Royal. The red/dark gold reflective lenses are perfect for driving, and the arms feature the "NEVER LIFT" slogan inside. Stay shaded, not shady.
Price: Starting at $10.00
Royal Base & Royal Blackwood Steering Wheels
Grip Royal's "Base" wheels have a 50-mm depth, a thicker hand-grip and a little less frame depth. Realistically, they're about 6 to 7 mm shallower than the usual frames, but due to the increased grip size they feel about the same! The Blackwood, on the other hand, features a woodgrain with gray-tones. The dark stain appears as solid black, but in direct sunlight allows you to see the grain. Hardware and an allen key are included for installation on both wheels (horns +$15).
Price: Starting at $160.00
Leather Crest Keychain
Bring some class to your key ring with Grip Royal's Leather Crest Keychain. Genuine leather, black stitched and double-sided, they give that throwback flair with the the Grip Royal crest. And don't worry, you get the little metal ring.
Price: $12.00
Grip Royal x Incipio Phone Cases
Grip Royal's Monogram GR pattern is etched into the backside of Incipio's top-selling DualPro Case, which doubles the protection with two layers of interlocking material. The shock-absorbing inner core and hard-shell exterior work together to keep your device safe when you drop it like a dingus. Available for the iPhone 5, 6, 6+ and Samsung S5.
Price: $40.00
For more information on Grip Royal's product line, visit: www.griproyal.com.