21 January 2016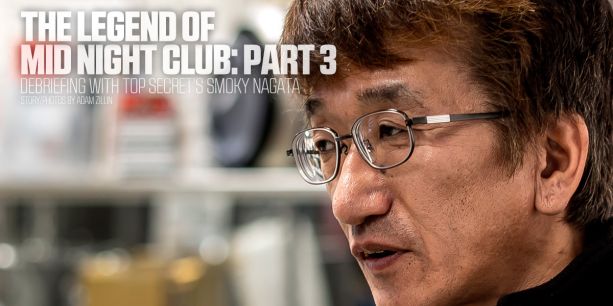 Smoky Nagata is an enigma in Japanese tuning circles, and his brand Top Secret carries more meaning than you may be aware of. Nagata-san is a very softly spoken, introverted type of guy who greatly values his privacy and space; a man who chooses his words carefully. He certainly epitomizes the type of man who speaks softly and carries a big stick. As an unashamed extrovert, I have, from time to time, found it difficult to read Smoky, but when you give the man a chance to unwind and enjoy your company, at his own pace, great things can happen. I personally have the greatest amount of respect for the legendary tuner, so it's with great pleasure I can bring you, the readers of PASMAG, a very special little Q&A.
Thanks for your time Smoky; it's always a pleasure talking with you. As I mentioned, we sat down with Tazawa-san from GForce garage and now our readers would like to know a little about your involvement in the RH9 group. Can you tell us how it all started for you?
It's my pleasure! Eighteen years ago, I joined as one of the original members. At that time, it was difficult for all of the tuners to talk to each other; but through the RH9 group, we could cooperate and build together, while still reaching for our individual goals. Of course, it's good to be rivals and battle on the track — that is healthy — but in this industry we also wanted to be popular, so the RH9 group as a united group of tuners makes us all stronger while enabling us to pursue our own personal goals.
Was it more a question of personal goals or strength in numbers?
The group was paramount. Even though I wanted to develop my own parts, as a group we discussed tuning on the same platforms so our knowledge increased as a direct result of the RH9 group being together. That's why I became a part of it. At that time in 1997, there were around 10 members. Now I believe there are more than 30.
That's about as many as I understand there to be as well. How regularly do the RH9 members meet?
We meet every one or two months to discuss things. Again, if I'm developing parts by myself, the costs are prohibitive, so I hope you understand the point that 10 of us developing on the same platform reduces costs and makes production possible for everyone.
I can understand and see the huge benefits to that. How did that blend when you created Top Secret?
Well, us tuners could have become a place like Autobacs, but it would have been nothing more than basic tuning and servicing; and I knew I wanted to do far more than to become a basic service center. I wanted to push tuning to the limits and there would be no point if I or the other members of the RH9 group just did the same thing as a place like Autobacs.
I see… and that explains why you're still pushing the envelope 20 years later?
It's why I am still pushing with a car like the R35. I've found that the more you do to it, the more you get from it. The limits are so high and that makes it a lot more enjoyable for me. My customers are the same. They want to push the car as hard as I do, so the R35 is definitely my kind of machine.
What do you make of the new RC-F?
I like the car, but it's naturally-aspirated, so I don't enjoy it so much. I prefer forced induction from cars like the Supra and GT-R.
Speaking of forced induction, I noticed you gave up on the Top Secret turbocharged 86 platform after last year's Tokyo Auto Salon. What happened there?
It wasn't a platform I really enjoyed developing. I realized that I was going to have to spend a lot of time to get it to an acceptable level for my standards, and I just couldn't justify the time or the expense. Sure, the platform is popular, but that's a separate issue to actually developing parts for it. That's why I stopped development on the 86.
That's fair. So, tell us a bit about your favorite cars past and present.
Naturally, I like any of the GT-R range from the R32 through to the R35 today. Of course, the Supra is a personal favorite, especially the JZA80.
Yes, you're definitely a big power guy! In recent years, you've focused on the R35. Tell us about that.
The R35 is capable of great things and is the current Japanese supercar headline act. Because there are so many of us in the RH9 group that are developing parts for the R35, we can share some information and that makes the group an even stronger unit. This is the way to move forward quickly on tuning and development matters.
What do you make of the rumors about the new "Supra" Toyota are supposedly developing?
I think it's really interesting. I like the thought of BMW engine technology powering it. I want to work with that engine. Even if its a hybrid, and I have a chance, I can develop and tune anything I get my hands on!
I hear you also tuned cars like the Altezza. Can you tune mine?
(Laughs) Did you know I created parts for the Altezza one-make series back in the day? One of the cars I developed got third in the championship one year. I was working on the Altezza parts alongside my developments for the JZA80 Supra - things like front and rear aero parts as well.
Are you serious?! Do you still have the molds?
No, I threw them away.
That sucks… But I'm still going to bring my car there so you can set it up for me.
You're most welcome. I'll make sure it's ideal for you.
One last question: word is that you're going back to England where you got busted on the expressways! Is this true?
Yes, it's true, but I can't tell you any more than that. Naturally, it's Top Secret.
Contributors: Adam Zillin (7tune)