Written by Daniel Ponzini // Photos by Kevin Saunders and Emilio Ciccarelli | 13 April 2010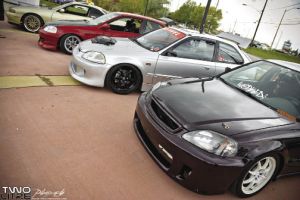 President / Founder:
Philip Anastacio

Established:
2008

Facebook:
"Worked Nineofive"

Locations / Chapters:
Mississauga, Ontario, Canada

Number of Members:
16
Club / Team History:
This group of enthusiasts was created roughly two years ago. The team took shape after a few friends decided to enter a local car show together as a group. The odd name choice of Worked905 as their car club stems from the telephone area code in the team's hometown (Mississauga, ON) mixed with a member's catchphrase, "You're gonna get worked!" This club is a tightly knit team who always help each other to better their rides performance and appearance. They all do their own work in their garages sharing tools, knowledge and lending a hand to who ever needs it.
Club Vehicles:
The majority of Worked905 vehicles consist of Hondas / Acuras, but they are very open to other models and makes of vehicles since they do have a few VWs and a sole Nissan reppin' for the club. One thing that is common amongst all members, is the vast amount of mods completed on each and every vehicle!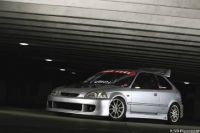 Awards & Accomplishments:
Their members have won various trophies at Importfest and often rank high in the very competitive EK 4dr/coupe and EG hatch classes. Philip Anastacio, the founder of the club, has even landed a magazine cover with his V6 J-swapped 1997 EK Hatch.

Shows Attended:
Worked905 attends three local shows regularly: Performance World (2008-2010), Importfest (2008-2009), and CSCS (2008-2009).
Organized Meets / Membership:
They organized their first club BBQ last summer and plan to make it an annual meet to celebrate their accomplishments. Members meet weekly at a local "905" area coffee shop which can range from a few cars to the whole crew depending on availability.
Future Plans:
Since the club is still in its infancy stages, they plan to expand in all directions; with more meets, cars and members. They are also striving to participate more within their local community and continue to create a strong positive presence.