19 July 2011

Club Name: Vision Autos
Year Established: 2011
Website: www.visionautosfl.com
Facebook Group Page: www.facebook.com/pages/Vision-Autos/166996390031949
Twitter: www.twitter.com/visionautosfl
PASNATION Team Username: VisionAutosFL
Locations / Chapters: Miami, Fort Lauderdale, West Palm Beach
# of Members: 25
President / Founders: Alex Seage/Ernie Rencurrell /Brian Chao/ Richard Anon
Team Sponsors: Rodspeed Inc/Morr Wheels/iCarbon/Manny's Auto & Sound /ISS Forged Wheels/Local body shops and mechanics.
Individual Vehicle Sponsors: Rodspeed Inc /ISS /Vossen/Morr/iCarbon
Introduction: Our club is people who are very passionate about cars and modifying them has kept our club together. Some of us race, and some of us are all show. Everyone has their own vision when modifying their cars and we are all brought together to create a very impressive squad with down to earth people.
Club / Team History: Vision Autos began in 2011 by four close friends who are very passionate about their cars and have the same hobby. By putting their visions together they were able to start this prestige car club and have many plans for the future. Their first event was at Car Warz in Fort Lauderdale, FL that was just the four founders and it was a great success. Vision Autos landed an interview with an online television network, and realized our vision could go a long ways. Here at Vision, we accept all types of cars whether Domestics, Imports, Luxury, Exotic, and Extreme. Our vision is to have cars that at minimum are moderately modified to extreme. We are looking for individuals who are as passionate as we are as well as developing friendships and having a good time.
We always are looking for new members to join us so please apply!

Awards / Accomplishments: None yet as a team and some awards as individuals
Media Coverage (feature / articles): Garagetv.com/L27productions/Stiched Productions
Shows Attended: Car Warz 2011/Formula Drift/Remix 2010/ Simply Clean 3
Community Involvement: Charity car show and car washes
Future Plans: Plan to provide our members with a referral service for discounts with our partners as well as publicity to all the members. Branching out to different cities to have more chapters. Manufacture our own parts. Have the most well known car club in Florida.
Organized Meets: Private meet last Wednesday of every month
Membership / Modeling Details: Visit our website www.visionautosfl.com to find out how in our FAQ section. Application is free and entrance is at discretion of leaders. Must have mods on the car and pay a membership fee once admitted.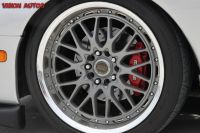 Club Vehicles: 2 Acura RSX Type-S, 2 Mitsubishi Lancer Evo IX and X, Infiniti G35 and 37, Ford Mustang GT, Nissan 350Z, Chevrolet Camaro SS, Audi A4, BMW M3, 2 Mazda RX-7, Hyundai Genesis, Subaru WRX STI, Nissan GTR, Honda Accord, Lexus ISF, Volkswagon GTI
Final Thoughts: We are a young club with plenty of potential and connections, our leaders have plenty of ambition to drive this club to our short term and long term goals, one, being a magazine feature and plenty of publicity.
General Questions
How long was the club operating? When did it start?
Club is still young with only 4 months old and it started in May 2011.
How did it start?
Four friends who have similar visions and passion when it came to cars and became close friends because of it.
How did you come up with the name?
Everyone who has a hobby of modifying their car has a vision in mind and each one of us has our own vision but together we also have a vision as a club and team.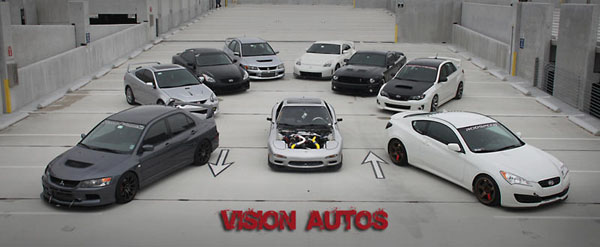 How many members in your club?
We have 25 members so far in 4 short months and growing very rapidly.
What kind of cars are in your club?
Our cars are all kinds as long as they are done with thought and clean using brand name products and parts.
Where is the club based (City, State/Province, Country)?
We are based in Miami, FL, USA
Are there any chapters / offshoots? If so, where are they based and how many members do they have?
We currently don't have chapters in other cities but it is part of our long-term goals to grow and achieve a country wide club.
What is your club all about? (What do you do together, how often do you meet, what do you offer your members, etc)
Being part of Vision receives special perks like t-shirts, stickers, publicity, and special promotions on parts and service from our sponsors. We attend major events throughout Florida. We meet once a month to discuss plans as a team and hangout as friends and talk about our individual visions of our cars with each other. We plan to put together a large show of our own someday also.
Tell us anything else unique / of interest to our readers about who you are.
We are all very down to earth people who just love cars and are ambitious to be the best. That's why we are offering a referral service for anything automotive at special prices for our members.