Written by Garry Springgay // Photos by Various Manufacturers | 26 August 2008
Page 1 of 2
My son recently turned 25. When he was 8 he got his first computer, an early Apple Macintosh desktop. Since then he's always been into computers, video games and of course cars. He was running alternative operating systems, into online gaming, and writing his own code since before he was in high school. When he became old enough to drive, his grades earned him a well used Dodge Neon coupe. Almost before either one of use realized what was happening, it had upgraded brakes, a cold air intake, trick exhaust, and of course, a killer stereo! When he was still finishing his education, he'd always say that his hope was to someday be lucky enough to land a "fun" job working with computers. Over the years, I've always told him that luck is where preparation meets opportunity.
As it turned out, his education prepared him for a great opportunity… with the IT department of a local aerospace company. These days much of what he does is classified, but I do know that he's paid well for his expertise. And as with most guys in their 20's, a sizeable chunk of that new-found income went to the purchase of a new car, in his case, a charcoal metallic 2008 Scion tC. According to Scion, tC stands for "touring coupe", and the car is generally regarded as the replacement for the discontinued Toyota Celica.
The tC is a very popular car around this part of the world, so much so that I have taken to calling them "bellybutton cars", because it seems everyone has one. The sporty little coupe is good looking and well built, and priced so that it appeals to a wide range of owners. It seems you can't drive down the street without seeing at least one.
As you'd expect, with that many tC's zipping around, the desire to personalize them is strong, and my son is no different in this regard. Being a novice guitar player himself, and thanks to dear old Dad, well accustomed to rather decent car audio, of course the first thing we did were two major upgrades of the rather anemic OEM audio system.
With its overwhelming popularity, I thought the tC would make a good subject car for one of our budget builds. Because it is a very customizable car, audio system choices can range from a few basic inexpensive upgrades, to full-on, cost no object factory demo car systems. In the case of my son's tC, the goal was to have a system with good tonal balance and clarity, that played loud enough to be exciting and have some real bottom end, without taxing either his $2,000 budget or the cars stock charging system.
By now, regular readers of this column know that the best place to spend money is on the speaker system. However, in my son's case, what he wanted
more than anything else was real bass. Since it was his car and his money (for a change), I acquiesced and we had a look at various methods of getting some real bass in the car, instead of the ridiculous 6-inch speaker in a small plastic box that Toyota optimistically markets as a subwoofer. From the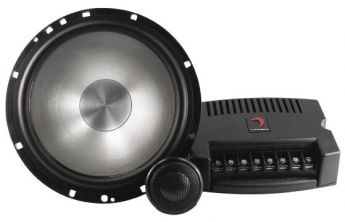 beginning, he'd decided he needed room for requisite cargo like groceries and guitar amps, so whatever we put in there had to take up as little room as possible. My first inclination was to custom build something in the available space along the rear side panel, but this idea was quickly overcome by the lack of instant gratification, and a few historical references to my lack of getting "fun" projects completed as quickly as he'd like. (The old Neon's sub enclosure had taken 3 months for me to get around to finishing)
Choosing your full range speakers is a fairly personal decision, and while I believe there is such a thing as "one true sound", I also realize that everyone
has personal preferences, especially in a nearfield listening situation like a car environment. The day came to choose the replacement speakers for the tC, and armed with a homemade CD full of his favorite music, we visited a few local car audio shops to find the sound he wanted. After listening to about a dozen different brands and models, he finally chose the very neutral sounding Diamond Audio D3 6.5 components for the front, and the Diamond D3 6.5 coaxials for the rear locations. The relatively shallow mount D3's use a custom basket made from a low resonance composite, textured copolymer cones, and rubber surrounds and are generally built to a quality level that's higher than you'd expect at this moderate price. Custom made, Ferrofluid cooled aluminum tweeters with custom designed crossovers extend the high frequency response well past the limit of audibility, and deliver clean, detailed highs without sibilance or glare.
With some money still left unspent, it was decided to buy another Rockford P300-2 amp, this time configured to deliver 75 watts x 2 to drive the front speakers, and since the rear speakers were only used as ambient fill in the overall sound, we'd simply leave the Diamond Audio D3 coaxials in the rear seat side panels powered by the 15 watts per channel from the factory headunit.