24 October 2016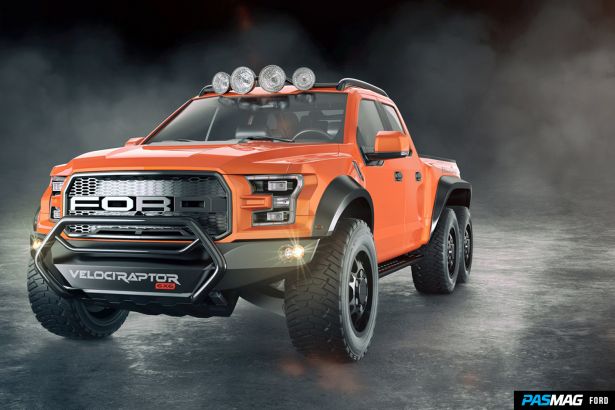 The Ford Raptor is an impressive and capable vehicle on its own, but some people are never satisfied. John Hennessey, the man behind Texas tuning house Hennessey Performance, is one of those people. As such, when he got his hands on the newest second-generation Ford Raptor, he determined that 450 horsepower and 4 wheels just wasn't enough. Enter the VelociRaptor 6x6.
The VelociRaptor, as amusing as its name may be, is no joke. Extensive modifications include a lengthened bed, upgraded Baja-spec Fox Racing suspension, front bull bar, LED lighting, an integrated rollbar, 20-inch wheels wrapped in off-road-ready rubber, and of course, an extra locking axle in the rear. The complete package is intended to be somewhat of a domestic rival to Mercedes' G63 6x6. Whether or not it will retain the refinement of the Merc will have to be determined.
In order to keep pace with the German 6x6, the package is available with a handful of options, including a Brembo front and rear brake upgrade (highly recommended for a vehicle in this weight class), larger wheel and tire packages, even more LED lighting, custom interior packages, and an armored variant for those of us preparing for the end of the world. Additionally, buyers can opt for more power with Hennessey's HPE600 package, bumping the power above the 600 mark.
The VelociRaptor 6x6 is set to start at $295,000, which includes the cost of the factory 2017 Raptor donor car. Specific performance figures like 0-60 time and top speed have yet to be revealed, but we can expect the VelociRaptor won't be a slouch by any means, even with the added weight. Watch out, Mercedes. There's a new 6-wheeled player in the game.