23 November 2016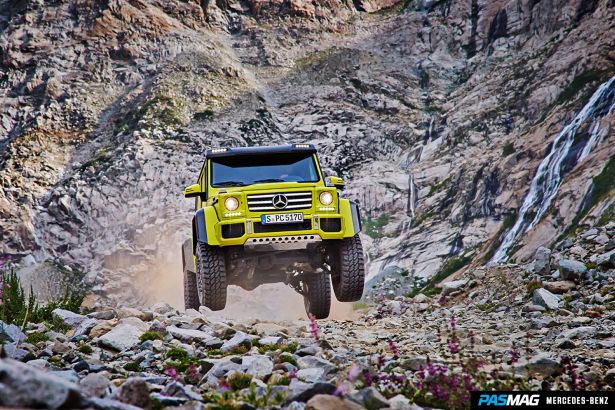 2017 Mercedes-Benz G 550 4x4 Squared: Your Dune Buggy Awaits.
Perhaps the best way to look at the forthcoming 2017 Mercedes-Benz G 550 4x4 squared is as a dune buggy edition.
I mean, just look at it. It screams 'take me to Baja!' with massive ground clearance, stainless steel skid plates and 22-inch alloy wheels.
And this vehicle isn't just about the looks, although if we we're buying one we'd definitely pick highlighter yellow – hey, you want to stand out while your crashing through streams, barreling over boulders and crawling over crater-sized holes in the ground.
If that's your bag, this is your ride and Mercedes engineers have given you the kit to do it. From massive brake rotors – 14.96-inch front / 14.56-inch rear – to 17.24 inches of ground clearance, a 39.37-inch wading depth and a maximum approach angle of 51.6 degrees, the 4x4 squared will have you searching for the most formidable terrain on earth.
There's plenty of muscle under the hood in the form of a 4.0L twin-turbocharged V8 that produces 416 horsepower and 450 lb-ft. of torque. A 7-speed G-Tronic Plus automatic transmission drives all four wheels.
On the inside, the 4x4 squared comes equipped with AMG sports seats with diamond pattern Stitching, 4x4 squared seat badges, and sports leather-wrapped steering wheel, diamond pattern door center panels, an upper / lower dash wrapped in Nappa leather and AMG carbon fiber trim inserts.
Hey, when you're out there foraging through inhospitable terrain you might as well do so in comfort.