05 December 2016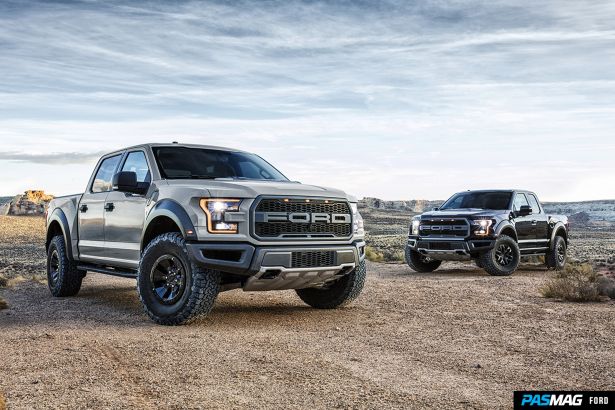 When it begins landing in dealerships late this year, the all-new 2017 Ford F-150 Raptor will boast more horsepower and torque – and better fuel economy! – than its predecessor.
All of these gains are coming from the switch to a smaller engine, with Ford swapping out the 2011-14 era 6.2L V8 (411 hp) in favor of a 3.5L twin-turbo high output EcoBoost V6. Despite being smaller, the EcoBoost V6 will deliver a decent bump in horsepower (450) and leap in torque (510 lb-ft.), the latter representing a 76 lb-ft. increase over the V8 (434 lb-ft).
As is the case with the rest of the F-150 family, the Raptor will be made of the same military-grade aluminum alloy body attached to a high-strength steel frame. As a consequence, the 2017 truck will tip the scales 500 pounds lighter than the 2014 model.
With less bulk to lug around, the 2017 Raptor will offer improved fuel economy – a 23 percent improvement over the outgoing model – with a city / highway / combined MPG rating of 15 / 18 / 16.
Among the other big changes is how power gets to the ground. The 3.5L EcoBoost V6 will be mated to an all-new 10-speed automatic transmission that works in conjunction with a revamped all-wheel drive system. Co-developed by Ford and General Motors, the 2017 Raptor's new 'torque on demand' transfer case will offer variable torque delivery like a clutch-driven system, but will also feature mechanical-locking four-wheel drive for slippery conditions.
With a sporty dual exhaust and 17-inch wheels wrapped in BFGoodrich KO2 rubber, the 2017 F-150 Raptor appears ready for the apocalypse.