29 September 2016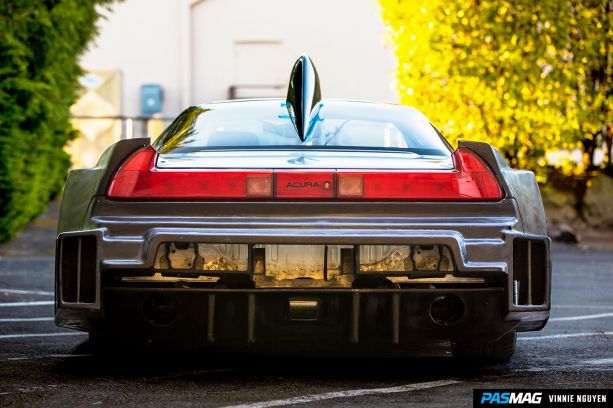 Amongst a few other things, Ravi Ayyagari at Umbrella Auto Design is known for pumping out the most seriously impressive NSXs in North America. The shop in Seattle, Washington, uses some of the rarest parts in the world to create the supercars of their customers' dreams. This NSX in particular called for components that were so extremely rare that it forced Ayyagari to go back on his word to not build anymore NSXs.
"I think of the NSX as a car that's really defined my business," he says. "The owner talked to me about his ideas and what he wanted to do with the car, which sounded in line with something that would be interesting to me, so I agreed to build it. If this is the last NSX I build, I want it to be the craziest NSX ever."
First up was a body kit for the car. Originally, the owner was shooting for a Sorcery SGT, which being a one-of-one would be impossible to come by, so Ayyagari turned him onto the Route KS Zero Force Final widebody kit. There were only 10 kits made in 2010, then production stopped. Easier to find than just one, right? Turns out that Route KS would be happy to make another kit, but they'd need to rebuild the molds as the old ones were no longer perfect. That would mean some serious time and money, which the customer was more than happy to put up for the prestige of owning the kit.
A few ideas were thrown around for the drivetrain as well, where the theme of race engine came up and stuck. The pair searched for a Honda Indy V8 for a while before realizing that Honda destroys all of their retired race engines, or straight up fills them full of concrete.
By chance, when speaking with Doug Peterson, the founder of Comptech (now CT Engineering), about his dilemma, Peterson asked if Ayyagari would be interested in the 3.0-liter V6 engine out of the 1989 IMSA GTP Lights class Spice NSX. When Ayyagari said he'd totally be interested in that, Peterson replied, "Oh, well I forgot I had it." A little while later, and Peterson had amassed all the parts needed to rebuild about 90 percent of the engine. With a quote for a full rebuild and dyno tune on the engine, they flicked the engine off their to-do list.
An Esprit dry carbon, frame-mount GT wing, a StopTech Trophy brake kit, as well as JRZ RS Pro coils with Swift springs and Ayyagari's own VRH air cup lift system are all on standby to be installed as we speak. Keep your eyeballs on PASMAG to see even more exciting developments on this one-of-a-kind build! #pasmag
Contributor: Vinnie Nguyen