24 August 2016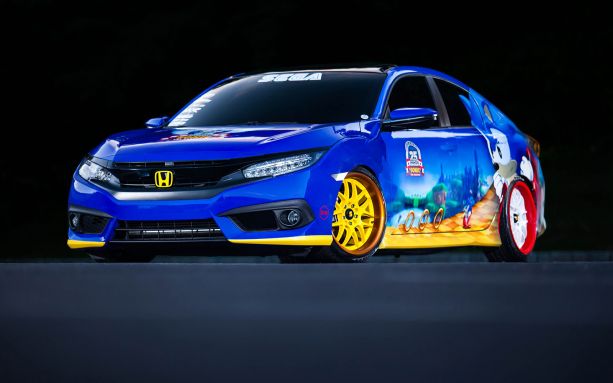 Plenty of us have fond memories of booting up a SEGA Genesis and ripping through different zones as Sonic, the blue, impossibly fast, chilidog-loving hedgehog in bright red shoes. Believe it or not (brace to feel old) Sonic the Hedgehog is 25 this year. Time flies when you're going fast.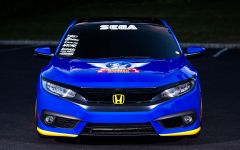 To celebrate this special anniversary, SEGA has teamed up with Honda's number one selling car in America, the Civic, as well as experienced car builder Brian Fox of Fox Marketing to put together a car worthy of the spiked, blue speedster. By the way, it's also the Touring version of the Civic, which is suitably turbocharged.
The 2016 model Civic received a couple coats of BASF R-M "Candy Sonic Blue" paint, which was accented with "Sonic Yellow" throughout and topped off with a custom vinyl scheme that calls back on 25 years of Sonic history. Under each corner, the custom XXR wheels were treated with paint schemes that reflect Sonic's trademark sneakers in the rear, and the in-game collectable rings up front.
Inside, the interior was taken care of by Katzkin with a full-on Sonic theme, with the seats being stitched up in blue, white, and red leather with an embroidered 25th Anniversay logo applied to the headrests. In the trunk, there's a full Rockford Fosgate audio installation with a flormounted, flip-up 32-inch screen for playing the classics on.
The Sonic Civic debuted at San Diego Comic Con, but it's not done running yet. Keep your eyes out for it at some big event near you in the future! #pasmag