28 July 2016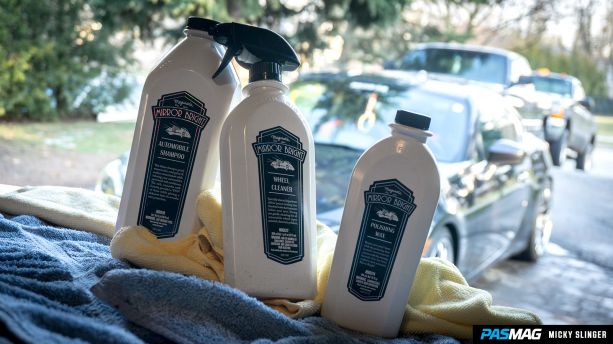 Just in time for Throwback Thursday.
It's a peaceful morning. Birds are chirping and the sun has risen. You stretch lazily and turn your head to look over at your clock on the bed-side table. Oh no… You've slept in. You set the alarm on your phone for P.M. instead of A.M. and you are way behind schedule for the meet this afternoon.
You remember that you stupidly parked your car under the tree in your front yard last night and now it's covered in dirt, bird poop and pine needles. Awesome… Now you're behind and your car is dirtier than you left it last night. Well, that's the scenario I gave myself anyway.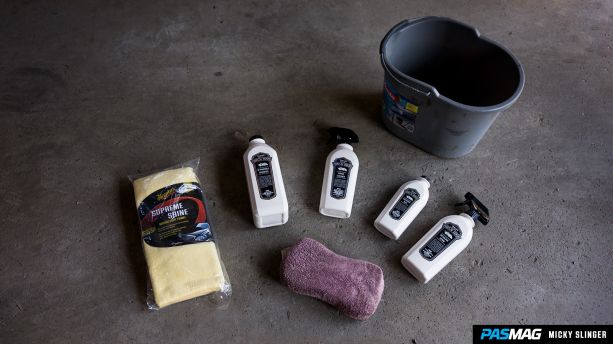 Meguiar's has resurrected the Mirror Bright name to head up their new line of car care products for its 115th anniversary. In 1901, Frank Maguiar Jr. introduced Mirror Bright to perfect the finishes on furniture and that passion carries on today with a special line of products for automotive fi nishes. Now, I've been assured that these products are foolproof, and I was able to use them somehow, so I think we're all safe. Let's see what they're all about, shall we?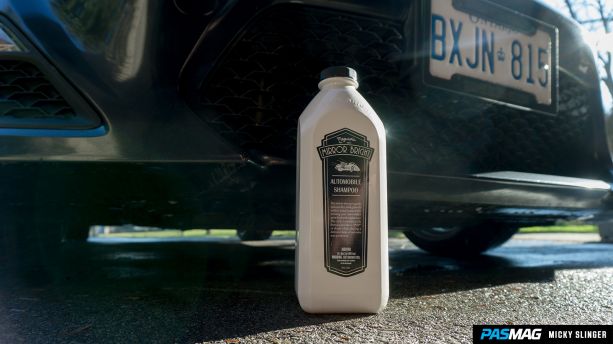 AUTOMOBILE SHAMPOO
I'm going to start out strong with the bottle that most looks like a milk bottle and what I'd call my favorite product from the line: Automobile Shampoo. It's my favorite for two reasons: it uses a carnauba milk formulation, which means that it waxes as it cleans, and it smells like fruit punch. Seriously, crack this open and tell me this doesn't remind you of childhood.
To start, I gave my car a good rinse with the hose to make sure I wasn't about to scrape some pine needles all over my paintwork. Then, using the very scientific formula of one "glug" per gallon, I filled up my trusty bucket and plunged my sponge in. I gave the car a once-over with the sponge, making sure to scrub at the bird droppings and persistent dirt patches. Once I was happy, I dumped about half of the bucket on the roof of the car and worked my way down and all the way around, working my sponge in small circular motions.
When all was said and rinsed off, I almost called it quits there. The "wax as you wash" isn't just a selling point printed on the bottle. Once I towel dried it, it looked great!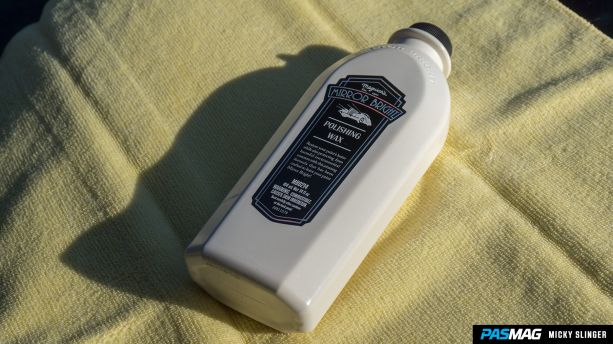 POLISHING WAX
The Polishing Wax is another hybrid product, acting as a wax and a polish, which works in tandem with the Automobile Shampoo as a second step. It comes in a much smaller bottle that is modelled after Frank Meguiar's furniture polishes. The smaller size is not a con whatsoever, as a little goes a long way with this product.
Make sure your car is cool (temperature-wise) and pick a panel (I usually start with the hood and work my way around) and add a small amount all over the surface. I chose to hand-buff the liquid to a haze with a microfiber cloth. Once you've worked all the way around and returned to the hood, the polish/wax should have cured enough to be wiped off. I did this with a Supreme Shine microfiber towel that Meguiar's was kind enough to include.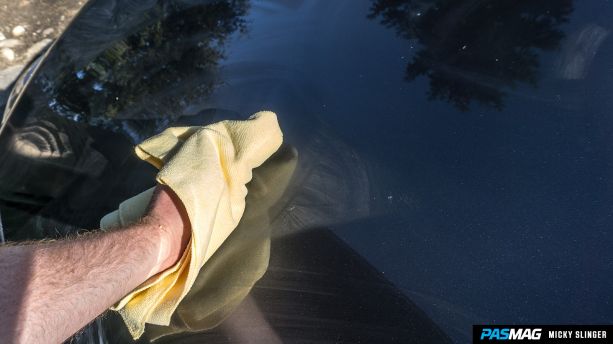 The finish was fantastic. The polish brought the metallic fleck in my factory paint right out. I don't use the word "glimmer" very often, but it definitely glimmered.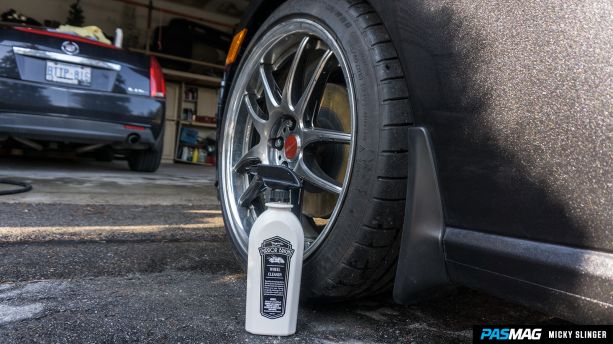 WHEEL CLEANER
I'm a bit ashamed to say this, but I let my WORK CR2Ps get a little dirty. I just wanted to apologize to you all. It won't happen again, especially after I discovered how easy it was to get them clean with the Mirror Bright Wheel Cleaner.
Give the spray bottle a good shake and spray a liberal amount of solution on the wheel. I chose to add a little more to the top of the wheel, to let the cleaner scrub its way down. Now just chill out for a couple minutes. Have a drink or something. Sit there and stare at it. You do you.
Once a couple minutes have passed, grab a microfiber cloth, toothbrush, or whatever you usually use to detail your wheels and scrub away. Finish off with a rinse from the hose and then a quick towel dry. Now, stand back and witness how clean your wheels are. I bet they're pretty damn clean.
This product works on wheels that are aluminum, chrome, powder-coated, anodized, painted and even reps! Amazing.
All in all, this took me about an hour to achieve. An hour to completely clean my car in my driveway with three products, a bucket, a sponge and some cloths. Best of all, it reminded me just how therapeutic it is to clean my car by hand. Now we can all be show ready in record time. #PASMAG
www.meguiars.com/en/MirrorBright