21 June 2016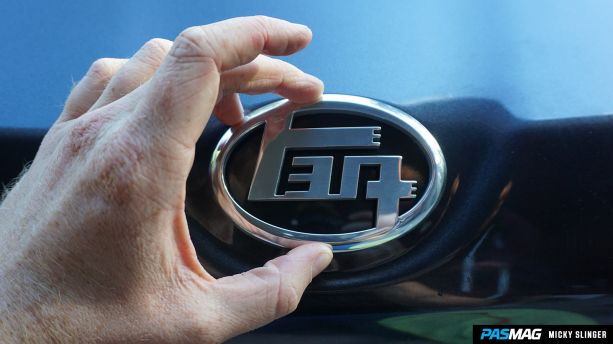 Guaranteed Scene Points.
In this hobby/lifestyle/cult – whatever you want to call it – that we're a part of, change is good. You're encouraged to rip something off and replace it with something better. A classic case of this (and the point of this how-to) is with Acuras, both old and new. To be more "JDM," enthusiasts have been ripping off their "A" and replacing them with Honda's "H" for what seems like forever, and that trend has spread. In specifi c to my car, a Scion FR-S, it's been very popular to swap out the plasticy Scion badges and replace them with some shiny, new Toyota ones. I've even seen some Lexus badges on Scions, which is hilarious.
When I first got my car, I didn't want to swap out the badges. "It's a Scion, so I'm going to keep it a Scion," is what I told myself. But one day, while browsing Instagram and running up my phone's data bill, I came across an account named "pete39sp." As you can guess, this guy's name is Pete. Pete runs a passion project called PTCustoms, in which he'll custom design and cut emblems for your car. I wasn't after a custom job, however, I wanted the old school Toyota badge that is often featured on his page. The "TEQ" mark, as some enthusiasts call it, is still used by Toyota on both OEM replacement and performance parts as a stamp of quality. As a bit of a good luck charm for my FR-S's reliability, and also because they look sweet, I went ahead and ordered a set.
Pete actually boxes a set of instructions in with your emblems, which are very helpful and thorough, but I've put my own twist on them and added some pretty pictures for some extra help. Let's do this!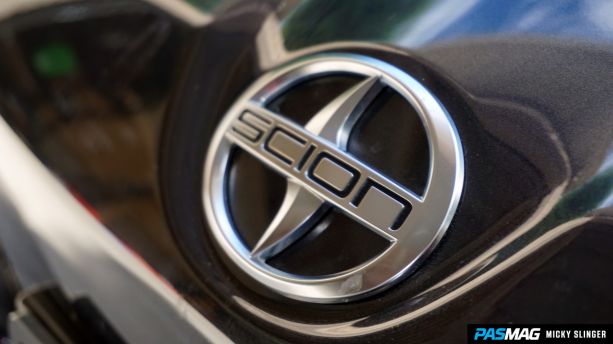 STEP 1: CLEAN YOUR CAR, YOU FILTHY ANIMAL
Don't even think of doing this with a dusty, dirty car. I don't even want to imagine what it would do to your paint. After it's cleaned and dried nicely, you can assemble the tools you'll need.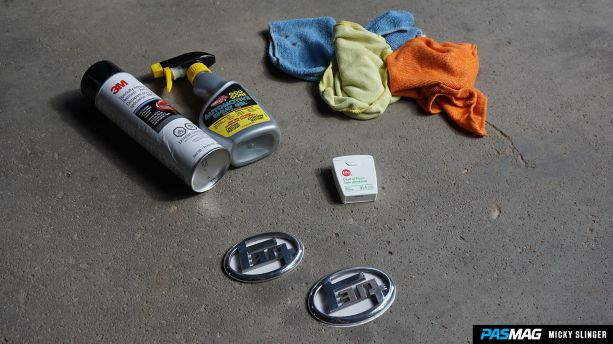 STEP 2: GATHER YOUR GEAR
As you can see from my picture, you'll need your new emblems, some rags or cloths, adhesive remover (I doubled down and went with Goo Gone for the easy stuff and 3M Adhesive Remover for the really stubborn gunk) and a pack of tooth floss (mint flavoring optional).
STEP 3: LOOSEN THE EMBLEM
Using your floss and some light-duty adhesive remover (Goo Gone) as something similar to penetrating oil, wedge your fl oss in behind the OEM emblem and get to sawing. The reason I'm using tooth floss over fishing line is because floss has a coating on it that protects your tooth enamel when you're plucking away. That coating has the same effect on your clear coat, so you don't have to worry about messing anything up. The disadvantage of tooth floss is its integrity; it will break a lot, so be patient. In the end, your paint will be safe.
STEP 4: PRY IT OFF
Once you can peel the emblem forward and get your fingers underneath, gently pry it off to be left with a ring of adhesive stuck to your car. This is where the heavy-duty adhesive comes in handy. I sprayed generous amounts of 3M adhesive remover at the glue and it came off after a while of scrubbing with some trusty rags. Make sure to get it all off! This was actually fairly easy, so I decided to remove my FR-S lettering as well for a cleaner look. Use the same steps and caution when removing your other emblem(s).
STEP 5: CLEAN YOUR APPLICATION AREA
Use whatever you usually do for a quick clean. Waterless wash and wax, quick detailer - whatever you like. After it's sparkling clean, grab some degreaser and give it a good rub down to remove any excess wax before you get to the exciting part.
STEP 6: GET YOUR EMBLEMS READY
If you flip over your emblems, you'll see that Pete has already cut and attached 3M automotive tape to them. Thanks, man! Peel off the backing and either mark up your location or get a spotter (I did) to make sure you're putting them on exactly where you want. Press down firmly and make sure you work your way all the way around the taped areas of the emblem. If you feel you need to, grab a heat gun or hair drier to encourage the tape to stick if you're doing this on an overcast or chilly day.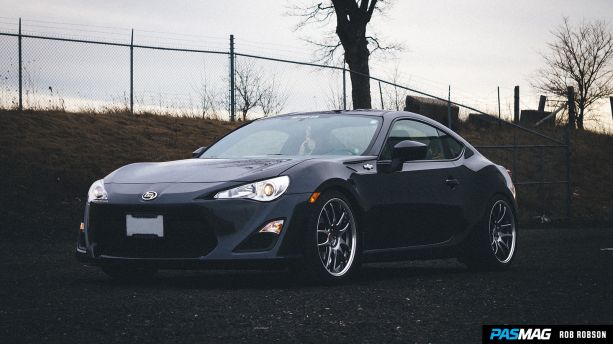 And that's it! Shine your new emblems up and show them off. If you're looking for some excellent replacement emblems (custom or otherwise), be sure to check out Pete's Instagram page to see his current works - @pete39sp in case you missed it the first time. If you're serious about grabbing some, drop him a line at this email, This e-mail address is being protected from spambots. You need JavaScript enabled to view it . #PASMAG