Written by Jacob Leveton. Photos by Jacob Leveton, David Karey | 15 July 2016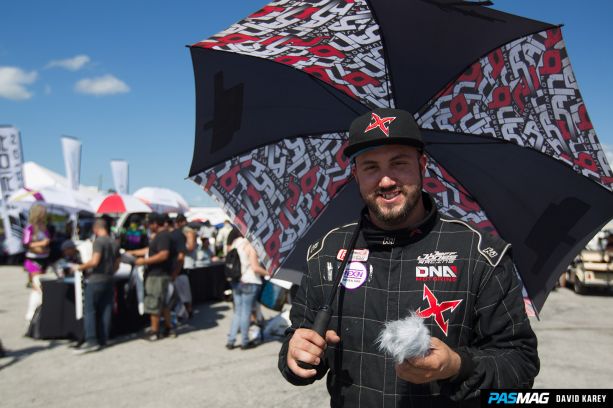 In motorsports, you'll often hear stories of sacrifice and heartbreak. Drivers who spend years working their way through the ranks on a nickel and dime budget, hours and hours spent on the road towing to and from events, all at the sliver of hope of making it 'pro.' Drifting is no different. While the path to professional drifting has become clearer in recent years, the number of drivers who are able to make a living from drifting is very minimal. Several of the top pros still hold regular jobs or operate shops to make a livable wage. Many drivers who make it to Formula D will only last two to four years before moving on to other ventures.
Looking back on the 13 seasons of Formula Drift, we've seen a lot of attrition. Only three drivers have competed at every event to date (Ken Gushi, Dai Yoshihara and Chris Forsberg), with a fourth having only missed one event (Vaughn Gittin Jr.). Even those who have previously won top honors as Rookie of the Year often only see a momentary increase in sponsorship. It's widely discussed that Formula Drift is the best of the best, and the number of drivers commuting from foreign countries to compete in the series clearly shows just how highly regarded the competition is. Having any staying power in Formula Drift is very difficult to do.
Enter Jeff Jones. The 2009 rookie class contained many notable names. Eric O'Sullivan came over from Ireland to take Rookie of the Year honors, while drivers like Michael Essa, Kazuhiro Ueo, Matt Powers, and Dean Kearney all went on to see podium victories in the years since their debut. Buried in that rookie class, a driver named Jeff Jones had years of experience cutting his teeth at the local Just Drift events in Southern California. Jones had been a mainstay in the local drifting scene, attending nearly every event within driving distance of his Sun Valley, California residence. His 1JZ-powered S13 was reliable, but clearly underpowered. He didn't make much of an impact in his first year, but decided to stick with it.
In 2010, Jeff Jones found a ride in a 20B-powered Mazda FD3S RX7 through a local shop called Rotary Works, and even made a few Top 32 tandem appearances. Rotary Works would move on, but Jeff Jones would return in 2011 back in his personal S13 car, towing it on an open trailer with his mid-90s Chevy pickup. For 2012, Jones built a new V8-powered S14 with title sponsorship from CX Racing. That same S14 chassis is the one he still competes in today, five seasons later.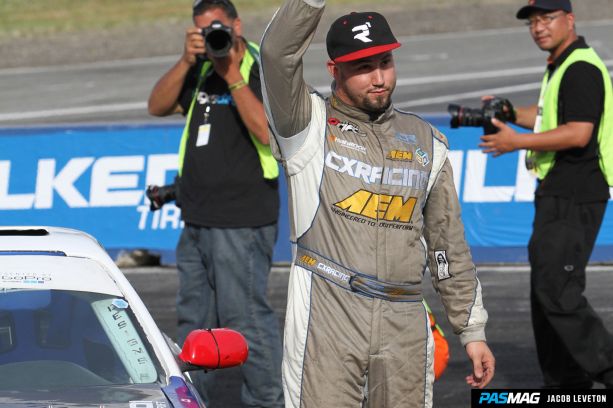 When Formula D introduced the Pro2 class, Jones became a mainstay. Over the past three seasons, Jones is the only driver who has driven at every Pro2 event. With a crew of friends and a spare parts bin that is mostly sourced from junkyards, Jones has outlasted drivers with double or triple the budget, and often just as much of a horsepower advantage. While big budgets can buy brand new flashy parts and impressive tow rigs and pit setups, they don't guarantee longevity. To date, Jones has won two Pro 2 events and podiumed at 4 others, meaning he has earned a podium at six of the seven Pro2 events he has attended.
Earlier this year, Jeff Jones faced Justin Pawlak in a Top 32 tandem battle. Many fans felt that Jones would likely be sitting on the sidelines for the Top 16 opening ceremony. However, Jones laid down two solid passes, while Pawlak had shallow angle and many steering corrections following on the partially wet course. Judges noted the mistakes and handed Jones the tandem win, announcing his name in front of his hometown crowd. At the time, Jones didn't even have a tire sponsor (he has since picked up Nexen Tire).
In 2016, Jones has already taken home an event win and a second place finish in Pro2. A new partnership with Doc X beverage has helped him confirm his budget for the season, while he's working on a new website called DriftHacks.com that will help up-and-coming drivers make the most of their drift cars on a budget. Jones also spends time tutoring those who want to learn how to drift at various tracks around Southern California.
For those looking for inspiration to make it as a professional driver, names like Chris Forsberg and Vaughn Gittin Jr. are likely to come up way before Jeff Jones. But when it comes to being humble while still being able to build a career around the motorsport of drifting, Jeff Jones should be a name people look towards moving forward. #pasmag
Contributors: Jacob Leveton, David Karey