21 June 2016
It's not every day you get to sit down with a D1 champ and pick his brain with a bunch of questions; some trickier than others, but that's exactly what I did when Toyo Tires invited me to lunch with Masato Kawabata at the 2016 D1 kickoff event in Odaiba.
If you know anything about Masato Kawabata and D1 in particular, you'll know he worked for and drove a GP-Sports-sponsored 180SX during what many consider to be the golden age of D1. I asked Kawabata to sum up the experience.
"When I first started as an employee with GP Sports, I worked my way into becoming a contracted driver and Toyo Tires was, at that time, on board with the team as a supplier, so it was natural to be working together, but my relationship with GP Sports and Toyo is now very much a separate thing."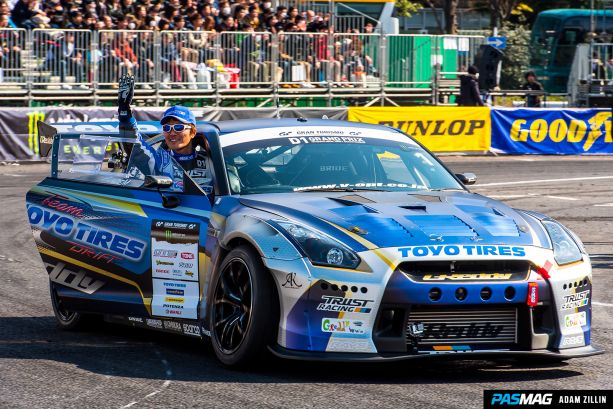 On a more sober front, many of you will know that D1 lost a great competitor and fellow S13 driver in Atsushi Kuroi back in 2010 after a motorcycle accident. Kawabata-san and Kuroi-san had been close friends. I asked him to sum up the relationship.
"When I was just a high school student, at the age of 18, I took on a part time job at a gas station where I met Kuroi-san. We hung out together a lot after that, drifted together and became good friends. From the time we met, he was always something of an important teacher to me and I miss him being involved in the sport always."
Putting aside the personal tragedy for a while, I asked what made drifting so interesting to the young Kawabata.
"When I was in junior high school, I used to watch F1 and Group A racing, and that was cool, but when I was 13, I saw my first drifting video and it immediately left a huge impact on me. I couldn't stop thinking about it after that."
One of the natural follow-up questions in response to that was to ask about the Drift King, Keiichi Tsuchiya. Kawabata went on to say,
"He was a huge influence on me and would sometimes come to visit me at competitions to see how I was getting on. We have been mutual friends since those days."
Crucially, motorsport is something that is passed from generation to generation and Kawabata said on the passing of the torch, "The most important matter right now is that there is a big decline in young people's interest in what we do, so I encourage them to make friends with those who are into motorsport and cars or those that participate with and tune them."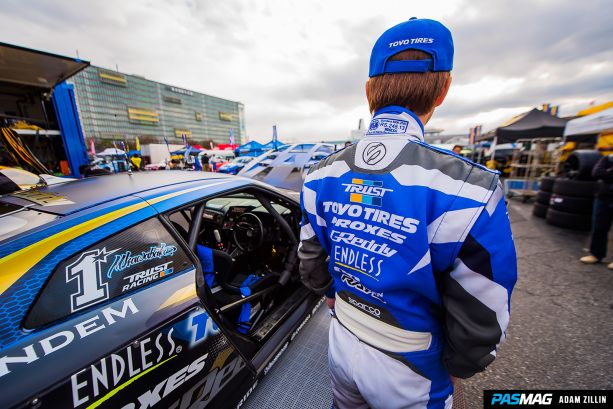 So, what exactly had changed about the sport from when Kawabata was a young person interested in drifting?
"A lot has changed. Primarily it involves a huge increase in technology, which affects power and handling, but the same applies to driving technique with drivers getting closer and closer every year in battle."
When I pressed on what hadn't changed, Kawabata stated unequivocally that, "…the feeling is still there. Pulling off a killer drift is still an awesome feeling, being in battle still gives the same rush and the energy from the spectators is alive and well. We simply want to put on a good show."
One question I really wanted to ask Kawabata related to his massive accident at Fuji with Daigo Saito and how it affected him. He reflected that, "...nothing really changed. I wasn't afraid since I wasn't aware of the moment, so getting back into a car was no issue, but the remorse, and even guilt I had, when I realized the car was totaled was heavy enough."
So were there no reservations then, I wondered?
"Of course I have reservations, but I can't hold back. If I do, everything else suffers, so I have to have trust and have faith in myself that I can push through that psychological) barrier."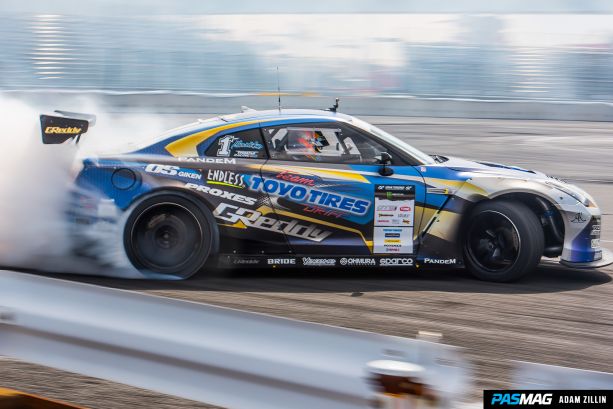 Naturally, safety is and will always be an important topic in D1 (or any motorsport for that matter) so I wanted to pick the champ's brain on the subject…
"There have been a lot of safety improvements regarding roll cage construction, which has definitely helped. We also have many more officials now than ever before and the process of safety is an ongoing one, naturally."
One question that predictably caused a little discomfort involved Keiichi Tsuchiya and Daijiro Inada's split from D1 back in 2010. I asked, "Do you think that D1 is better off with or without them?"
"Personally, I feel that it would be better for them to be among us because they are founders of the sport and their acknowledgment is important, but there are a lot of factors that currently prevent that."
Knowing how important this discussion had become, I pressed further and asked what the biggest factor might be. With a laugh, Kawabata continued, "There's a difference in perception between the goals of D1 and Tsuchiya's personal goals."
Heady stuff. Without wishing to derail the current line of thinking, I asked Masato what his personal goals for the sport were.
"I feel that while (speaking specifically about D1) driver techniques are evolving, the judging is still lacking and has a long way to go. That's what seems to be holding things back. We have to do better in points allocation and in creating technology (hardware and software) that better measures our performance."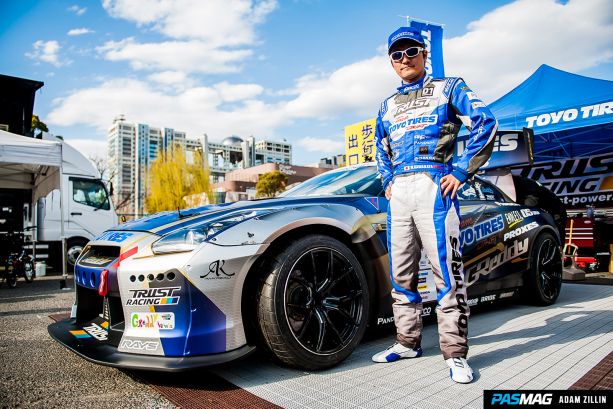 I then moved onto the comparison between Formula D and D1.
"Formula D is about speed and power. The judging is also interesting in that it involves three guys who evaluate different aspects of the performance, so it might be an easier sport for fans to understand."
Pressing on with what I knew to be a highly contentious issue, I wanted to know what Kawabata thought on how the sport could be made "fairer" for competitor and spectator alike.
"There's definitely room for improvement. Right now, we are using what is referred to as a D.O.S.S. It stands for D1 Original Scoring System. The tech is not where it needs to be right now."
So, what are the drawbacks?
"One of the major drawbacks is that, in a tandem run, the D.O.S.S data applies only to the lead car and the chase car is then subject to judge opinion and not hard data. I feel that the tech has a long way to go."
It is beyond doubt that drifting is still in its infancy with responses like this from one of its biggest ever competitors, but every competitor needs some down time and I asked what Kawabata does to unwind.
"I love to sleep.", came the dead pan response.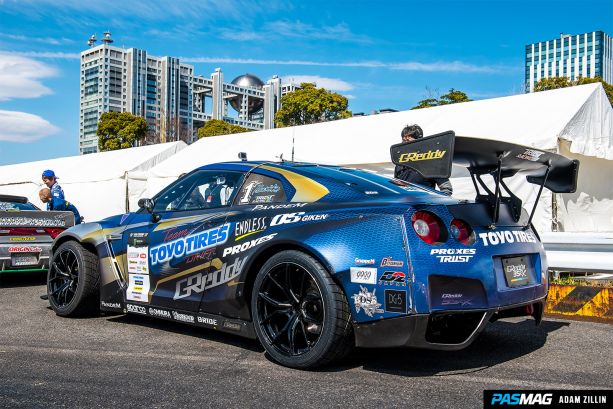 "Is it safe to say that your hobby is sleeping?", I joked. Kawabata quipped that, "Oh of course not only that - I love working on my own cars, too! I have a Silvia, a 180SX and a Celica."
Perhaps the biggest question for fans of the champion is whether or not he would like to, or is going to compete in Formula D.
His answer was absolute. "Definitely. I want to be the world's best."
To add the cherry to the icing on this cake for that question, I asked what are Kawabata's thoughts on a global championship?
"It would be great to have such a thing, but those involved are people running small companies so they might not be at the right level to create the regulations around it. Of course, we need standardized global regulations that work for every level of the sport, but it hasn't happened yet because we simply aren't ready."