30 May 2016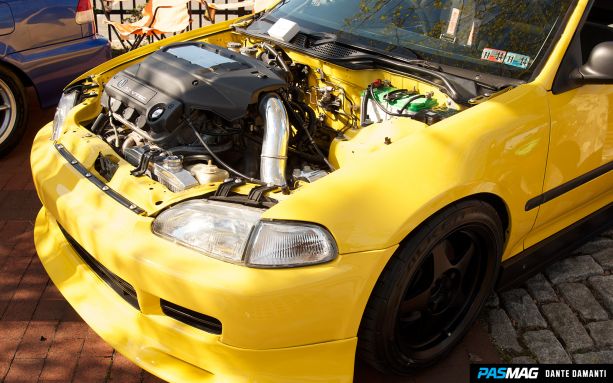 The J-series Honda engine is an underrated and widely available powerplant. Found in most recent Honda/Acura models, including the TL, TSX, CL, TLX, RDX and even the Odyssey, the sub-300 horsepower V6 has become a promising swap candidate for Civic owners looking to do something outside of the usual B-series and K-series swaps.
Like any engine swap, the J-swap is not without its own individual challenges. For starters, fitting the engine into the bay requires some drilling and cutting for the aftermarket engine mounts to line up properly. Additionally, the weight of the motor makes for some balance challenges, but a proper suspension setup can compensate for the added weight in the front with relative ease. Perhaps the biggest challenge of all when swapping a J-series into a Civic is finding the appropriate transmission, as most cars which originally held the J-series were seldom outfitted with manual gearboxes.
Even with the above mentioned challenges, the J-series is not without its merits. Now that J-swaps have been around long enough to catch the attention of the aftermarket, a platform which once lacked aftermarket support has grown, albeit only slightly. Companies like Hasport rose to the occasion early on, creating J-swap mount kits for a variety of Civic, CRX and Integra platforms. As aftermarket support continues to expand, expect to see more of this outside-the-box swap.
Contributors: Shane Hunter, Dante Damanti, Ray Flores