04 May 2016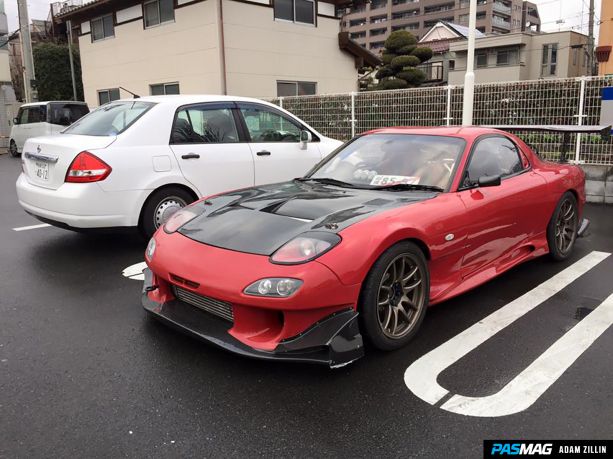 After having built and owned a slew of tasty Japanese and German performance cars over the last 20 years, I admit that a rotary wasn't among them. Key word being "wasn't" because a couple of months back, I took delivery from auction of a 1991 Mazda FD3S Type RS. I had passed where Gandalf told me I shall not.
I suppose it was inevitable that it happened as I have been teased incessantly over the years by well to do friends who currently own a rotary and recount their epic tales from the Book of Brap. Even more so recently, since my staff member, Yuuki, has one of the best four-rotor FDs on the planet. You may remember it from a previous issue!
It is also true that I had avoided rotaries because of the general online chatter about them being weak, overrated and fragile in the engine department. Some of these comments are from people who have never had one. Nothing like an internet professional to set things straight, right?
It is true that rotaries are more delicate than their piston counterparts and demand a gentle, steady hand from their respective owners, but I very rarely, if ever, hear owners of rotaries heaping nothing but praise on them, even when they break. Its not a brand or lifestyle choice with these cars, its 100-percent commitment.
This particular example is, for lack of better wording, a pure savage. It is a side-ported 13B with a Trust TD06-25G powering the Doritos. On one bar of boost, it makes 430 horsepower and with the three-inch straight-pipe system underneath a braced, taut and stripped chassis, it transforms into an axe welding murderer, with the blood curdling wail to match. Throw all the best RE Amemiya, Pan Speed, Voltex and R-Magic aero at it and you have an absolute circuit destroyer. So far, I'm very happy, and admittedly, a little scared of it.
The decision in and of itself to buy a rotary wasn't one I necessarily made consciously. I am a strong believer in the notion that, often, a car will choose its owner. The very moment I saw this FD3S at auction, I knew I absolutely had to have it. It seemed a little tired and weary, looking somewhat unloved, yet purposeful and powerful. I marveled at the notion that the RX-7 was even sitting there.
To give credence to this story, I actually bid on it and lost the auction by a single bid. Utterly mortified, I stewed on the matter for the better part of the afternoon. Until something miraculous happened.
Late in the evening, the phone rang. It was the auction house notifying me that the car was passed on by the winning bidder and it was mine to take. I literally let out a huge cheer right there and then in the packed halls of the auction house with the realization setting in that the blood red FD3S was indeed mine.
Like adopting any pet, I had to know exactly what I was getting myself into, but with the support network available in Japan with Scoot and R-Magic literally 10 minutes from home, I'm not too concerned. What an amazing beast she is turning out to be.
How much did you say that little Dorito in the window was again?
Contributor: Adam Zillin (7Tune)