Written by Robert Kochis | 19 May 2016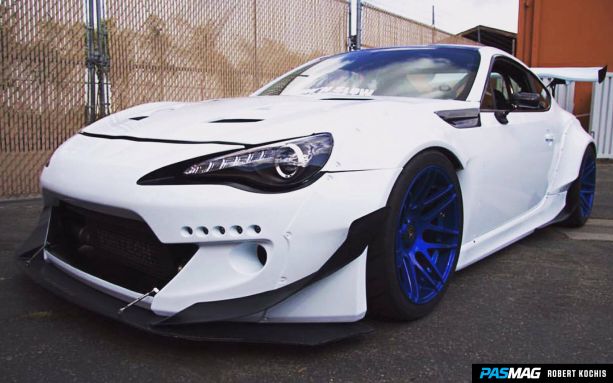 As time progressed, I began to experience multiple issues with my FR-S from it being so low. Other than the ride quality being terrible and having no suspension travel, blowing up axles and diffs, cracking my aero, and other good stuff, I simply just wanted to move to a new style of the car.
I have always loved the stance look of cars, but since I drive my car every day, it began to become more of a hassle than an enjoyment. Laying frame on the freeway and shooting sparks, getting stuck in driveways and having to avoid certain places because I couldn't park just wasn't fun anymore.
Enter the start of the new phase. I had some crazy self-butchered-together slammed coilovers, which were Function Form Type 2s with a D2-style coilover and four-inch Swift springs to get my car to the height it was at. I was tucking 17-inch wheels with stretched tires on a Rocket Bunny V2 kit, which was lower than most bagged cars. It was not a very functional set up, but damn did it look good.
After much research, I consulted with FD Pro Driver Odi Bachkis and Leonard Wang of Swift Springs. They came up with the perfect solution for me, the 441 coilovers with a 9k six-inch front spring and an 8k six-inch rear spring. This set up is exactly what I wanted. It's the perfect height with my cup kit in the front, and has more than sufficient travel.
The next mod that was addressed was the front lower control arms. I sourced a set from Megan Racing and they're definitely a product that blew me away quality-wise for the price. The powder-coat is glorious and they allow much more alignment adjustment in the front. The car feels much more stable with the extended ball joints as well.
Wheels are what makes or breaks a car. I went back to the roots of the car and snagged a set of Forgestar F14s, but this time in Sapphire Blue and in 18 inches. These ultra-lightweight wheels weigh about 19 pounds in the front and 20 pounds in the rear and are wrapped in massive 255/35 and 295/30 Toyo R888 tires. These tires are like glue on the street. It's actually terrifying how much you just want to keep pushing the car because of how they don't want to give up, yet the car still doesn't understeer. It's a perfect balance of grip and slip, with a slight amount of controlled oversteer when really pushing the car.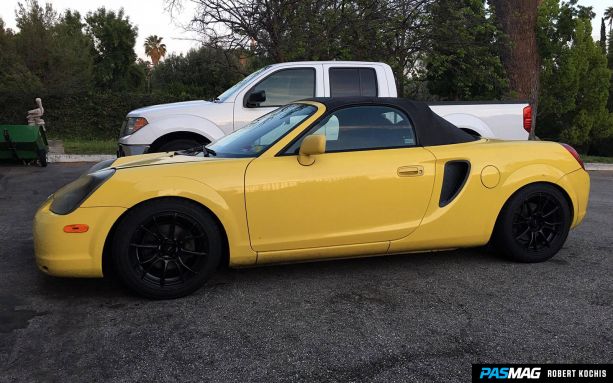 Now for the MR2 Spyder.
This car now is genuinely scary. It is so under-powered and so snap happy in the rear that you can't half-ass the car into a turn. It will spin out on you and there is no fixing it if you are too late with your inputs or lift throttle. When you turn in, you have to commit 100 percent.
The car came second hand on blown shocks, and it was a roll happy nightmare. I handled that with a set of K Sport Kontrol Pro coilovers. Dustin over there was more than helpful sourcing me a set. These coils are great for a daily driver, but I am going to swap the front springs to a 7k spring to have a stiffer feel in the front.
Next, I took care of the dreaded pre-cat with a Manzo Racing replacement and cat-back exhaust It definitely made it louder, but it didn't add much to the stock 110 horsepower. This just makes me want to swap the car even more.
The best mod of all was switching out the garbage wheels it was on and swapping to some Advanti Racing Storm 2 15x7 wheels. These wheels weigh less than 11 pounds! Tp put things in perspective: stock FR-S wheels are 17x7 and weigh about 26 pounds. I actually picked up two sets, another in 15x8, so I can run some wider R888 tires when I do open track sessions.
Overall the car isn't any faster, but it handles like a monster now. I can't imagine much more fun in a car to be honest – well, at least until the swap happens. Stay tuned!
Stay tuned for more updates!
Contributor: Robert Kochis