Written by Jacob Leveton. Photos by Justin Kaehler. | 19 May 2016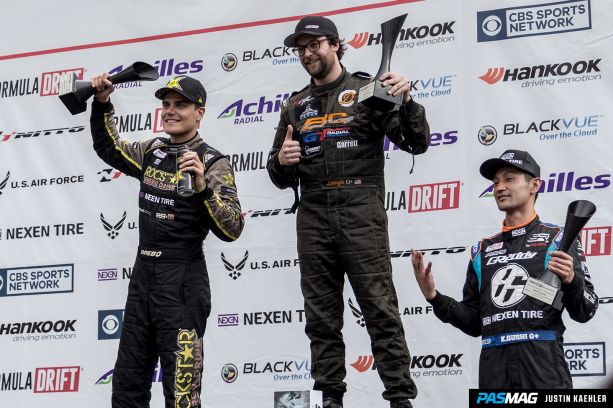 Formula Drift kicked off their thirteenth season of competition in Long Beach, California, to a packed house and a diverse grid. Here are some of the headlines to keep an eye out on as the season progresses.
NEXEN TIRE RETURNS TO FORMULA DRIFT
Nexen Tire left the series for a few seasons to focus their marketing dollars on other initiatives, but has returned for 2016 in a big way. Partnering with the top two drivers from last season, Fredric Aasbo and Ken Gushi, in addition to former two-time champion Tanner Foust and up-and-coming driver Alec Hohnadell, Nexen is looking to make an impact. At the first event in Long Beach, Gushi and Nexen occupied the second and third steps on the podium, giving the brand their first two podium finishes just one event into the season. The marketing folks behind Nexen have previously been successful behind other tire brands, and their new N'fera SUR4 tire already looks to be competitive.
THE FORD MUSTANG IS AS COMPETITIVE AS EVER!
The 2015 Ford Mustang was the first Mustang to leave the Ford factory with an independent rear suspension configuration in the 50-year history of the pony car. Both Justin Pawlak and Vaughn Gittin Jr. have debuted competition versions of the car this season, and both have taken a unique spin on the chassis. For Gittin Jr., his latest iteration features his own specialized styling touches along with a suspension package that he has been prototyping and fine-tuning for over a year on his RTR demo car. Pawlak's partnership with Roush Performance and previous history with the Mazda FC3S chassis, which also features an independent rear suspension, has him feeling comfortable in the chassis after six previous seasons in a Mustang. Between both drivers, Ford has seen 12 event wins and 31 total podium finishes since entering the Formula Drift series in 2005, and is looking to improve that number this season.
SCION LOOKS TO CLOSE OUT THE BRAND STRONG.
The Scion brand will end later this year, and the former "Scion Racing" team is being branded as "SR By Toyota" for the 2016 Season. The FR-S will become the "86" under the Toyota brand, but the tC will be retired after this season. Fredric Aasbo and Ken Gushi finished first and second in the final standings, but Ryan Tuerck will be looking to make an impact as well in his first season as an official Scion driver. Jhonnattan Castro will also drive an FR-S/86, although it is a private build. Scion has won the last two OEM Manufacturer's championships in the Formula Drift series, and will be looking to three-peat this season.
MAZDA'S ENTRIES ARE LOOKING MEAN.
Mazda released the ND-chassis Miata just weeks before the 2015 season, which didn't give any drivers enough time to build the chassis. For 2016, Kyle Mohan debuted the first competition ND Miata drift car globally, while "Mad" Mike Whiddett face-lifted his NC-chassis Miata with ND headlights, tail lights, and body styling. Both cars look absolutely menacing, and are both pushing well over 1,000 horsepower through the rotary engines under the hood. Whiddett's four-rotor has seen over 1,200 horsepower on the dyno, while Mohan's three-rotor is pushing 1,000 ponies.
IT'S A BMW WORLD, WE JUST LIVE IN IT.
Outside of Michael Essa's Cinderella run to the championship in 2013, BMW chassis have not performed exceptionally well in Formula Drift competition. Chelsea Denofa smashed that perspective by winning the season opening event in Long Beach, while Michael Essa's return to the same E46 chassis he won the championship in should provide a serious threat to the championship. In addition, Kenneth Moen has ditched his 2JZ-powered S14 in favor of a 2JZ-powered E46 chassis, 2015 Formula D Pro 2 champion Alex Heilbrunn has a newly-built Whipple-supercharged, LS-engined E46 BMW, and Kristaps Bluss continues to refine his MAST Motorsports Chevy small-block-powered E46 chassis. Don't be surprised to see more BMWs in the winners' circle over the course of the season.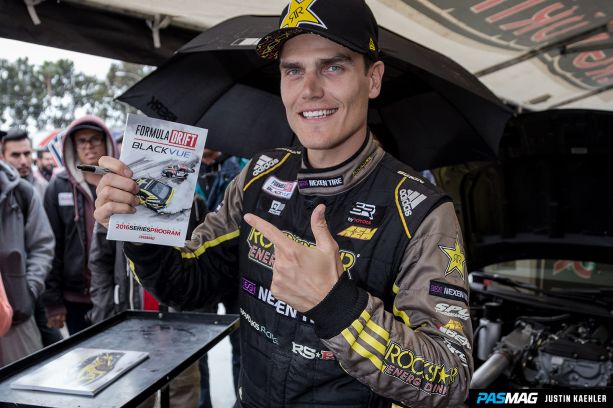 BONUS: PASMAG PRODUCES THE 2016 FORMULA DRIFT PROGRAM!
For the sixth consecutive season, we are proud to produce the official Formula Drift Program. We've expanded the amount of content in the guide, including interviews with both 2015 champion Fredric Aasbo and 2015 Pro 2 champion Alex Heilbrunn. Judging criteria, driver profiles and stats from Formula Drift past and present are revealed in the guide, giving fans insight into the series as they witness it. The guide is available exclusively at Formula Drift events around the country and internationally.
Stay tuned for more 2016 Formula Drift news and updates!
Contributors: Jacob Leveton, Justin Kaehler