09 May 2016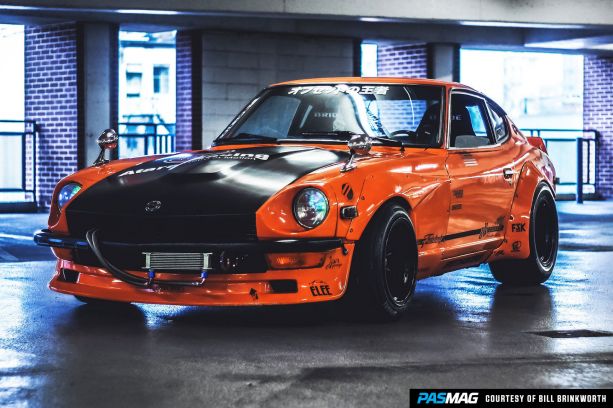 When you need something done right, you do it yourself." How many times have we all heard that piece of advice? Well, for Bill Brinkworth, he didn't really have another option. With none of the aftermarket Datsun 240Z (S30) widebody options turning his crank and no Rocket Bunny kit available at the time, he took his experiences in car customizing and professional scale modelling, poured them in a mold and out came D-Brinkworth's fender flares. The business itself is fairly new, but the two-brother operation situated out of Bill's garage is piquing a lot of interest. We decided to see what it's like being the little guy in the huge widebody world and sat down with Bill for a quick chat about the business and his process.
Micky Slinger: Start out with telling me about your involvement in the automotive scene. How long have you been in it and what kind of projects have you been a part of?
Bill Brinkworth: As far as how long I've been in it, I'd have to say it's about 10 or 12 years of doing custom car work and having my own business. As far as vehicles that I've done, I've done all sorts, from muscle cars to import cars, even bikes. It was more cosmetic, I would say. I did audio and body and air suspension, but it's mostly custom work, like custom paint and airbrushing. I've done full restorations, too.
What's your background in manufacturing then?
Well, I learned a lot doing scale modelling with my dad. There are different aspects that I was able to use in the car industry, like painting and shaping.
As far as molding and manufacturing, we also did rubber molds and hard molds for fiberglass and resin casting. The scale modelling really did help me get experience for the things I do with cars.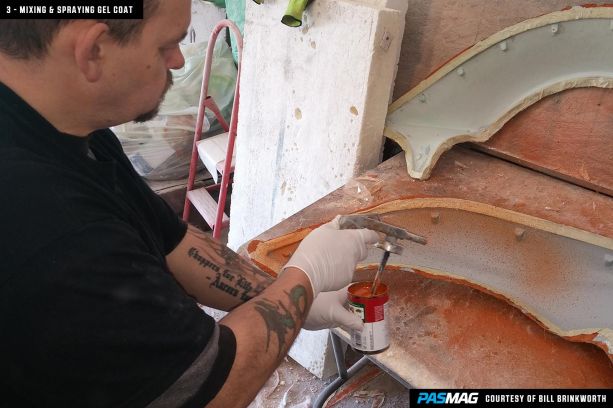 Spraying gel coat on the inside of the flare mold.
Tell me a little more about back when you were doing scale models?
When I was in school, I was working on architectural models, so I would model buildings and future developments. I would make a replica of what it was going to look like and then they would make molds of it and produce it on a mass production scale.
That slowly turned into doing scale car models. We did one Rolls Royce car model for a customer, and when the Indy first came to Vancouver, Paul Newman and Carl Haas – the team owners of Newman/Haas - saw it and contacted us to see if we could do their race models.
So, we went to one of the races, got as many photos as we could, and they sent us technical drawings. We made a few models for a couple race teams, and when they saw those, they were hooked. Every year we'd do the same thing. They would send us the drawings, we would go down to the various races, take photos of stuff we couldn't get from the drawings, and we would produce them for that year. They would order a bunch to give to the sponsors and drivers and stuff.
I also did some trophy stuff. In 2000, I did the trophy for the Molson Indy for second and third place. I also did the Greg Moore Rookie Award, as well as a sculpture.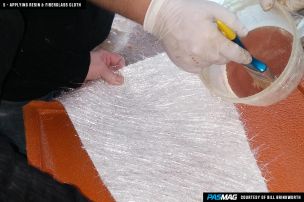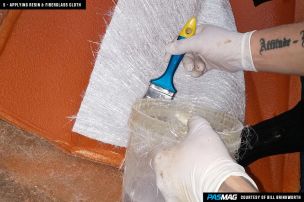 Laying fibreglass sheets into the casting.
Tell me about how D-Brinkworth fender flares got started.
When I first acquired the Datsun, I did my research all over the net trying to find all of the different things you could do with them. I saw that they pretty much only had a few different sets of flares. Then I saw that Rocket Bunny had done a really cool set of flares for the FD RX-7. I really liked the style of it. Actually, my son was the one who looked at it and said I should get Rocket Bunny flares for my car, but at that time, they didn't have a kit for the Datsun. So, I decided I'd make my own flares that followed the bodylines of the car.
Originally, we were just going to be doing it for my own car, but then I got contacted by the owner of Japan Garage, who I was getting my racing wheels from. He said, "Hey, you should manufacture them! I've sent some pictures around and everybody just loves them." I had never really gotten into that side of manufacturing with fiberglass on a mass scale. He's said if I did it, he could probably find some buyers, so I decided I'd try it. I had to make a mold of it anyway.
My brother saw what I was doing and he was interested and he said he'd give me a hand, so we took on the project together and then it went from there. Once we started advertising it, it just went crazy. People all over the world were wanting these flares.
In the name, what does the "D" in "D-Brinkworth" stand for?
That is my son's initial of his first name. His name is Dylan. It was kind of his idea at the start when he said I should put flares on the car.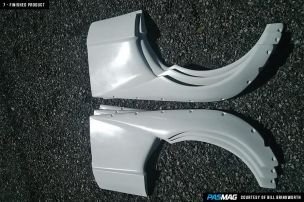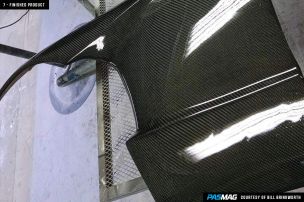 Finished fender flares ready to ship to some S30 owners.
Your focus is primarily the S30 platform. Have you always been fascinated with those cars? What made you want to pick one up?
I have always liked them, they're such cool cars. My friend had this 240Z when he was 16. We'd hang out and drive around all over the place. It was a fun, fast little car. Three or fours years later, my friend bought a truck and the car got parked against my friend's fence. I asked him, "Hey, what are you doing with that 240?" And he's like, "One day, I'd like you to fix it up." But neither of us really had the time to do it.
He parked it and it sat there and sat there. Every time I'd drive past it, I thought of it just sinking into the ground, rotting away. Every time I saw him I was like, "What are you going to do with that car?" He would just go, "I know, I know. I should do something about that." Then one day, out of the blue, he calls and says, "Hey, if you want that 240, my parents are just sick and tired of seeing it there. Pick it up. I know it's going to have a good home. You'll do something cool with it."
Then the pressure was on to do something because now he's given it to me and I wanted to make him feel good about where it had gone. It hasn't just sat at my house. I've done a little bit here and there. It's sort of like a 15-year project. In the end, I think it turned out as a pretty decent product.
Do you have plans to make flares for any other cars, or are you going to stick to the Datsun side?
It's hard to say. I've had so many people actually contact me and say, "Hey, I have this car and I want a widebody kit on it. How much would it cost for you to make one?" It's hard to pick something that I know would be a decent seller. I want to get my money back in all respects, right? It's really expensive because of the time involved developing and molding.
Right now, I'm still just barely covering my development time with the amount of flares that I've sold. I'm also paying my brother for the time he is taking off work to actually get these things ready.
I think that it's a really cool thing and it's something I love to do. If money was no object, I'd be open to do any type of project for anybody, for sure.
How many sets of flares have you made to date? Have they gone anywhere interesting?
To date, I would say we've made about 12 sets. With every customer that I've sent the flares out to, I've tried to keep a personal relationship with them in some way.
The farthest ones that I've had sent were to El Salvador. That guy is actually a professional race driver and the car is beautiful. It's a 280Z and apparently very well known in the Latin American racing scene.
There's another set that's shipping out in another week or so and they'll be the first ones to go to Japan!
How long does it take is to make a full set? What's the process like?
I would say probably about two days, three days max. My brother does most of the actual manufacturing side of it. Once he's waxed the mold and then shot the resin in there, that has to sit and dry for a bit. After that, we shoot the gel coating and that has to set for a few hours. After that, he starts layering up the fiberglass and resin, which usually takes another few hours to set. The de-molding and trimming usually takes about an hour or so.
What sets your fenders apart from other aftermarket offerings?
I've worked with body kits for many years, and you know a quality kit from a crappy kit. In most cases, the crappy ones are the ones that are produced too fast and pulled from the mold too soon. They're soft and distorted and have been possibly sitting with other kits, making them uneven or putting a twist in them.
The best thing is to leave the piece in the mold as long as you can to properly cure and get solid. Once you take it out, in most cases, it should pretty much fit up against the car. Our fitment is very, very close.