Written by PAS Staff | 04 February 2016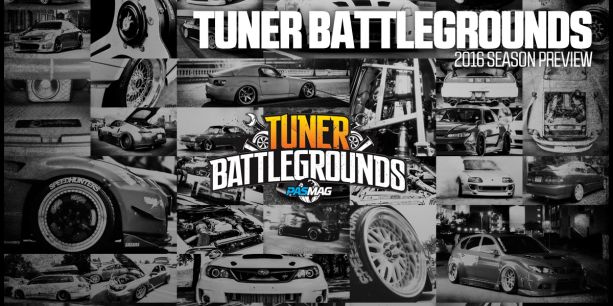 TUNER BATTLEGROUNDS is an online competition portal hosted by PASMAG where automotive enthusiasts vote for their favorite modified vehicles in head-to-head bracket competitions.
HERE'S THE SPIN - Rather than PASMAG staff selecting the 'Best in Class' show winner(s), the judging responsibility is shared with the audience (the fans, show-goers and friends and family of the competitors). With a click of a button (Facebook) or new post on social media outlets (Twitter, Instagram), the audience will be able to vote and select their favorite entry from round to round.
WHEN DOES IT HAPPEN?
Hundreds of potential competitors are currently submitting their profiles via an online registration form at http://tunerbattlegrounds.com. Competitors can enter local Tuner Battlegrounds: #TBGLIVE events, as well as the year-long online competition, Tuner Battlegrounds: Championship.
WHERE DOES IT TAKE PLACE?
The online voting takes place at http://tunerbattlegrounds.com. In the initial stages (rounds), voters simply sign-in with their existing Facebook accounts and can vote once each day. In the final stage, voters must generate a new post on their Instagram and/or Twitter accounts and use a dedicated hashtag of the final competitor they wish to vote for. The votes are tallied and the winner is announced at the event and on our social channels.
TUNER BATTLEGROUNDS CATEGORY BATTLES
The Category competitions provide partnered automotive aftermarket manufacturers with an opportunity to engage the tuners with a category-specific online battle. Similar to the #TBGLIVE and Championship competitions, the registered competitors battle head-to-head for online votes during a specific time-frame. The tuner that wins a Category competition receives a product sponsorship for their vehicle from the partnered manufacturer, and a (spotlight) feature in an issue of PASMAG. In addition, the partnered manufacturer is able to provide an online discount code to activate instant savings to the competitors and/or voters.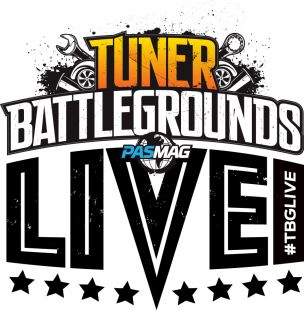 Tuner Battlegrounds #TBGLIVE provides regional competing opportunities for event promoters and competitors. A #TBGLIVE competition is integrated to an affiliated event as a unique award category, similar to a "People's Choice" award. Only pre-registered and confirmed competitors of the event are able to participate and join this online, bracket-style, head-to-head challenge. Online voting takes place on Facebook the week leading up to the #TBGLIVE-affliated event, narrowing the final competitors to two (2). On-site (at the event), the two finalists battle head-to-head by encouraging supporters to generate a new post on Instagram and/or Twitter with a dedicated hashtag. The winner of the #TBGLIVE competition receives a print-feature in PASMAG. For 2016, #TBGLIVE will take place at more than a dozen events across North America. Competitors have the opportunity to earn points for the Tuner Battlegrounds Championship Top 32 Tournament bracket.
Click here to see the Tuner Battlegrounds #TBGLIVE award winners.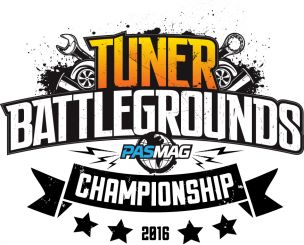 The Tuner Battlegrounds Championship competition provides tuners with an opportunity of a lifetime. Their dream to have their vehicle on the cover of PASMAG can become reality. Online voting for the Championship competition takes place between September and October (subject to change), with the winner receiving a vehicle cover feature in an upcoming issue of PASMAG and a VIP Experience that includes, but is not limited to, flight, hotel, credentials and vehicle transportation and display at the PASMAG booth at the SEMA Show in Las Vegas, Nevada. Seeding for the 2016 Championship Tournament begins immediately, and inclusion and placement within the Top 32 depends on points earned throughout the season (#TBGLIVE).
2015 TUNER BATTLEGROUNDS CHAMPIONSHIP / STATS
1,404,715 | USERS REACHED
5,535,038 | IMPRESSIONS
479 | BUSINESS CARD VOTES
Click here to read the 2015 Tuner Battlegrounds Championship competition recap.