20 November 2015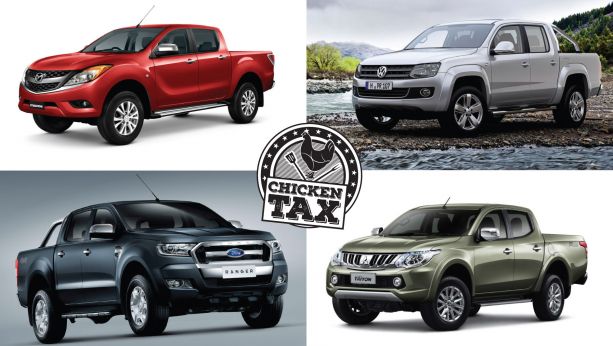 Did you know Volkswagen makes a pickup truck? It's called the Amarok. Do you remember the Mazda B3000? Yes, it was pretty much a Ford Ranger, but it has a spiritual successor in the form of the BT-50. Speaking of the Ranger, where did that go? It's still available, but only overseas and not in the U.S., as is the case with the other trucks mentioned here. Isn't America "the land of the truck" though? How can there be trucks out there the States doesn't get?
CHICKEN TAX. Yes, a tax on chickens has something to do with trucks. See, in the '60s, France and Germany started putting a tariff on American chickens headed into the European countries. This didn't sit well with then U.S. President, Lyndon B. Johnson, so good old LBJ imposed a 25-percent tax on many imported goods coming into the States. Among the goods that were taxed were light trucks and commercial vans. Twenty five percent tax on a vehicle is pretty huge, so foreign automakers backed right off there.
To get around the Chicken Tax, automakers would have to build production lines or whole new facilities to produce their trucks on U.S. soil. As you can imagine, this costs a couple dollars, so when an automaker gets brave enough to do this, they deal primarily in full-size trucks, as they have the largest return to recoup costs.
Now, the reason that truck enthusiasts are now excited and talking about a tax from the '60s named after a flightless bird is because of the Trans-Pacific Partnership (TPP) trade agreement, which was recently signed by the Obama administration. Among the breaks on taxes and tariffs, it was mentioned the Chicken Tax would fall by the wayside, which, in the best scenario, would see floods of awesome light trucks coming stateside. Sadly, so far the tax has been planned to be rolled back slowly, over the course of 25 years. That could change with time however.
HERE ARE A COUPLE WRENCHES IN THE WAY OF SWEET, SWEET TRUCKDOM:
> Thailand is the manufacturing motherbase for light trucks from Toyota, Mazda, Mitsubishi and Ford. Thailand isn't part of TPP talks at the moment, but officials have expressed interest in joining after the deal is completed. Come on, Thailand!
> Foreign trucks are super different from North American trucks. In the U.S. especially, trucks are mostly leatherlined inside with premium audio and high-tech accessories. Overseas, trucks are a little more bare necessities, with manual transmissions and four-cylinder turbo-diesel engines instead of the V8s more common over here. Not to mention the strict safety standards that foreign trucks would have to meet to come over here. That's a lot of money to consider.
For automakers though, there's a lot of money in bringing over some killer trucks. We're choosing to look at this positively. Ideally, it's only a matter of time (hopefully shorter than 25 years) before we get our own Rangers, Hiluxes, BT-50s and Amaroks.