Written by Chris Nicholls | 01 October 2015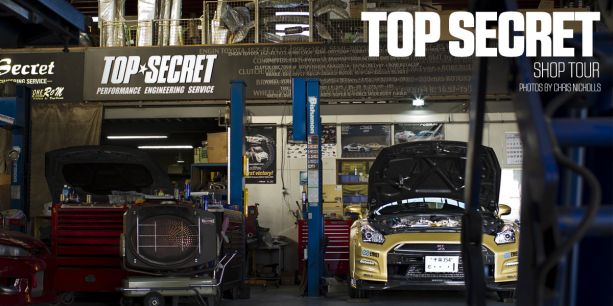 It's a long way from the deserted country roads of Kazuhiko "Smokey" Nagata's rural Hokkaido hometown to industrial Chiba in Tokyo's west end, but it's a journey he's managed with ease. Perhaps because he was going so fast...
A legendary figure in underground tuning circles, Nagata-san made his name by blasting along Tokyo's tollways at 200 mph just as much as he did through his tuning company, Top Secret. While he may have toned down his antics in recent years, he still hungers for speed.
It's that reason why he builds insane vehicles like his 1,000+ horsepower Super GT-R II at his expansive workshop, and takes them racing at events like HKS Premium Day. It's why he still travels the world, looking for places where he can go fl at out. Call it an addiction, but it's not a bad one to have.
Top Secret cars start out as white in color, but are soon racking up performance parts and setting track records to earn their gold paint. A gold Top Secret car is the best Top Secret car.
You can see the results of this habit at his workshop. By any standards, not just Japanese, it's enormous. Inside, you could easily park eight or nine cars side-by-side, and the extensive grounds outside hold more GT-Rs than I've ever seen in one place. There's also ample storage space upstairs, machining and engine building rooms and a separate dyno shed outside. Last but not least, there's the sales office behind the workshop.
It's a far cry from the company's first shop in Soga Rikkyou (also in Chiba), which Nagata-san says was about half the size of just the current sales office.
"You could get one car in there, and that was it."
But as they say, from little things do big things grow, and so Top Secret went from that tiny shop to another in Souka City (about half the size of the current one), then onto the premises in Miyako-chou (which was actually on Trust's land), then finally to the current shop in 2011.
Top Secret. It's an appropriate name given that Nagata-san got his kick start by working late hours on secret projects at Trust.
The Trust connection is important. It's how Nagatasan got his start, working away on top secret projects (hence the name) out of hours at Trust – before going his own way.
And what a journey it's been. From being arrested in virtually every country he's driven in, ("At the time, as long as it was fun, I didn't care. Now, I'm a little bit more adult and I don't want to involve innocent people in my antics, or cause trouble to others.") to creating iconic cars like his V12 Supra, Nagata-san's path has been one full of risk and speed, but one also full of friendship. It's that message he'd like young people to learn today.
"Cars used to be something young people were into, and were an essential part of their lives," he says. "Now it's all about the Internet and mobile phones. But if you add cars to modern life, your life will change. Cars are a way of making new friends and building trust. So, if you add cars to your life, your world will expand. That aspect of cars is what I'd like everyone to know and understand."
Wise words indeed.
Top Secret's Super GTR1000. The name alludes to the monsterous twin-turbo power unit within, which was assembled using a careful selection of parts for near immediate throttle response.
ESSENTIALS
759-1 Sankakuchou, Hanamikawa-ku
Chiba-shi, Chiba Prefecture, 262-0011
Japan
+814 3216 8808
www.topsecret-jpn.com
Facebook