Written by Chris Nicholls | 01 October 2015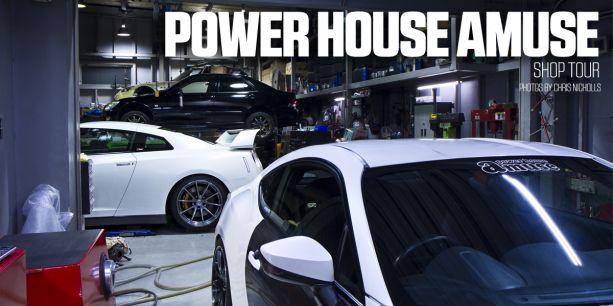 It may be hard to believe, but Power House Amuse started out in 1990 as a wheel specialist "no larger than a ramen shop." Obviously it's a bit bigger now, both in fame and floor space. With worldwide recognition and a state-of-the-art, 9,000-square foot headquarters/workshop in Chiba prefecture complete with a dyno room and three lifts, Amuse is literally and figuratively a powerhouse of JDM tuning.
It's a stunning operation, and just walking through the immaculate showroom is enough to make any car nut feel giddy with all of the expensive parts and demo cars – like the Phantom R – scattered liberally about.
A top tuner? Yes, but the idea of Power House Amuse was spawned by founder Hideki Tanabe's love for motorcycles before he launched the company as a wheel shop.
But, how did Amuse get to this point? According to current boss Matsui-san, it goes something like this: "[Founder] Tanabe-san used to race bikes, so he thought about starting a motorbike shop. However, you can't do much to tune bikes, so he figured it wouldn't be much of a business. As a result, to fund his racing, and given it was during Japan's "bubble economy" period – where people had lots of money – he decided to start a car wheel shop.
"Of course, people who buy wheels also tend to want to do other things, like changing mufflers or lowering them, so he started doing that, and also tried making his own mufflers and so on. That went well, so because Tanabe-san liked tuning cars too, the business went that way."
However, just selling a few parts wasn't going to cut it for a perfectionist like Tanabe-san, so he committed large sums of money to R&D, which led to famous components like the company's R1 Titan exhausts and renowned demo cars like the R34 Carbon R and S2000 GT1. Matsui-san said people seeing these cars in Hot Version videos and playing them in Gran Turismo were what really helped cement the company's position.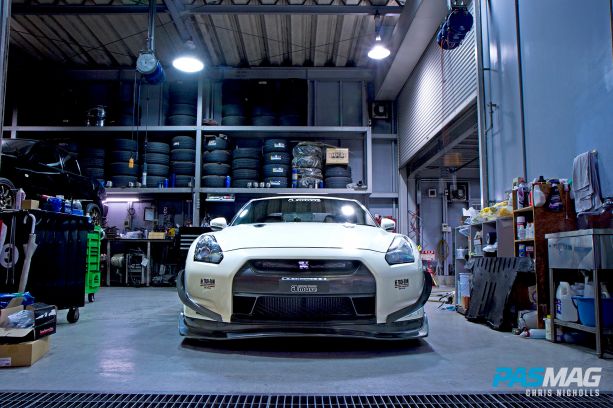 Known on the streets as one of Japan's premier tuners and exhaust manufacturers, Power House Amuse has also been rewarded in the digital world as a regular in the Gran Turismo video games.
Sadly, Tanabe-san passed away in 2012, but Matsui-san and his team have ensured his legacy remains by continuing to push the limits and focusing on R&D.
"I think there are many areas of industry outside of our own that we can learn from," he says, "and leaving that knowledge untouched is a waste. So, I go and look at these industries and see what I can learn."
This constant learning is reflected in the parts you see at the shop. The R1 Titan exhausts, for example, are regularly updated as the company learns new things. It also means Matsui-san is keenly aware of what hybrid and electric cars could mean for tuners.
'If we're talking hybrids, it's just a matter of [development] resources. Even pure electric cars, we are interested in. As tuners, if we can use our knowledge to tune them, that's great. Even if the possibilities for powertrains are limited right now, electric cars still have suspension and brakes, and we can even tune things like throttle pedal feel. And looking further into the future, I think the tuning world will start to develop ties with experienced electric motor manufacturers and look to improve things that way."
A Tesla with bigger Amuse motors, slick carbon aero and other goodies? The future doesn't look so bad.
ESSENTIALS
2-2-1 Sakurai Shinmachi
Kisarazu-shi, Chiba Prefecture, 292-0823
Japan
+814 3830 0055