Written by PAS Staff | 26 May 2015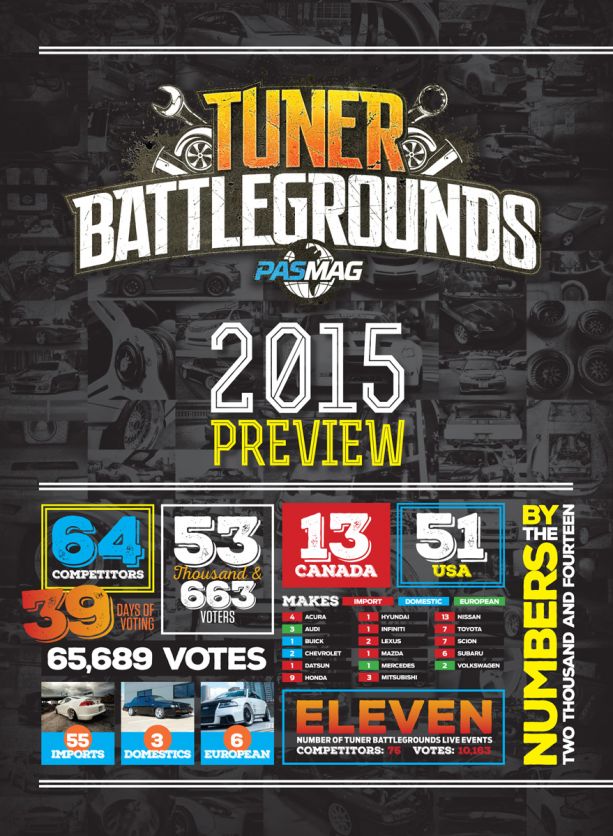 Following an epic final that saw Anthony De Guzman's Toyota Supra (Winnipeg, Manitoba, Canada) capture the 2014 Tuner Battlegrounds Championship Title over Moses Awad's all-carbon Nissan 370Z (Mableton, Georgia, USA) at the SEMA Show in Las Vegas, Tuner Battlegrounds (TBG) returns for 2015 with the promise of the biggest and best competition yet. Celebrating its fourth anniversary and the third year of finishing the championship live at the SEMA Show in Las Vegas, TBG will continue to deliver new and exciting competitions to engage enthusiasts across North America.
The 2014 season featured hundreds of competitors from across Canada and the United States, as well as tens-of-thousands of supporters from around the world. This year's new season-long format will help celebrate the best in tuning over an extended length of time.
New for 2015 (and unlike previous years), seeding for the 2015 Championship Battle begins immediately, and inclusion and placement within the Top 64 depends on points earned throughout the season.
3 great ways to earn points and make it to the Top 64
This new points system will allow TBG Competitors more opportunity to promote their builds and earn their way into the Top 64 than ever before, with three unique ways to earn points. Points must be earned prior to the final deadline on August 28, 2015 at 12 midnight (EST), and weekly standings will let everyone know how close they are.
The first (and simplest) way to earn points is similar to previous seasons. Points will be awarded on a 1:1 basis based on the number of overall votes a profile has – this means the sooner you enter, the sooner you can start earning votes.
The new season-long points system for #TBGLIVE Battles is the second way points will be awarded. Points will be earned by competitors who participate in #TBGLIVE Battles, as long as they are also registered for the season-long Championship Battle and the #TBGLIVE Battle takes place prior to August 28, 2015. Here are list of #TBGLIVE event affiliations: http://tunerbattlegrounds.com/events.
Perhaps the biggest new initiative for 2015 is TBG Gives Back! This is a charitable initiative that allows the entire TBG community to raise money for great causes while earning points – a win/win for everyone. Stay tuned for more information on this!
Points will determine who competes in the Top 64 for the 2015 Championship Battle, where competitors will compete head-to-head based on online votes in a bracket-style knockout throughout six stages of competition. Once again, the final stage will pit the final two competitors in the PASMAG booth at the 2015 SEMA Show in Las Vegas, Nevada. On-site, supporters can text their vote using PASMAG's text2vote system. The final stage winner of the 2015 Tuner Battlegrounds: Championship Battle will be announced on day four in front of a live audience at the 2015 SEMA Show and awarded a full PASMAG cover feature!
As always, the #TBGLIVE Battles will take place once again at select auto shows and meets throughout the year. Competitors must be registered to an affiliated-event for a chance to win a PASMAG print mini-feature. Over 20 different #TBGLIVE Battles will take place at shows across the United States and Canada.
Do you think you have what it takes to capture the 2015 Tuner Battlegrounds Championship? Visit www.TunerBattlegrounds.com for news, voting and registration information!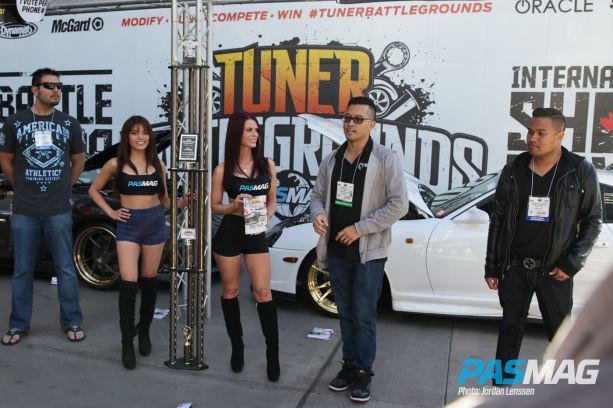 PASMAG's Randi Bentia (2nd from right) announces the 2014 Tuner Battlegrounds Champion on the final day of SEMA.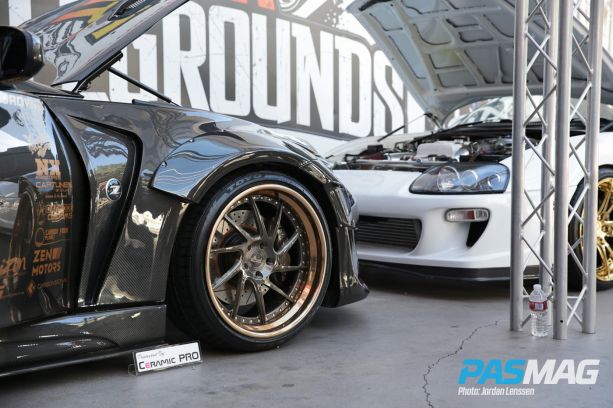 The final two competitors of the 2014 Tuner Battlegrounds Championship: Moses Awad (Nissan 370z) vs Anthony De Guzman (Toyota Supra). Style vs Performance. Team USA vs Team Canada. Nissan vs Toyota.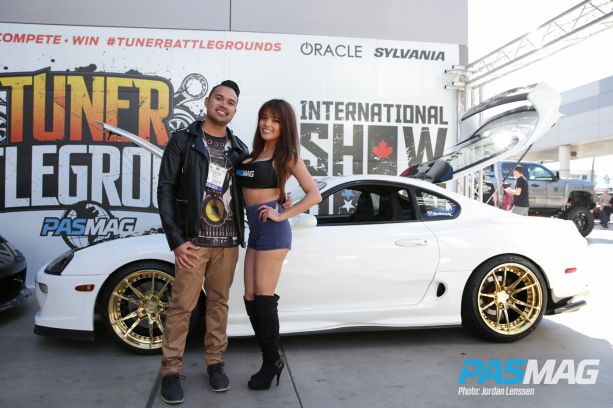 PASMAG model Tracy Nova with Chris De Guzman, Anthony's twin brother (Los Angeles, California, USA).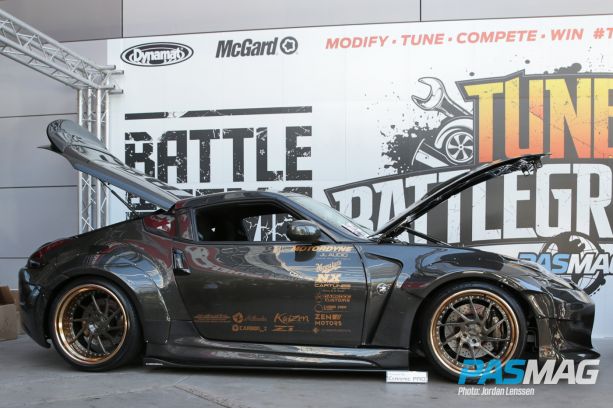 The sponsor decals on Moses' 370z match the custom Niche Road Wheels perfectly!


For full coverage of the 2014 Tuner Battlegrounds Championship Battle, go to: http://pasmag.com/events/event-coverage/43-latest-events/3804-sema-2014-las-vegas-nevada-bigger-is-better-photo-coverage?start=7.
To see the Tuner Battlegrounds #TBGLIVE Battle Winners, go to: http://pasmag.com/features/tuner-battlegrounds-live-winners.