Written by Jacob Leveton | 20 February 2015
In years past, newly-licensed Formula Drift ProAm graduates have faced a steep learning curve, getting thrown into the mix with some of the best and most experienced drivers in the world instantly. Formula Drift recognized this lack of a stepping stone between regional ProAm events and the championship level of the series, announcing the Pro 2 series at the Formula D level. The four-event series is designed to help drivers get accustomed to traveling nationally and driving on the same tracks as the Formula D Pro circuit, but without battling past champions in tandem and provide added face time with the Formula D judges.
Here's how it works: all newly-licensed ProAm drivers will graduate to the Pro 2 class, with the top eight drivers being allowed to 'graduate' to the Pro 1 class in future seasons. Drivers finishing in the top 16 of Pro 1 last season cannot compete in Pro 2, which should help restrict the class to those with similar levels of experience and tandem skills. Since this is the first year of Pro 2, all drivers outside of the top 16 were allowed to choose whether they drove in Pro 1, Pro 2 or both series.
This year, the four tracks on the Pro 2 schedule are Miami Homestead Speedway, Evergreen Speedway, Texas Motor Speedway and Irwindale Speedway. This schedule provides around 6,800 miles of travel over four and a half months, compared to around 12,500 miles of travel over seven months that the Pro 1 schedule requires.

Here's a look at the top contenders, as showcased by the results after two of four events:
DAN SAVAGE
Sikky Mazda RX-8
"Rapper" Dan as he is known, has quickly come up to speed in this new RX-8 chassis, powered by a supercharged Chevy LS motor. Winning the Evergreen round and placing in the top eight in Florida has tied Rapper Dan for the lead halfway through the Pro 2 schedule.


GEOFF STONEBACK
Nissan 240SX
Stoneback was picked by many to be the frontrunner in Pro 2 based on his previous domination of the ProAm level over the past few years. Stoneback's S14 chassis is new for 2014, but very similar to his 2013 chassis, which has helped his ramp-up time. He currently leads the Rookie of the Year chase in the Pro 1 category as well, which is helping his case to remain in the top tier of Formula D.


JEREMY LOWE
Mazda FC RX-7
Lowe has previously run as a privateer in the Pro 1 class, but is focusing solely on the Pro 2 class for this season. Lowe's RX-7 remains largely the same as what he ran previously in the Pro 1 class, helping him with the familiarity of the chassis. A pair of final-four appearances has kept Lowe in the running for the championship, showing that consistency may be what it takes to win the class.


JAMES EVANS
Sikky Nissan 350Z
Evans, who also owns Sikky Manufacturing, which makes swap kits for Chevy motors into import chassis, has earned a top 16 and a top four, as well as some healthy qualifying points to remain high in contention for the championship. Evans' previous car was also a 350Z chassis, a fact which likely helped him get this new chassis dialed in faster.


ANDY HATELEY
Hateley BMW E30
Hateley last competed in Formula D in 2007 in a 350Z, and has spent nearly four years building the LS3-powered BMW E30 he's competing in today. Hateley has been patient, not wanting to bring the car out until it is fully prepared the way he wants, and 2014 is finally the year for his re-entry into the series. The car is still being developed, but Hateley's almost 10 years of driving experience in various levels of competitive drifting make him one of the most experienced drivers on the Pro 2 grid.


CARL RYDQUIST
Nissan 350Z
Rydquist also previously competed in a 350Z, although this car is a different chassis that he resurrected over the past two seasons. This current chassis was originally built for Robbie Nishida and earned a pair of podium finishes before it was relegated to be scrapped. Rydquist earned a top qualifier effort in Florida and a third-place finish, but a late crash in practice kept him out of the Seattle grid. Look for Rydquist to bounce back in Texas.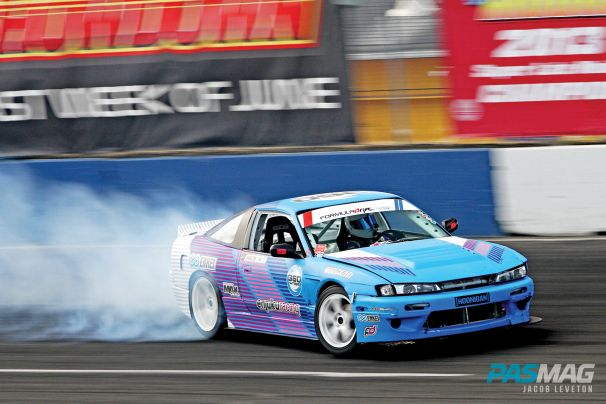 NATE HAMILTON
Nissan 240SX
Hamilton is now in his sophomore effort in Formula Drift, and has finally started to gain some confidence in his car. He was also unfortunately involved in the late practice crash in Seattle which kept him from making the top 16 grid, but his second place finish in Florida has his competitors keeping a close eye on him. With Texas being his home state, "Lil' Tex" Hamilton will be looking to get back in the swing of things at Texas Motor Speedway.
More Formula D info visit: www.formulad.com.