Written by Jordan Lenssen | 18 March 2015

Written by Jordan Lenssen | Photography by Speed Academy & Scion Canada
Targa Newfoundland is the perennial North American event for automotive enthusiasts and club racers looking to push their skills and vehicles to the absolute limit. The week-long rally spans seven days and 1,400 miles (2,200 km) over some of the most picturesque oceanside views this side of the Atlantic. To say that preparation is the key to success is an understatement. Each year, competitors drop like flies, whether the result of in-stage accidents, poor weather or mechanical failures that seem to haunt even the most capable vehicles and seasoned competitors.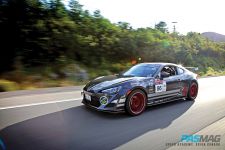 So, when a driver pairing says they are attending the Targa, ears perk with curiosity, and the talkers start betting on 'who's going to make it.'
Peter Tarach and Dave Pratte are two of those ambitious individuals, and if you recognize the names, it's for good reason. They are highly experienced in the vehicle-modifying scene; building, tuning, testing and racing cars for the better part of the last decade. During that time, they were in the offices of the now-defunct Modified Magazine, scouting and showing off the builds they would one day be completing themselves. Today they form the Speed Academy (http://speed.academy), tackling the best performance platforms and building them to their limits for enthusiasts and events just like this.
Like many of us, they have had their sights set on the Targa Newfoundland for years, but it wasn't until this year that an opportunity presented itself that the two had to jump on.
"Peter and I have been trying to go to Targa for a long time, almost 10 years," Pratte says. "It's been a bucket list thing for both of us. It was in the fall of last year that we were kicking the idea around. We knew of the FR-Ss that were part of the Scion FR-S Tuner Challenge in Canada last year, and had a bit of an inkling that one might be available, so we decided to put a full proposal together."
Needless to say, the executives at Scion Canada jumped on the idea of having their flagship tuner at one of North America's most anticipated amateur races. The company has long been a supporter of motorsport, sponsoring the CSCS series, DMCC and Formula Drift. Soon after an agreement was formalized, Speed Academy accepted delivery of the FR-S used by Team VCMC in the Tuner Challenge last year.
The car was returned to stock form, save for a welded-in roll cage that Tarach and Pratte needed to rip out to make room for their taller frames, as well as a bare interior, which the two sought out trim pieces to make their extended period in the cockpit a bit more comfortable. A new, height-appropriate cage was commissioned to drift maniac Pat Cyr at his hideout, Cyrious Garageworks, but that was just the beginning of the work.
Though the two were essentially working with a blank canvas, mechanically, the car had been raced extensively, with a stint at Pikes Peak, along with the 10 rounds of driving competitions as part of the Scion FR-S Tuner Challenge.
The difficulty of tackling a build to withstand a non-stop onslaught for seven days was compounded by a limited budget to keep it within an enthusiast's budget, so for the Targa, the team approached the build by splitting it into equal parts race car and street car to meet race requirements.
"We took some rally-esque cautions like running stock ride height," Pratte says. "We didn't think we'd need rally suspension with the extra travel. At the same time, we knew there would be rough roads and potholes, so we wanted enough ground clearance to not bottom out.
"We actually bought a bunch of interior trim pieces from Tony Angelo in the States, who runs an FR-S in FD. He shipped us some wheel well liners, door windows and interior trim. We basically wanted the interior to be a little more like a street car because Targa Newfoundland is designed for street cars. They're street legal, plated and have to meet emissions requirements... We wanted it to be a hybrid between a race car and a street car."
Competing against 25 Targa entries and nine in the Modern Class, Pratte and Tarach struggled out of the starting gate, finishing back in seventh in class after the first stage. Admittedly, the Targa challenges were presenting themselves early to the driver duo, who swapped driving and navigating duties between the morning and afternoon stages.
"The first couple of days we didn't know how the scoring worked, we didn't know how to read the course notes – we were complete Targa noobs," Pratte laughs.
During the afternoon stage on the second day with Tarach in the driver's seat, the two noticed a loud rattle in the back end of the car. Thinking their jack was loose in the trunk, they carried on to finish fifth in class, but a post-race inspection showed their rear subframe mount had broken. Trying to keep forward momentum without losing time in the next stage, they visited a local shop for a quick weld repair.
It did the trick and, as the week went on, the FR-S showed its true abilities, matching everything Pratte and Tarach could throw at it, at a point where vehicles typically show their weaknesses.
"We knew the car would be fast in the town stages. It's a pointy car and it changes direction so well and you can steer the car with the throttle so effectively. We brought one of the lower-powered cars and a stiffer setup than most, but in the high-speed stages it fared really well. We hit 7,000 rpm in fifth gear in at least three or four different stages. Our average speed in those stages was somewhere around 95 mph (150 km/h). We were hitting 125 mph (200 km/h) on some of those and the car felt rock solid."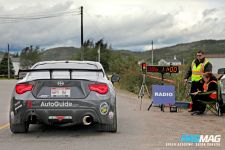 In the fifth and final leg, Speed Academy placed an event-best third place, placing them high enough to finish third in the final class standings, sixth overall, and most importantly for Scion Racing – first in the President's Manufacturers' Challenge.
"We really emphasized reliability and longevity and finishing the race," Pratte says. "We knew if we got to the end, we'd probably be competitive due to the high-attrition rate, but when we pushed hard, the car responded better than it did at eight-tenths. It gave us a lot of confidence."
"We couldn't have done much better than we did, considering we didn't really know what we were getting into when we got there. It was a challenge and you have to focus on pacing and multitasking.
"It was a way bigger challenge than we expected, but way more fun, too. It really is an amazing event, and one that's hard to put into words. You just have to go experience it."
Consider this your invite.